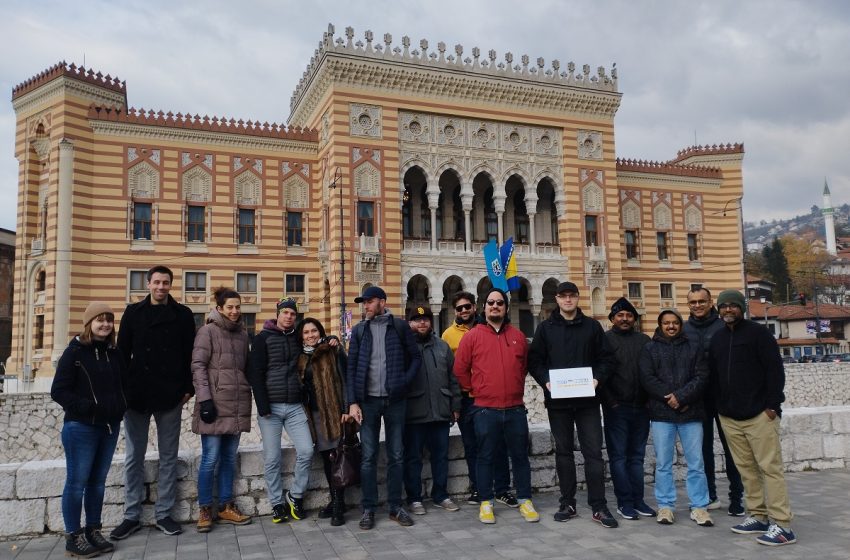 Meet Bosnia Tours agency participated in the project "Promoting Creative Tourism through Experimental Sustainable Routes"
Meet Bosnia Tours agency participated in the project "Promoting Creative Tourism through Experimental Sustainable Routes" (acronym: CREATURES) in cooperation with the University of Sarajevo, School of Economics and Business, and Interreg Adrrion – European Regional Development Fund.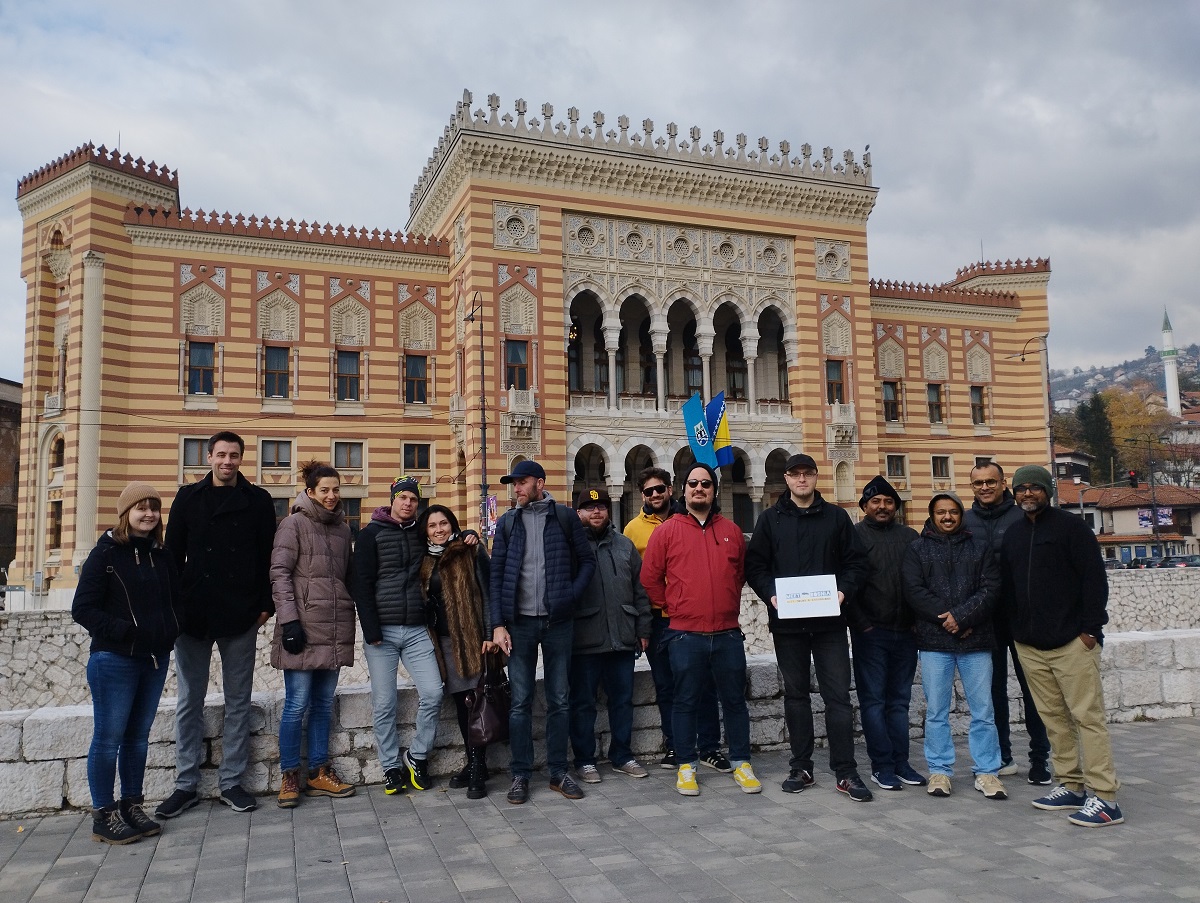 In this project, Meet Bosnia Tours agency organized two Sarajevo Tours  for the press. Route one –Eat, Pray Love, and Route 2 – From East to West. Eat, Pray, Love tour takes off at the Franz Ferdinand Assassination site and follows local sightseeing. The route Eat Pray Love takes place in the very city center which is certainly popular and attractive among tourists for a perfect combination of cultural and religious sights while incorporating local delicacies and gastronomy. The most notable sights on this route would be The assassination spot of Archduke Franz Ferdinand, City Hall, House of Spite, as well as Eternal Flame and Morića Han.
Second route –From East to West was also a guided walking tour of Sarajevo and this tour had aim to describe the historical importance of Bosnia and Herzegovina as well as its many transitions from the Ottoman Empire to the Austro-Hungarian Empire, as well as its transition to a new era. This tour provides an extensive contrastive analysis of culture and daily life in Bosnia and Herzegovina during the Ottoman Empire and accents the changes brought by Austro-Hungarians. Most notable historical sights on this route were The Church of Saint Anthony of Padua, the Cathedral of Sacred Jesus Hearth, The Congregational Church of the Holy Mother, Gazi Husrev-bey mosque, Emperor's Mosque, Old Jewish Temple, and of course Sarajevo Meeting of Cultures.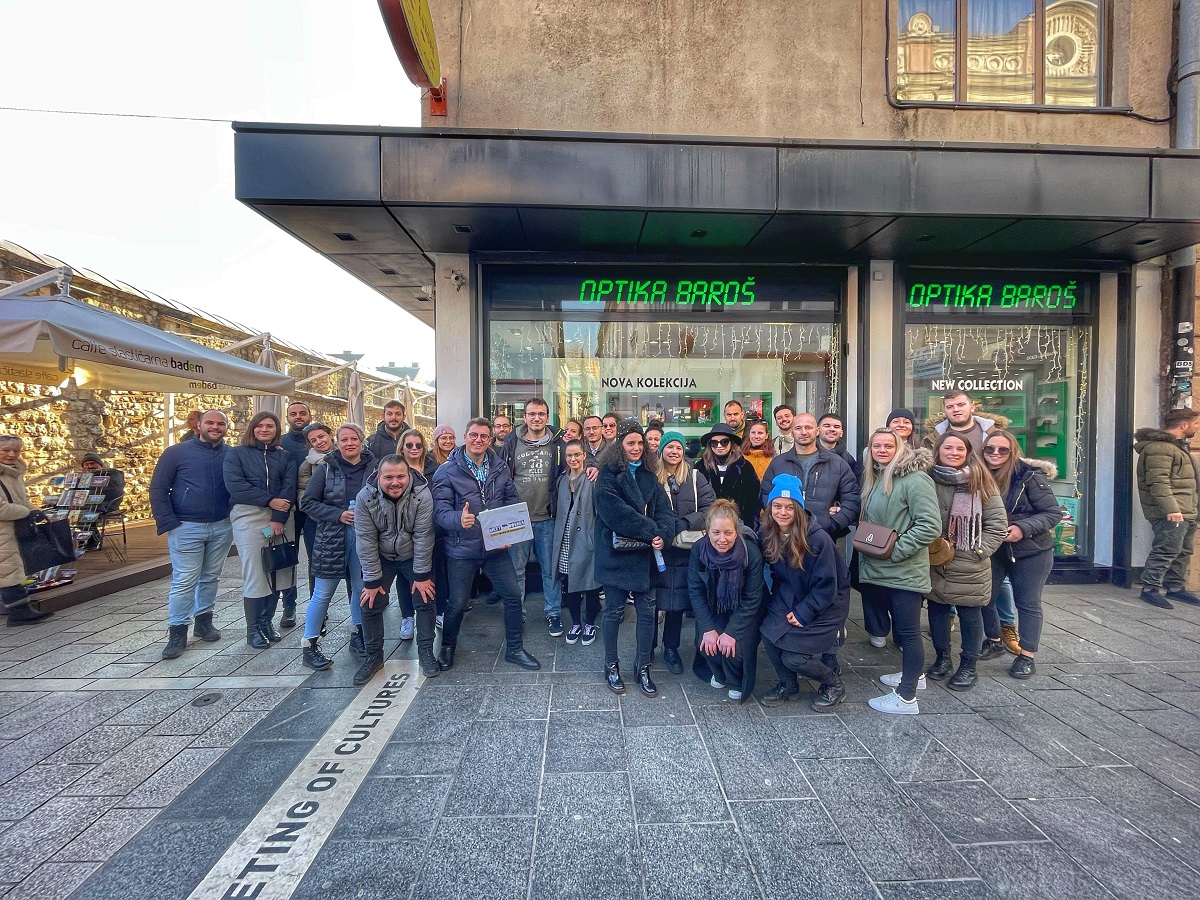 Both routes, 'Eat, pray, love' and 'From East to West' rely on already established tour routes designed and made by the local travel community, and include cultural and important historical sites that are placed along the pedestrian part of the city of Sarajevo. Since both routes are planned to be conducted in the very city center of Sarajevo, it wasn't required to identify new roads or mark the existing ones. 
 During these pilot tours, more than 1000 tourists and foreigners participated and took on these two routes, each of them respectfully. While walking throughout the streets of Sarajevo, it was quite enjoyable to be able to connect with your surroundings and it was noticeable how these sustainable tours also allowed all visitors to connect with the tradition of the city as well as the crafts. This in return also enhanced and promoted the itinerary through tips and advice for all visitors as they involved themselves more in their surroundings.  
Through this press tour, we wanted to include the general public, media, and locals along with tourists with a clear goal of elaborating this project as well as putting an accent on sustainable and slow tourism. Doing this would not only help the project itself but also empowered the local community and all people who were included to work even harder on promoting our culture, heritage, history, and our city Sarajevo.