The beautiful and well-maintained beaches of Lake Modrac, which is predominantly situated in Lukavac Municipality, have been the favourite holiday spot for many Bosnians and Herzegovinians and they have named it the "Bosnian Sea".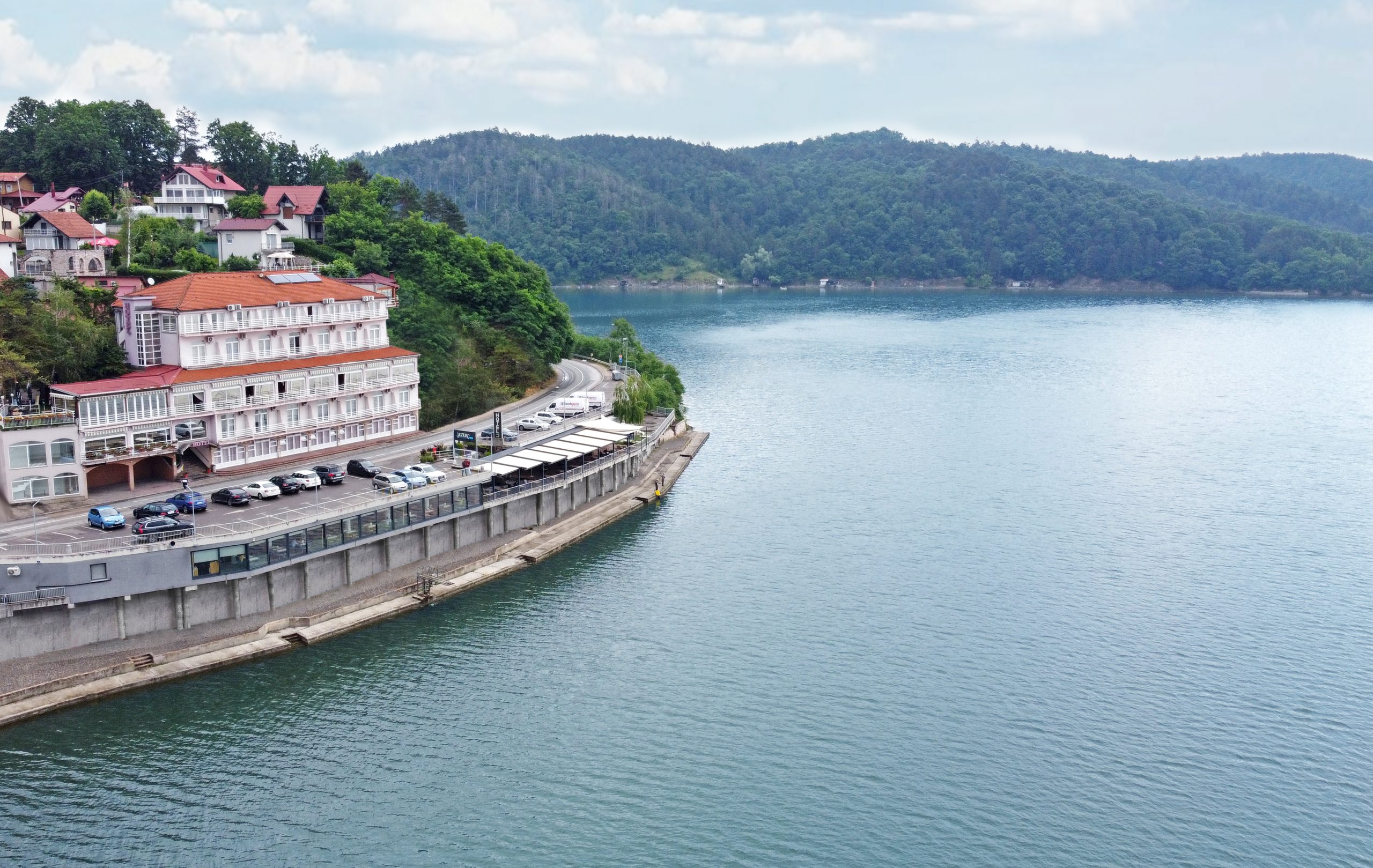 Prokosovići Beach
Modrac is an accumulation lake predominantly situated in Lukavac Municipality, even though it also touches the bordering areas of Tuzla and Živinice municipalities. It was created artificially by constructing a dam on the River Spreča. Lake Modrac is 12 kilometres long and 700 meters wide on average with a maximum depth of 14 meters. Stretching across around 1,500 metres and providing various facilities and amenities, the beautiful and well-maintained beaches in the local community of Prokosovići have always attracted visitors. The beach has restaurants, hotels, and cafes, as well as handball, basketball, and beach volleyball courts. For many years it was considered the best beach in Bosnia and Herzegovina. Various events have been held there over the years. In addition to this artificial beach, the Modrac lakeshore has many lovely spots for relaxation and recreation. Even today, many are happy to come to the lake on holiday. Guests can find accommodation in a hotel or a motel. As part of its catering and hotel business, "Em-Oniks", a company from Lukavac, opened the "Senad of Bosnia Hotel", sitting on the shore of Lake Modrac, in 2000, and the "Oniks Motel", located at the main junction on the road from Lukavac to Tuzla, in 2008.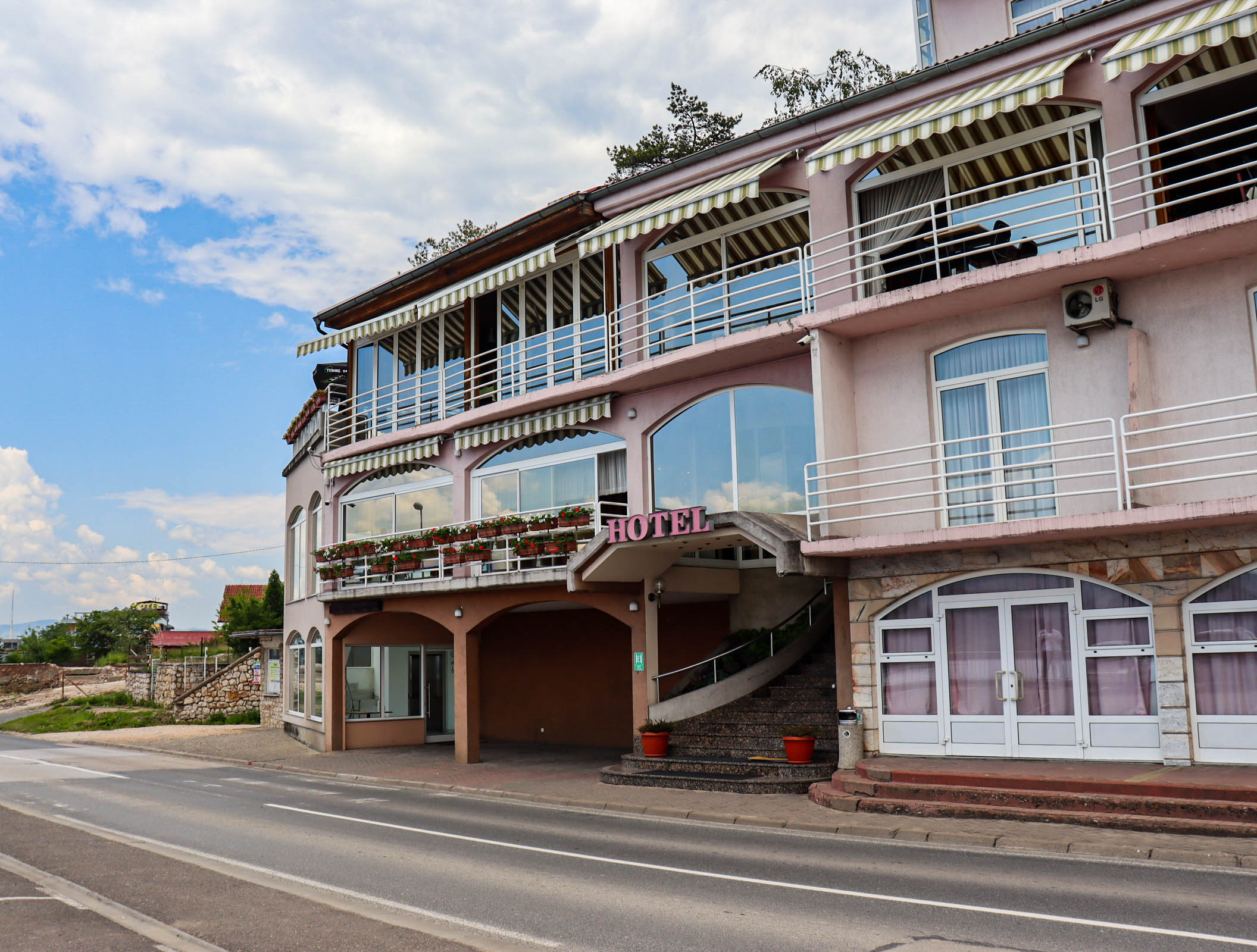 "Senad of Bosnia Hotel"
Surrounded by the blueness of the "Bosnian Sea" and immersed in greenery, this luxuriously decorated hotel situated on the popular Prokosovići Beach is the perfect choice for casual travellers, but also for holidaymakers wishing to spend their entire holiday in a stunning natural setting which will awaken all of their senses. A romantic weekend getaway, a team building activity, a short family trip, a business meeting—the hotel will be happy to cater to anything you might possibly need. Guest comfort is a top priority there. There are 28 air-conditioned rooms with modern furnishings, a cable TV and a minibar. All rooms feature free Wi-Fi, a private bathroom, and most have a balcony with a fantastic view. In addition to a tastefully furnished suit and standard rooms, guests can also stay in rooms tailored to meet the needs of professional athletes and newlyweds, i.e. the "honeymoon" room. The combination of comfort, plenty of space and other amenities allows guests to have the peace and quiet they need for a relaxing stay in any of the rooms at Senad of Bosnia Hotel.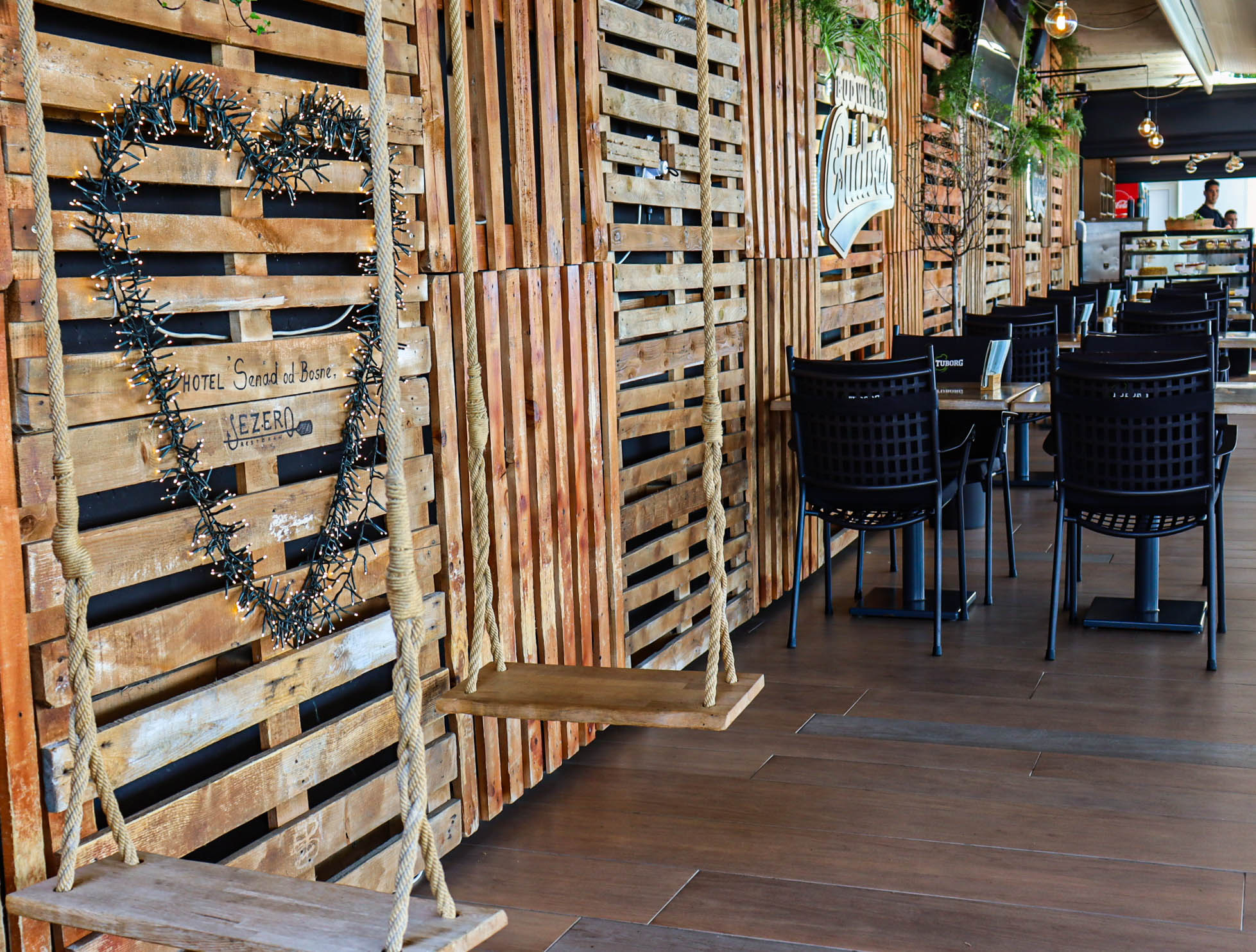 Lunch With a View
If you want lunch with a view of the blue Lake Modrac, you will love the hotel's large restaurant terrace, which is particularly appealing because of its unusual appearance—it looks like a boat and leaves a lasting impression on any guest. In addition to the hotel restaurant, the Jezero Restaurant also sits on the lakeshore. It is an ideal place for a romantic dinner with a loved one or lunch with friends or business partners, and there is no noise to bother you while you are talking and spending time with those who are accompanying you. Bright colours and charmingly decorated interior will cheer you up in to time, and once you try out the culinary specialties "Lake Restaurant" has to offer, it will become one of your favourite restaurants. The restaurant's spacious and well-decorated interior is complemented by wooden finishes that warm up the space, and together with a great sound system and modern lighting features it completes the overall impression of the place.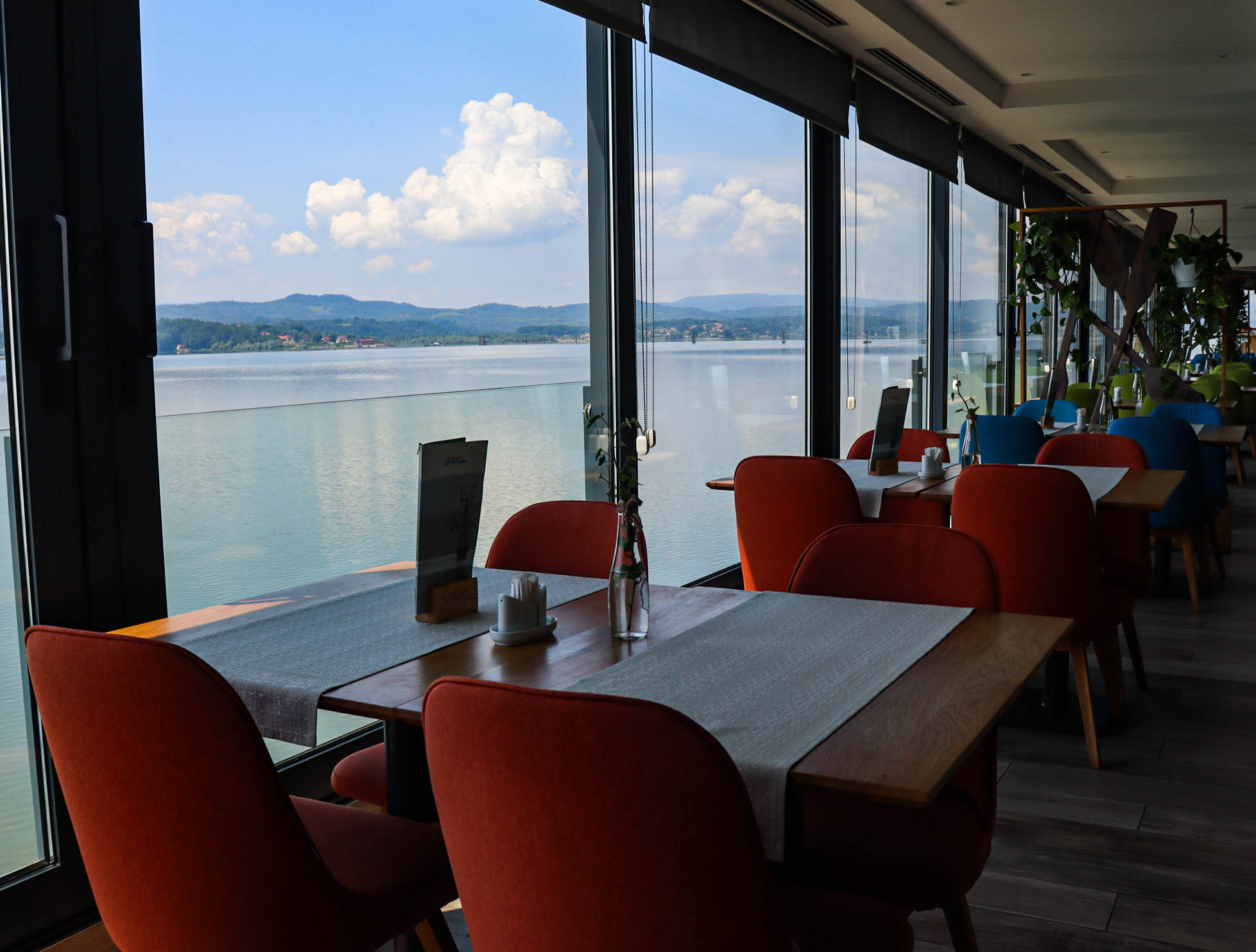 What to Do at Lake Modrac
Spending time at Lake Modrac will allow you to take some rest. Taking long walks, eating in budget-friendly restaurants and sunbathing will help you replenish your energy. You can also have fun playing beach volleyball, handball and basketball, or go for a taxi ride around the lake. Fishing enthusiasts can also fish on the lake. It is a habitat for various plant and animal species with nearly a hundred bird species. The most prevalent among them are ducks and grey herons. Flocks of swans swim on the nearby ponds. Upon arrival or departure, stop by in Lukavac, walk along the new promenade, and visit numerous cultural and historical landmarks, the most important of which is St. Ante Padovanski's Church, to the north of the railway. Built before the World War II, the beautiful national monument is still captivating.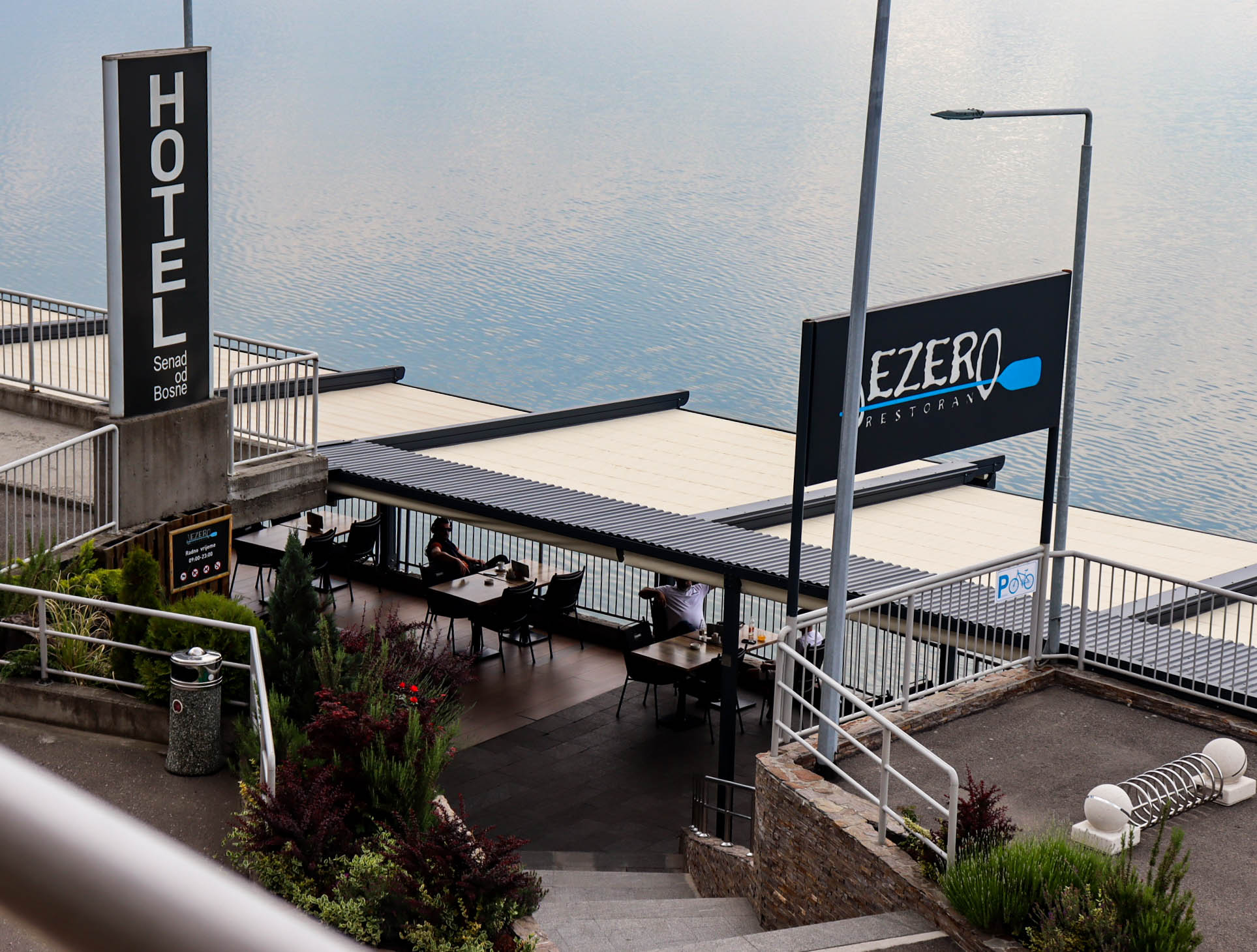 NLB BANKA – #AssistanceFramework
Micro and small enterprises form a major pillar of our economy. They have suffered enormous losses due to the Coronavirus pandemic-induced economic downturn and will require major support to restart their operations. With this project, NLB Banka would like to help spread inspiring entrepreneurial stories throughout the community. It partnered up with Mastercard, MaxMedia, Oslobođenje, Klix and OBN TV and launched the #AssistanceFramework campaign which provides advertising opportunities for small entrepreneurs, farmers and micro and small enterprises aimed at assisting them in overcoming the crisis.