To host the opening ceremony, Sarajevo Film Festival traditionally chooses successful bh. actors of younger generation, and it was decided that this time it is Alena Džebo who will, on Friday 12 August 2016, in Sarajevo National Theatre, have the honour to officially mark the beginning of the 22nd Festival
Competition programme – feature film 2016.
The programme will present eleven films, of which eight will be competing for the awards Heart of  Sarajevo, while three (two omnibus and one feature film) will be shown out of competition. Films The Black Pin and A Decent Woman will have their world premieres. International premiere is reserved for one film – The Field, directed by Cemil Ağacıkoğlu, while in the category of regional premieres the films Album, Godless, Dogs, Scarred Hearts and Humidity will be shown. Out of competition are films: All the Cities of the North, Transmania and In the Same Garden.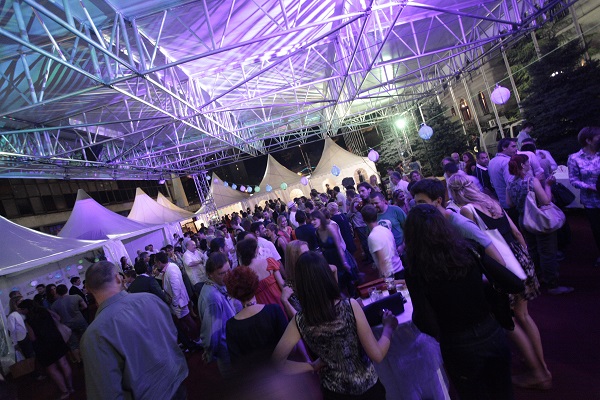 Feature Film Jury
Elia Suleiman, Palestinian director as president of the jury
Zeynep Atakan, Turkish producer
Nikola Đuričko, Serbian actor
Thomas Hailer, curator of International Film Festival in Berlin
Angeliki Papoulia, Greek actress
Competition programme – short film 2016.
 Sarajevo Film Festival continues with this programme to recognise the important role that short film has in the development of film art. Thus, this year the Hungarian film Limp Like That will have a world premiere, international premiere will be held for the Macedonian film The Falling Girl and the Romanian film My Name Is Costin. Regional premieres are planned for films: 4:15 P.M. The End of the World, Cosmorama, Limbo, Fox, Superbia, Transition and The Beast.
Competition programme – documentary film 2016.
Programme consists of 21 films which deal with different subject matters –  questions of personal and national identity, migration, social justice, family secrets, political misteries and economic crisis.  World premieres will be held for Slovenian film Borders, directed by Damjan Kozole, and bh. films Scream for me Sarajevo by Tarik Hodžić, The Heart of Wood by Namik Kabil, and Svetlana by Pero Pavlović. Among films set for international premieres are Baglar, Drums of Resistance, Down There, A Two Way Mirror…
In focus 2016.
Programme presents a strong insight into topics which obssess our European society and a number of excellent films by directors of whom some are debutants, and some are already experienced and acknowledged veterans of film art. You can expect films Frenzy, Graduation, Nightlife, Interruption, On the Other Side, Sieranevada, and Death in Sarajevo by bh. Oscar winner, Danis Tanović.
Talents Sarajevo 2016.
Tenth, jubilee Talents Sarajevo will be held from 14. to 20. August 2016. It will be opened by Mexican director, screen writer and producer Amat Escalante with whom 71 perspective actors, directors, photography directors, film critics, producers and screen writers from Souteastern Europe and Southern Caucasus will meet.
Human Rights Day 2016.
Sarajevo Film Festival will host the Human Rights Day organised in cooperation with the Embassy of Switzerland and the Swiss Federal Department of Foreign Affairs, eighth year in a row, on 16 August. The topic of this year's panel is: Can we fight violent extremism through education? Cinema Meeting Point will present a film In Company of Believers, by directors Mohammed Ali Naqvi and Hemal Trivedi.
Summer Screen 2016.
Programme Summer Screen of the 22. Sarajevo Film Festival brings a number of inspirational titles  focused on music, pop culture and free thinking, and the visitors will enjoy themselves in comfortable deck chairs and picnic atmosphere. The following films will be shown: Sonita, Refugee Blues, The Siege, The Red Turtle, Gimme Danger – Iggy Pop & The Stooges…
Best Photo of the 22. Sarajevo Film Festival
The author of the best photograph of the 22. Sarajevo Film Festival, that shows the atmosphere from any Festival location will be rewarded with Smart fitness bracelet. Send your photographs to najfotka@sff.ba between August 12 and 20, and if you are Instagram user, post them with obligatory  hashtags: #najfotkaSFF and #22ndSFF. All who like to use their cameras, telephones, tablets and other devices to keep the interesting moments safe from oblivion, can participate in the prize competition.
The Honorary Heart of Sarajevo recipient
Stephen Frears, one of the most distinguished and most provocative British directors of today will  receive the Honorary Heart of Sarajevo of the 22. Sarajevo Film Festival for the outstanding contribution to film art.