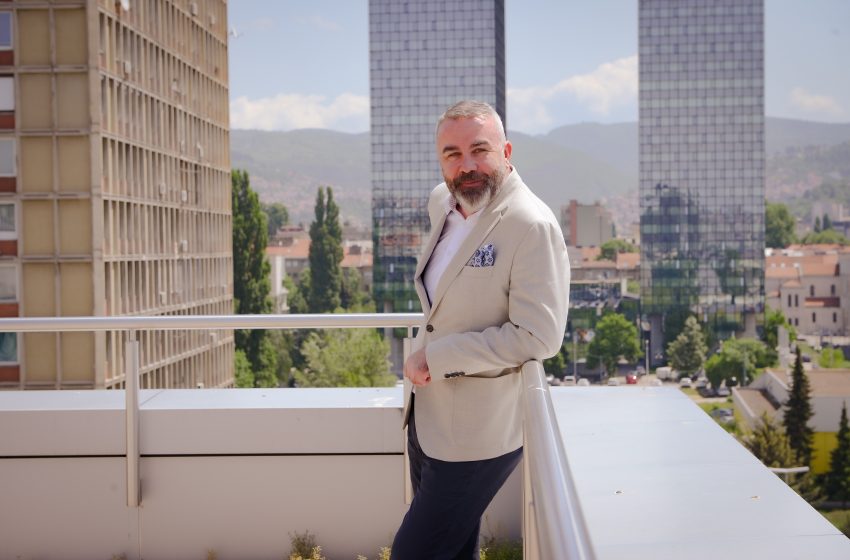 Sedin Kahriman, General Manager of BH Telecom: My Greatest Accomplishment in Life Is My Family
"I wouldn't be honest if I said that I was immune to stress in this business role, or when I'm making decisions. I try to control it and identify the signals of stress. I'm a workaholic and dedication to work is very important to me"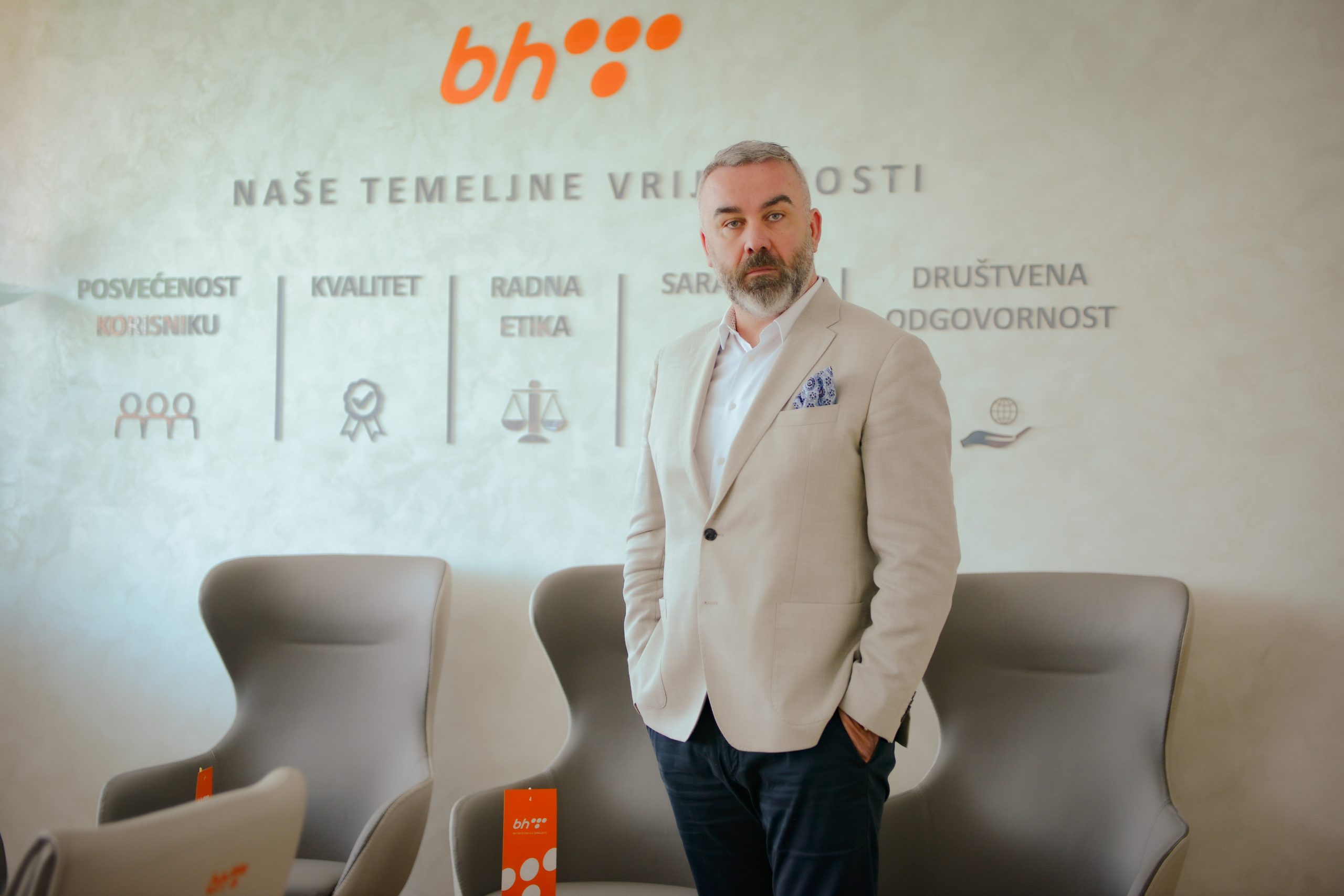 Interviewed by: Elma Zećo
Photo: Irfan Redžović
BH Telecom's annual conferences reaffirm that, as the technological and telecommunications leader in B&H, BH Telecom is always a step ahead of the others in making a profit and implementing new business projects that support the development of different business industries in the country, thus contributing to Bosnian-Herzegovinian society. Its last year's profit was 48.5% higher than the year before, which is the result of the hard work, effort, enthusiasm, and dedication its loyal employees have put in. The overall increase in BH Telecom's market share shows a high customer satisfaction level. In addition, in the previous year, its customer base increased by 100,000 people.
The General Manager of BH Telecom, Sedin Kahriman, who has been with the company since he was an intern, says that he is always inspired by people who are happy with the results they accomplish. The credit for BH Telecom's results goes to a team of people, and people are the company's most valuable asset
Međunaslov: Consistency in Business
As the man in charge of BH Telecom, what were you truly impressed about in the past year?
– I'm always happy to see BH Telecom's consistency. Without doubt, it continuously achieves the targets and milestones it sets. When we renewed our cooperation with the Sarajevo Film Festival, one of the most prestigious events in the region and in Europe, we set ambitious goals for ourselves. We announced that we wanted to establish the largest domestic audio and video content production platform. At the second press conference, we spoke about what we had done up to that point, and during my speech at the Heart of Sarajevo awards ceremony for the best TV series, I announced that we were launching a new public call worth 18 million BAM for film professionals, authors, and feature film screenplays and TV series scripts. We're very dedicated to analysing the applications we receive, but once a final decision is made, we follow through, we follow the dynamics and try to bring new values ​​to B&H. People have the perception that BH Telecom is the most socially responsible company in the country. During the pandemic, when there was a major shift in the way people behave, we started wondering what we could do to help the people of B&H deal with the situation as best as possible. By this I mean all our customers, socially vulnerable groups, students, donations for the purchase of medical equipment… And in that regard too, BH Telecom proved to be a leader in B&H, because no one has done anything similar before. I'm really impressed with this endeavour.
In the past few years, BH Telecom has supported over 2,500 different projects. You've developed two important platforms—BH Contentlab and BH Techlab—with a large innovation budget. What's your main aim?
– One of our core values is social responsibility. In the last five years, through sponsorships, advertising and sponsorship agreements, and other arrangements, BH Telecom has invested slightly more than 18 million BAM in 2,500 projects, and donated 5 million BAM in educational, scientific, and charitable causes. It's difficult to find a sports team and important projects in the country that BH Telecom hasn't supported or that BH Telecom hasn't been strongly supportive of since they were established. BH Telecom is a leader in the telecommunications market. In essence, social responsibility isn't in the company code, but we're aware of the way people perceive it, and when we're making any kind of decision we consider how it'll be perceived from the aspect of social responsibility.
Sports fans are happy with the cooperation between BH Telecom and BHRT, thanks to which B&H national football team's matches are returning to the screens of all B&H citizens. What motivated you to make this happen?
– The best thing about it is that all B&H citizens will be able to watch B&H national football team's matches until 2028 without any conditions. Prior to this business arrangement, we made certain business decisions of a commercial nature, because we wanted to give our viewers quality and exclusive content. We're aware of the challenges that our public broadcaster is facing and we wanted to give our support as a long-term partner, but we treated BHRT as a partner we could tell a wonderful story with and give the citizens of B&H the chance to watch our national team's football matches. We're proud to have made this happen, because in some countries in the region public broadcasters have failed to make such arrangements and large telecoms haven't been able to acquire the rights to broadcast their national team's football matches.
Are you a football lover?
– Personally, I prefer following some other sports, such as motor racing and MMA fighting. I root for our national football team, of course, and I watch their games.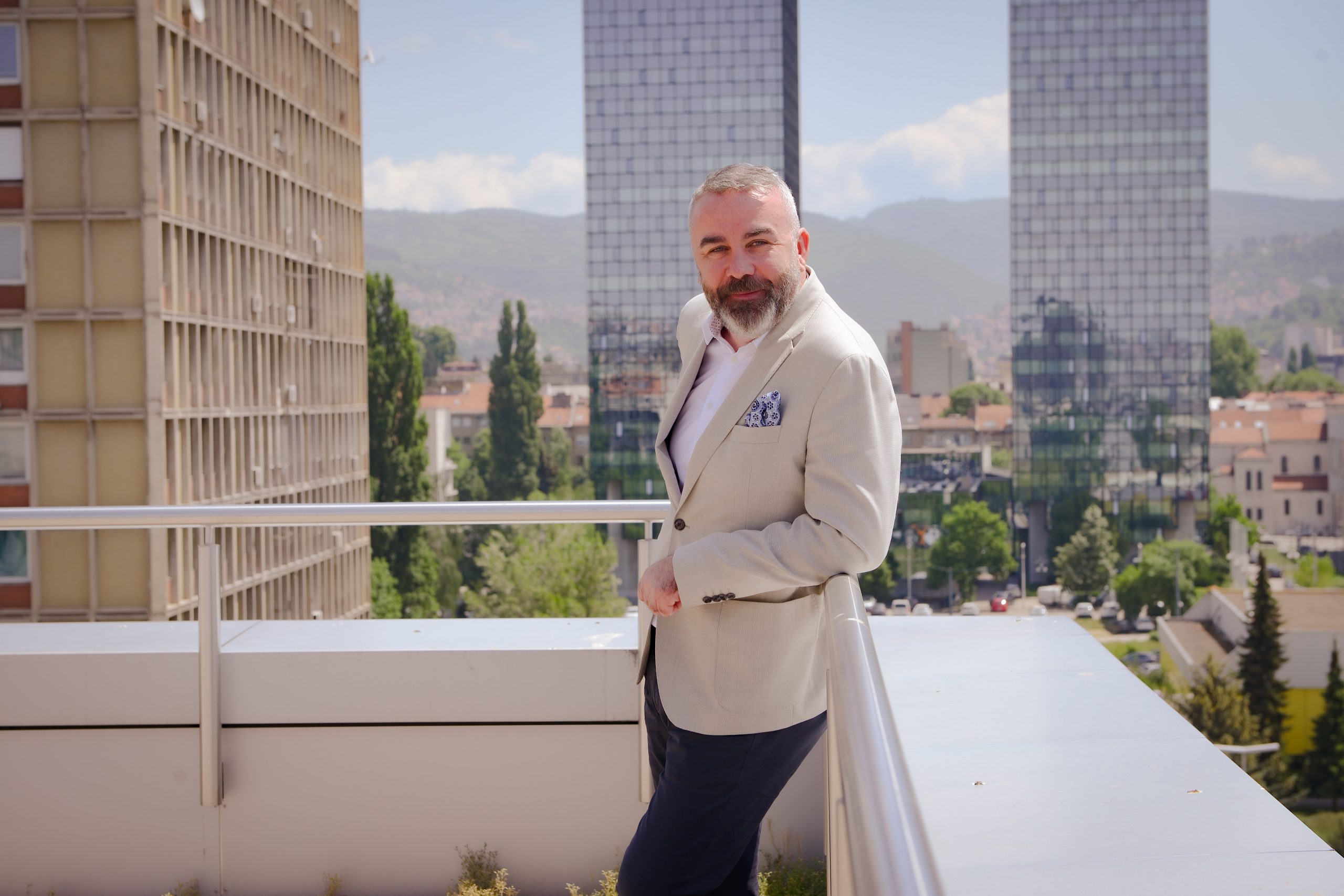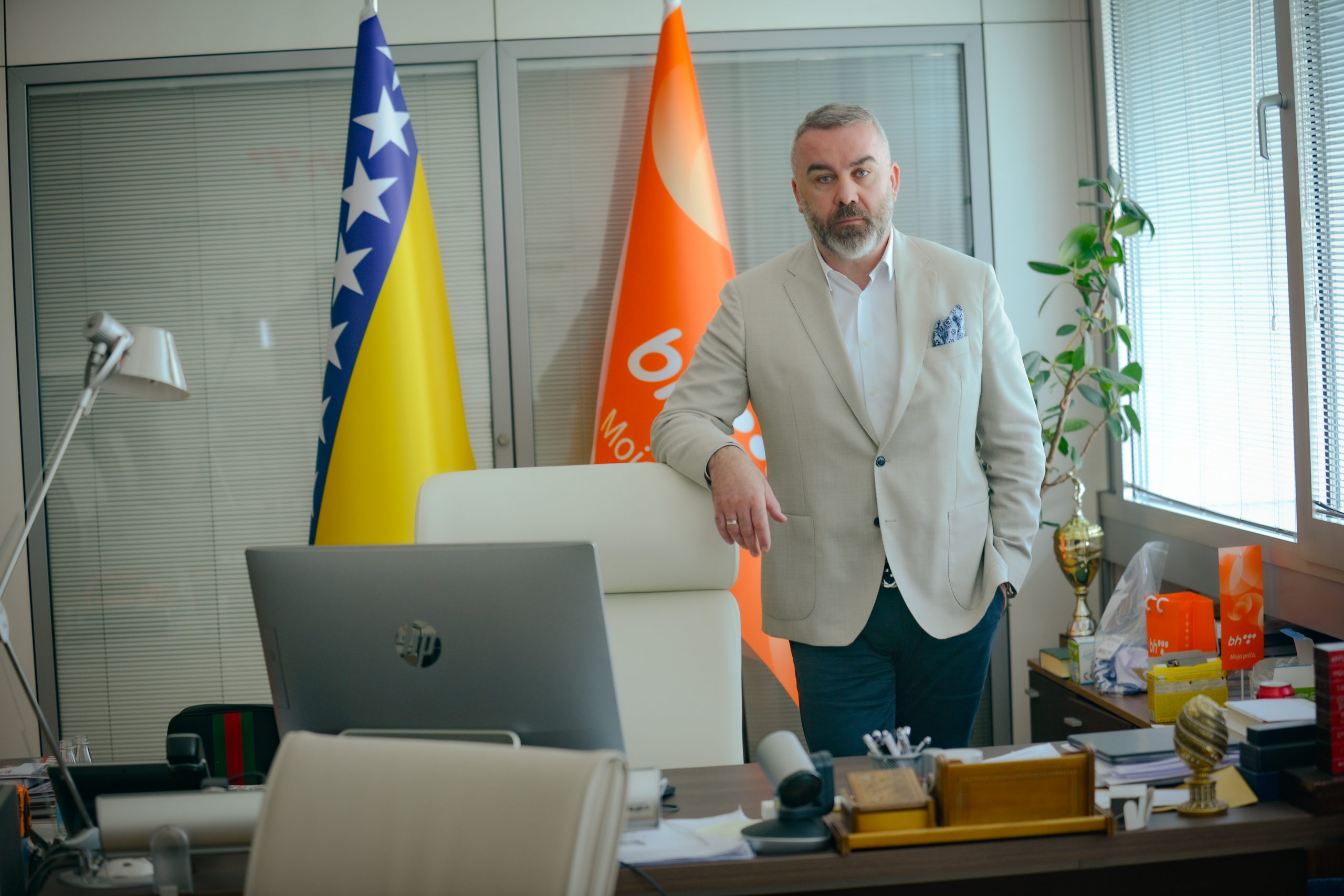 I Love Travelling
Have you got a favourite travel destination?
– I've got more than one, particularly in B&H, a country with incredible natural scenery. I love travelling, meeting new people, and exploring new destinations. I hold a few spots in Dalmatia dear to my heart, and a few on the Cote d'Azur, but Opatija has a special feel to it, so I go there with my family quite often.
What's your greatest accomplishment in life?
– My greatest accomplishment in life is my family. I've been with BH Telecom since 2005. I started out as a trainee, moved up within the company, and was elected General Manager. The Government of FB&H believes that I'm doing a good job and that I've helped BH Telecom achieve exceptional results. That's great to hear.
A Fun September
From among the 50 projects submitted, BH Telecom has chosen seven television series to shoot as part of BH ContentLab. Two of them have already been shot: Kotlina (Mountain Valley) directed by Danis Tanović, and Na rubu pameti (On the Edge of Reason) directed by Elmir Jukić.
We're proud of what we saw. B&H is blessed with highly successful film professionals and an excellent film industry. We knew from the beginning that this was the formula for success. Kotlina is, I'm convinced, something completely different from anything that's been filmed in the region in the past 4-5 years, just like the sitcom Na rubu pameti. It was quite amusing, and we enjoyed it a lot. Five more TV series are planned to be shot this year. Some of them will be aired for the first time in September, but a few of them will also be aired at the Sarajevo Film Festival as pilot projects. All our customers and the people of B&H can expect an interesting and fun September.
_____
A Team Effort
"I often think of what Sir Richard Branson said. He said that you should train people well enough so they can leave, but you should also treat them well enough so they don't want to"