Whatever you have heard about this country is not an exaggeration, because there is an abundance of everything here: oil, natural gas, sand, high temperatures, green lawns, large shopping malls, luxurious cars and elegant inhabitants.
Written by: Emira Azganović
Qatar is a small kingdom in the Persian Gulf, nearly five times smaller than our little Bosnia and Herzegovina, but it has enormous oil and natural gas reserves which make it the world's richest country.
A Life of Privilege
Only 12% of Qatar's 2,6 million residents are citizens, and only they benefit the country's wealth. It is interesting that you can become a Qatari national only if you are born here and if both of your parents are Qatari. The privileges they have are incredible: they are entitled to the basic food supplies such as sugar, cooking oil, flour, oil, healthcare, free tuition fees, and they also receive a substantial amount of funds when they decide to start a family. It is no wonder that they praise their emir and hand his picture even in private cars.
Tamim bin Hamad bin Khalifa Al Thani is the current and youngest Emir of Qatar. He is a member of the Al Thani royal family that has been ruling Qatar since the 18th century. Sharia law is applied in Qatar. Almost half of the population lives in Doha, the capital which is said to be the world's safest city and one of the fastest growing tourist destinations. Since there is no taxation in Qatar, more than a million foreigners from all over the world have based their headquarters in this country where foreigners cannot own land, but this issue has been resolved by means of reclaiming land and building artificial islands. One of the most famous islands is The Pearl, an artificial island shaped like a shell of a pearl oyster featuring a pearl at its center, comprising luxurious apartments, shopping malls, restaurants and a marina with priceless yachts swaying slightly in the wind.
Qatar Cultural Center is situated on the coast overlooking the center of Doha. Cultural and entertainment events are held here throughout the year. Suspended canvas canopies shelter the lanes in which artists' villas, special schools, cinemas, an opera house and an incredibly acoustic open amphitheater with 1000 seats are located, offering much needed respite from the blazing Gulf sun. A 1,5-kilometer sandy beach provides a range of activities from swimming and pedal boating to canoe and kayak rides.
Two stunningly beautiful mosques are situated in the city center. Katara Masjid, with blue wall tiles, is one of the most beautiful mosques in Doha. Next to it are odd-looking towers, the pigeon towers, which are made of environmentally friendly materials – clay and bricks. The Golden Masjid is different. Both the mosque and its minaret are completely covered with tiny golden chips.
The Corniche, a five-kilometer long waterfront promenade, stretches for the entire length of Doha Bay, from the harbor to the Museum of Islamic Art which was designed by I. M. Pei and further along the coast all the way to the West Bay. The promenade offers spectacular vistas of the city, and provides a recreation area equipped with exercise equipment and a green pedestrian space where families can enjoy spending time together breathing in the fresh sea air.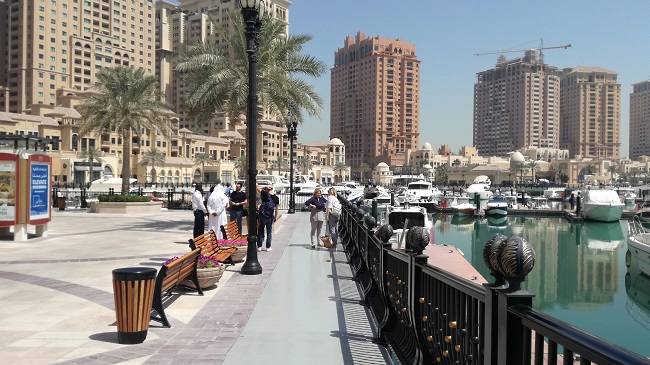 Souq Waqif – Open Bazaar
This open bazar is situate in the very heart of the old part of the city and a major attraction in Doha. A long pedestrian zone running along the middle of the bazaar is lined with lively cafés and restaurants where both locals as well as tourists are able take in the vibrant ambience as they enjoy drinking coffee and smoking shisha in the evening hours.
Apart from open-air market shops and covered passageways stuffed with lots of stores showcasing garments, spices, perfumes, scented oils and all kinds of souvenirs, Souq Waqif is also home to luxurious boutique hotels, traditional restaurants and cafés which offer a diverse variety of flavors.
Stadium Which Will Go Down in History
Qatar is the host country of the 2022 World Cup and will host matches of the tournament across eight stadiums, four of which are located in Doha, the country's capital. Since the average daytime temperature during June and July is 21 degrees Celsius, Qataris have built the world's first open-air air-conditioned stadium – Al Sadda Stadium – in Doha.
However, an even greater attraction will be the Ras Abu Aboud Stadium in the vicinity of Doha, which has not been built yet, but it will be built in four years and go down in football history as the first pre-fabricated stadium to host matches of the World Football Cup. This wonderful edifice will be made of ship containers, and after the tournament it will be dismantled and used in the construction of other sport facilities. After it is dismantled, a park will be constructed on the site.
---
Multi-award Winning Company
Qatar Airways has been operating for 20 years and is one of the world's fastest growing airlines. It has received numerous awards: World's Best Business Class, World's Best Airline, Best Airline in the Middle East, and World's Best First Class Airline Lounge. On the other hand, Hamad International Airport in Doha has been classified as a five-star airport, and, by the way, only five other airports in the world have gained this prestigious accolade.
---
Furaj.ba Travels Around the World
At the invitation of Qatar Airways' Sarajevo Office, we travelled to Doha in March 2018. Three days have not been long enough for us to see all the things Doha has to offer, but quite enough for us to wish to visit it again.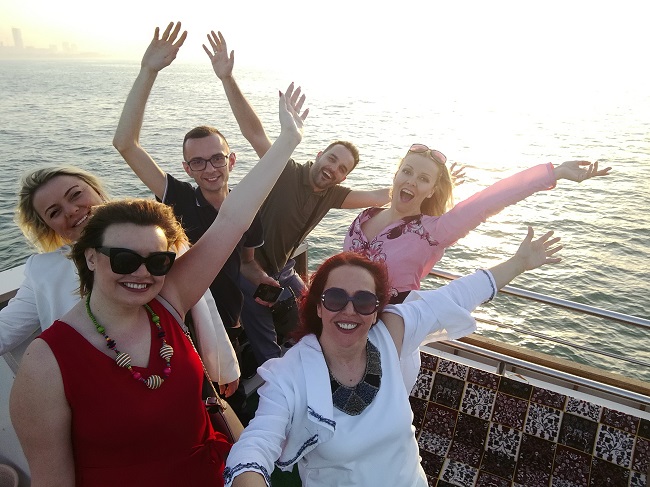 ---