This is a story about a place where people enjoy themselves, where the staff is smiling and where the door is wide open. So we entered.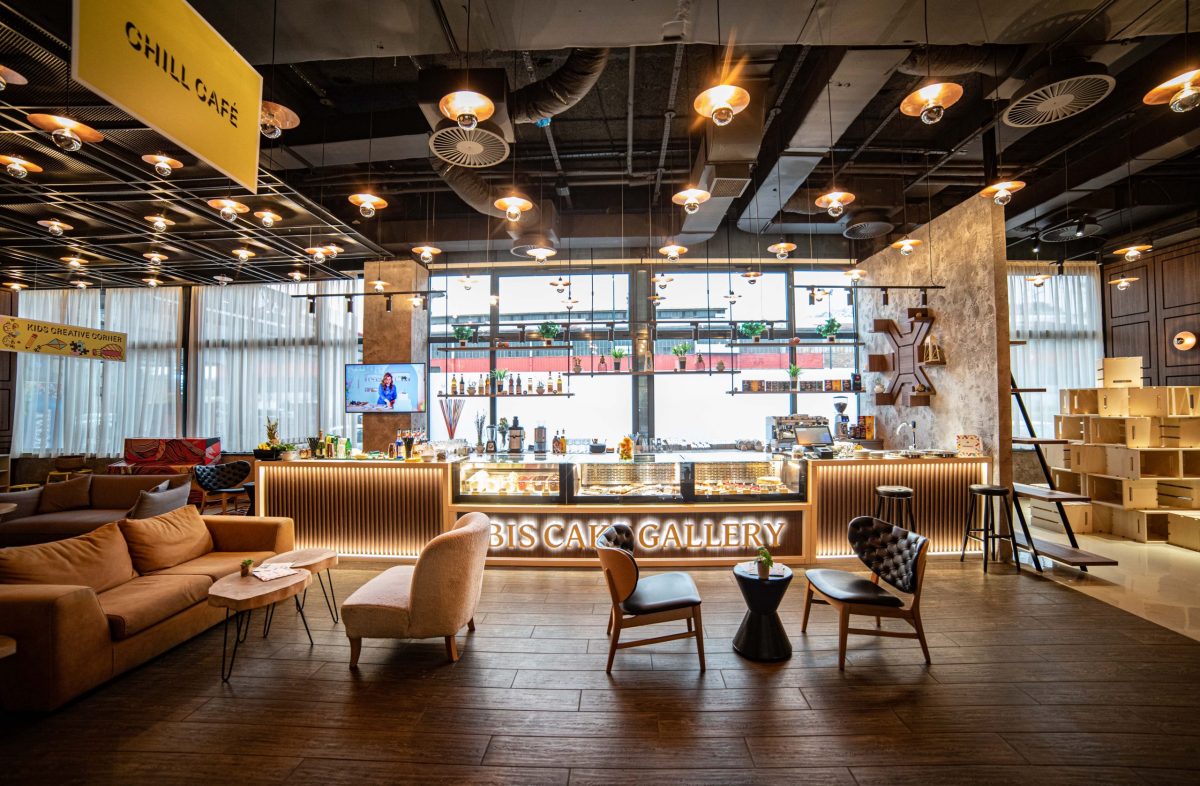 Foto: Hotel Ibis
And we were already delighted at the hotel reception. Did we mention that the Ibis Cake Gallery is on the ground floor of the Ibis Styles Hotel? The wonderful one. Colorful.
Colorful swings, hanging from the high ceiling, are calling us. No, we are adults. And we are going to the Cake Gallery.
We look back, the swings are calling us. O no, we won't.
You have to visit Ibis Cake Gallery. We'll explain why letter by letter.
I – as Incredible – White and red non-alcoholic wine, great non-alcoholic beers, non-alcoholic cocktails made with orange peel syrup, coconut syrup and Persian red rose buds are just a small part of what awaits you.
B – as Bliss in a fairy tale. The bliss is in the cakes – not like the cakes in a Fairy tale of Hansel and Gretel and the witch's house. These are tastier and harmless. And they are all from own production.
I – as Impressive – Impressiveness is distinctiveness. Real one. Sarajevo needed a place like this and every city does.
S – as Sensual. The most sensual part of this wonderful place is the honey cake. We guarantee that Medenica (honey cake) you can get here is the best in town. You don't talk while eating it. You can only hear hmm and mmm.
C – as Chirpy – You must be wondering why chirpy. We don't know, but all the smells, colors, tastes and atmosphere, made us stop talking and just … Um, started chirping.
A – as Authentic and as Ah – Oh yes. Very special and different. Indescribable. Go and have a look. And drink everything from the glass. Every last drop. It doesn't matter that you will make sounds with a straw like at those times the parents would look at you in disapproving manner when you were at someone's house. Drink every delicious drop.
K – as Kind of classy – This is a beautiful space of classic beauty with shiny polished floors. And we can also put cucumber (krastavac) under this letter, which athletes like to put in their smoothies because, they say, it refreshes them. And coffee (kafa). Wow, what wonderful coffees are made here. Hot, cold, warm, with ice cream, caramel, lemon, mint syrup.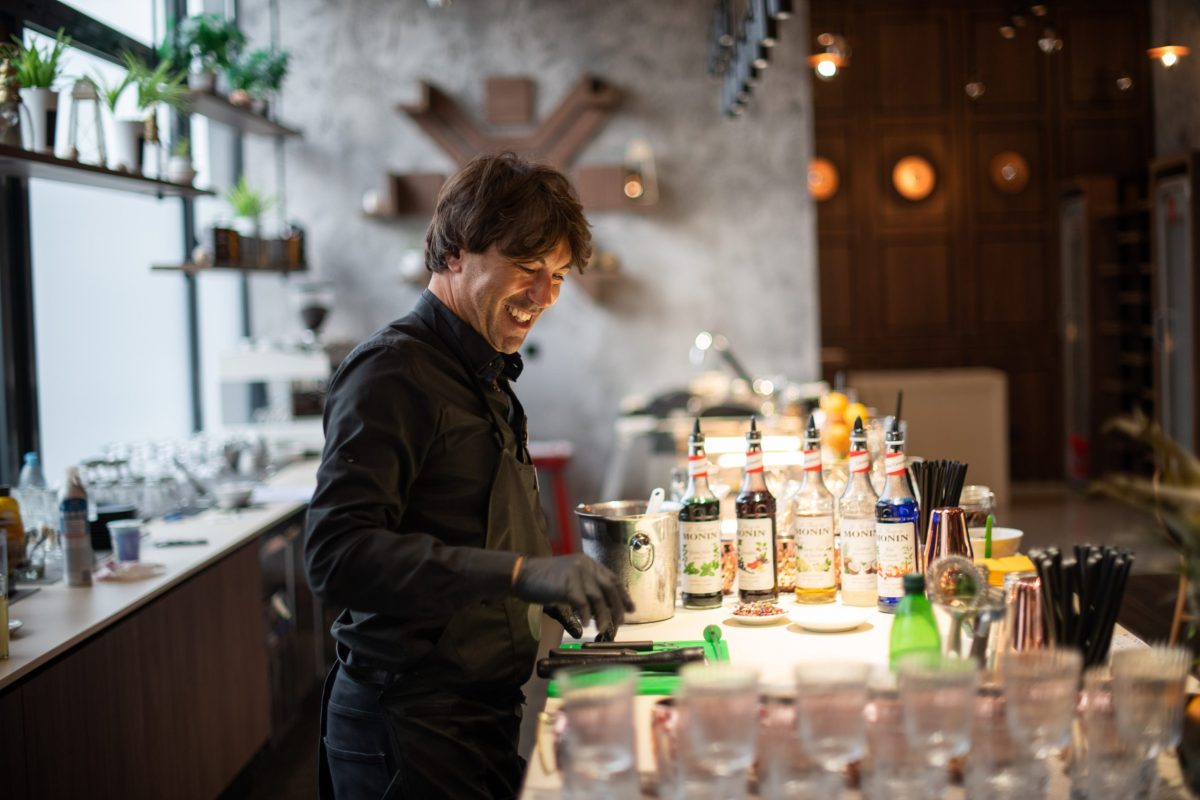 Foto: Hotel Ibis
E – as Eclectic – Eclectic in space is achieved by combining 70 percent of one, with 30 percent of several different styles. And they succeeded – 70 percent of the modern, straight, elegant lines of the dominant bar and the rest of the furniture blended perfectly with 30 percent of the traditional in the form of Bosnian rugs, playfulness in colors and the touch of the cold fingers of history through Vučko (mascot) and the 1984 Olympics. For this type of design, in addition to courage, a lot of knowledge is needed. The one who did the interior of the Ibis Cake Gallery had both.
G – as Graceful – Yes, we all need that and we should not be embarrassed by that desire. We like to feel good, drink smoothies from elegant glasses and cups, and eat with nice silverware. And we love it well served. And we have all that at this place. We enjoyed a frappe served on a tray sprinkled with tiny, Persian dried red roses. And it made us feel really good.
And – as Avant-garde and as Alena – a milkshake you can have here, you will not find anywhere in Sarajevo. The almond or soy milk base will contain a combination of bananas, dark chocolate, hazelnuts and dates. This is just one of the frappes. And Alena? Alena is the woman whose signature is on every cake you eat at this place.
L – as Luxurious – Luxury can be touched at this place. From comfortable armchairs, upholstered in fine linen, inviting to be touched, upholstered, not in boring brown or gray, but in a soft pink. Simply delightful.
L – as Lovely and as Lavender – We couldn't decide what is more important – the exceptional loveliness of this place or the wonderful ingredients they put in specialties, such as lavender juice. We don't have the letter D in this "spelling book", but if we did, we would put Denis, smoothie and frappe master of this magic.
E – as Elegant – Elegance can be defined in many ways. Here it was achieved in such a way that, regardless of the imposing size of the space, they were not going for having too many people fitting into the space, so the greater distance between the tables enables discretion and a kind of privacy in the conversation. We really like that.
R – as Richly – Oh yes, we love richness. Be it in paneled walls, large windows or beautiful lights – we need it. And we don't want to feel guilty about it.
Y – as Yippee, Yay – Let's go to the swing, the one we passed by, for some more joy. We will be back. We promise.