"From Sarajevo to Mostar and Banja Luka, each place in this country attracts people in various ways"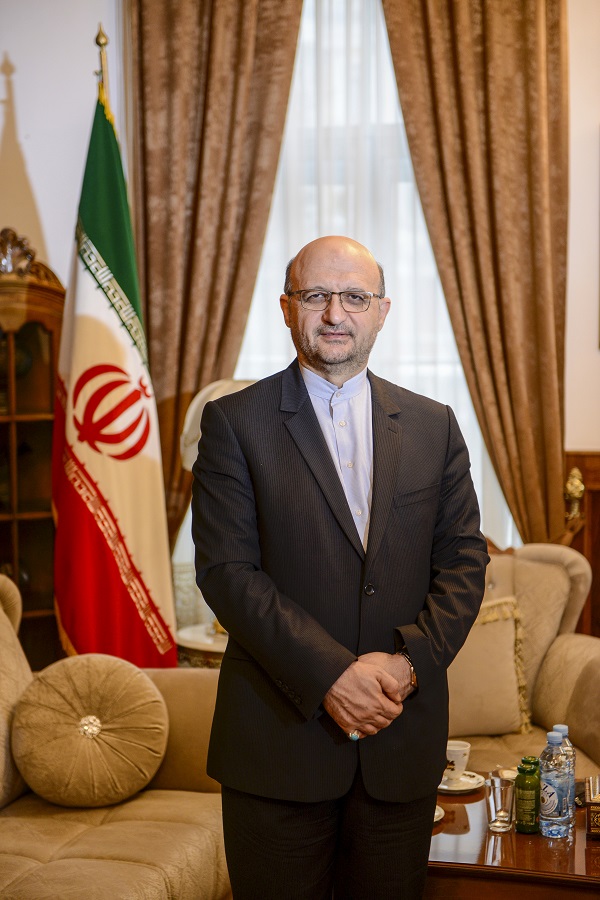 Interviewed by: Elma Zećo
Last year, Mahmoud Heidari became Ambassador of the Islamic Republic of Iran to B&H. He was already quite familiar with B&H because he regularly followed the events taking place in B&H, but also because of cultural and literary bonds that began to tie the two countries together a long time ago. He visited B&H for the first time in 2000 as Deputy Ambassador and got to know its generous people, he says, first-hand, and he is surrounded by them today, feeling comfortable living in Sarajevo.
What did you have in mind when it comes to presenting Iran in B&H, what would you like to point out?
– Even though the peoples of Iran and B&H share many similarities in their culture, art, customs, religious and human values that bring them closer together, there's a long way ahead in reaching the desired targets and getting to know more about each other. That's why Iranian Days of Culture are organized every year at various locations in B&H so as to strengthen the cultural relations between the two countries. A few cities in Iran have also expressed a wish to organize Bosnian and Herzegovinian Days of Culture so I hope that, apart from taking our cultural relations to the next level, such events will also prepare the ground for better political and economic cooperation. I'd give priority to enhancing trade and economic relations between the two countries. I mean, the newly enacted laws in Iran, such as the Foreign Investment Development Act, provide benefits to capital investments in Iran. Good atmosphere needs to be created to foster private sector activities and cooperation between banks which would, in turn, certainly make it easier for business people from the two countries to cooperate. Bosnian and Herzegovinian business people can access the Asian market through Iran, whereas Iranian merchants can access the European Union market through Bosnia and Herzegovina. Indeed, there are lots of possibilities for Iran and B&H to cooperate in terms of their economies, particularly in different fields such as energy, petrochemicals, agriculture, tourism and other sectors.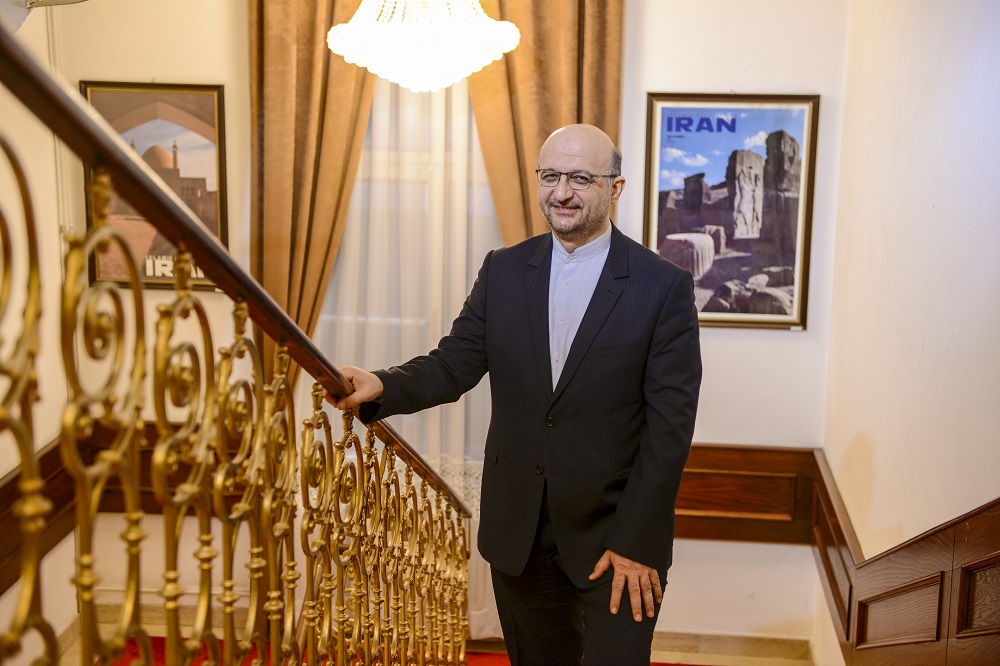 Iran is one of the world's oldest civilizations. What should first-time visitors see in Iran?
– Iran is at the top of the list of the oldest ancient civilizations on Wikipedia, dating back to 5300 years ago. So far, twenty-one historical and natural monuments from Iran have been inscribed on the UNESCO World Heritage List, and fifty other monuments are currently undergoing the procedure to also be inscribed. A wide range of historical and artistic monuments and natural phenomena across Iranian cities, beyond comparison in beauty and cultural diversity, await to make an impression on world travelers. I'd like to say that it's very easy and cheap to travel to Iran, and reiterate that Iran is planning to host over 20 million foreign tourists each year until 2025. That's why the Iranian officials are trying to make it easier to issue entrance visas, and nationals of 190 countries can already obtain a visa to visit Iran on arrival at the airport. Lately, international media have been pointing out that Iran has become one of the most attractive international tourist destinations. Since Iran has stunning and intact potentials in this branch, it can easily be transformed into an exceptionally popular tourist destination that meets the highest international standards. If you're interested in visiting Iran, there are plenty of exciting places to see and wonders to explore.
If a foreigner asked you to describe Iran in three words, what would you say?
– It's difficult to sum up Iran in three words, but to answer your question I'll help myself by speaking of the three colors on the Iranian flag – green, white and red. The green color signifies development. It reflects the great Iranian nation's ideals of having a progressive and developed country, but it also indicates the faith of Islam, which is the official religion in Iran. The white color points to the peaceful nature of the Iranian nation invoking peace for all mankind, whereas the red color in the flag symbolizes the strength and perseverance of the Muslim people of Iran in upholding the country's integrity, borders and beliefs.
 How long have you been a diplomat and what drew you to this profession?
– I started workig for the Ministry of Foreign Affairs of the Islamic Republic of Iran in 1990. My first diplomatic mission was to South Africa, and during my second mission I spent four wonderful years in Bosnia and Herzegovina, a beautiful country where I was able to get to know its people as well as its culture, economy, and politics in great detail. My third mission took me to Istanbul, where I served as chief of the Consulate of Iran. I'm happy to be in B&H again, this time serving as the Ambassador of Iran. By the way, while I was in Iran, I performed various duties at the Ministry of Foreign Affairs, and one of them was to manage the Office for Eastern Europe, which included the Balkans and B&H. That's how I became quite familiar with important events and issues concerning your country. Missions and travels pervade a diplomat's life. However, regardless of the number of problems associated with it, it's also quite refreshing and beautiful and involves getting to know different nations and cultures.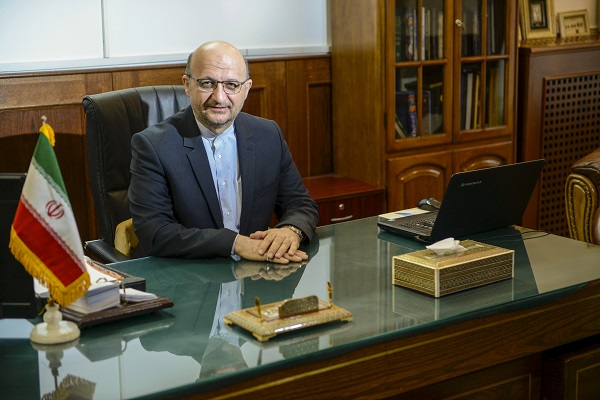 Does Sarajevo suit your lifestyle and rhythm?
– In my opinion, Sarajevo is an exquisite city. Each season in Sarajevo is beautiful in its own way: spring brings the blossoms of flowering trees, summer brings the sounds of chirping birds and stunning greenery, fall is golden, and winter robes the city in white – everything is in its place and emanates beauty. Also, Sarajevo is reputed to be a cultural melting pot. As you walk from Baščaršija to the end of Ferhadija Street, you see churches and mosques which speak of the multicultural spirit and coexistence of different peoples and religions in this area. For people who have lived in Tehran with 10 million inhabitants and four million cars, life in Sarajevo is very tempting and presents a special experience.
B&H is rich in natural beauty. How much of it have you had the chance to explore?
– From Sarajevo to Mostar and Banja Luka, each place in this beautiful country attracts you to visit it in a number of ways. As part of what I do, I have travelled more or less to all the towns in B&H, meeting the local inhabitants and officials. Apart from Sarajevo, where I reside, I have visited Mostar, Banja Luka, Tuzla, Goražde, Zenica, Jajce, Bihać, Neum, Bijeljina and Konjic. I got the impression that each of these towns is specific and beautiful in its own way. I believe that both Iran and B&H have quite a few tourist attractions, and lots of potential for development. Some sites could be used for mutual benefit. For example, Iranian art is such that it represents one of the richest and most diverse collections of the world's cultural heritage. Art production does not require the use of advanced technology, and it is associated with traditional and local skills characterized by taste, sophistication, ideas and culture on the part of the artist. The exchange of experience between Iranian and Bosnian-Herzegovinian artists can also contribute to the development of B&H tourism.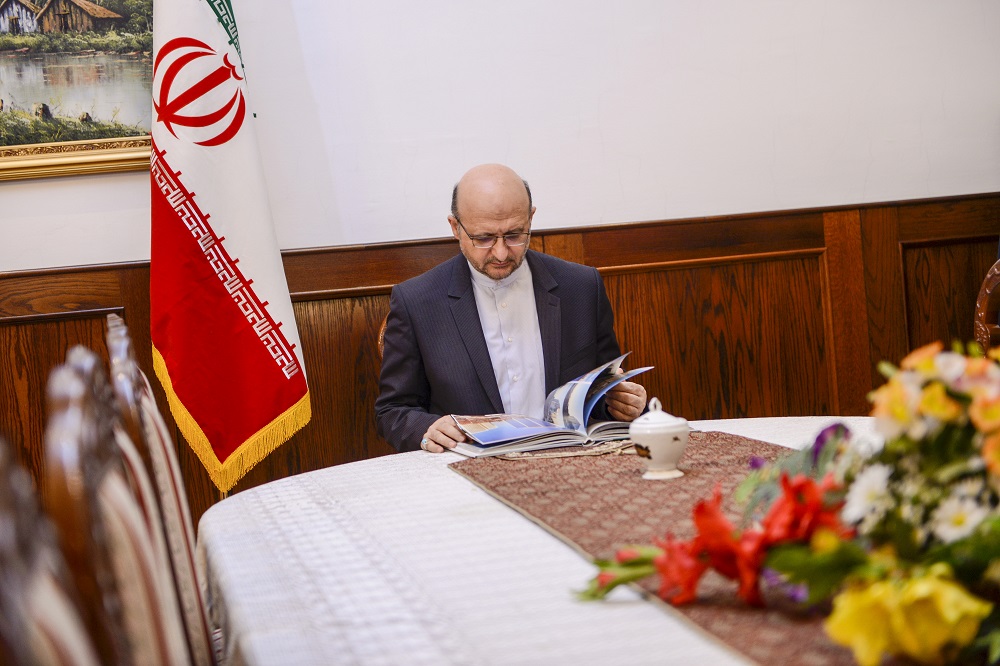 What is the best tourist destination you know?
– Definitely, there's no doubt in my mind that visiting Iran is the best choice for any traveller. Embarking on a journey through Iran means exploring the Iranian art and civilization by visiting dozens of tourist attractions and authentic cities such as Tehran – an epitome of modernism and tradition, Kashan – the cradle of artistic houses, Isfahan – a city of beauty, and Shiraz – the cradle of the Iranian civilization. You can also head out to Meshed to visit the Mausoleum of Attar Neyshaburi and the Central Mosque in Nishabur, the Ferdowsī Mausoleum in Tus and the stunning Imam Reza Shrine along the way. A journey through natural landscapes in the vicinity of the Caspian Sea is also special. You can start the trip from Anzali Lagoon, visit Lahijan and Rudsar, and then on to Ramsar, Kelardasht and Talesh. It's also a good idea to travel to Azerbaijan. A journey through Ardabil, Tabriz and Urmia allows you to visit the Tomb of Sheikh Safi, Shurabil Lake, the Bazaar of Tabriz, Kabud Mosque, Ali Shah Mausoleum and Urmia Lake. Southern Iran, the coastal part of the Persian Gulf and various islands such as Keshm and Kish islands will allow you to discover a unique kind of beauty. Moreover, a very interesting tour in Iran is the tour en route Kurdistan – Kermaanshah – Hamedan, and a journey to the western provinces of Iran.
Cooperation between Tehran and Sarajevo
"As ambassador, I find it important to emphasize that Sarajevo and Tehran, capitals of the two friendly countries, signed a twinning agreement in 2016, reaffirming true friendship between them, but also creating a positive atmosphere in fostering better relations between its people in various fields, such as culture and science. I hope that this agreement will intensify daily cooperation in terms of culture and tourism between our cities. There are a lot of possibilities, and the people of Tehran and Sarajevo are interested in this kind of cooperation."