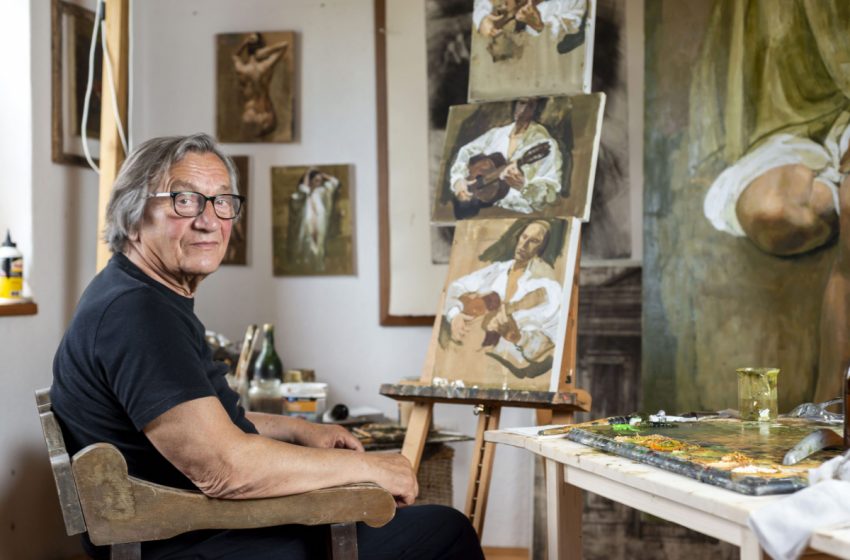 Maestro Safet Zec: We Admire Him
The Furaj.ba magazine team paid a visit to the great painter Safet Zec in Počitelj, a
town that he has had strong ties to for nearly 50 years. His living and artistic abode sits at the top
of a unique historical settlement which blends oriental and Mediterranean features and which has
an incredible yet untapped potential for tourism. That is painful to see. As we talked, we brought
to life his vision of Počitelj, looked at Safet's new artwork in his vibrant atelier, and talked about
his journey of life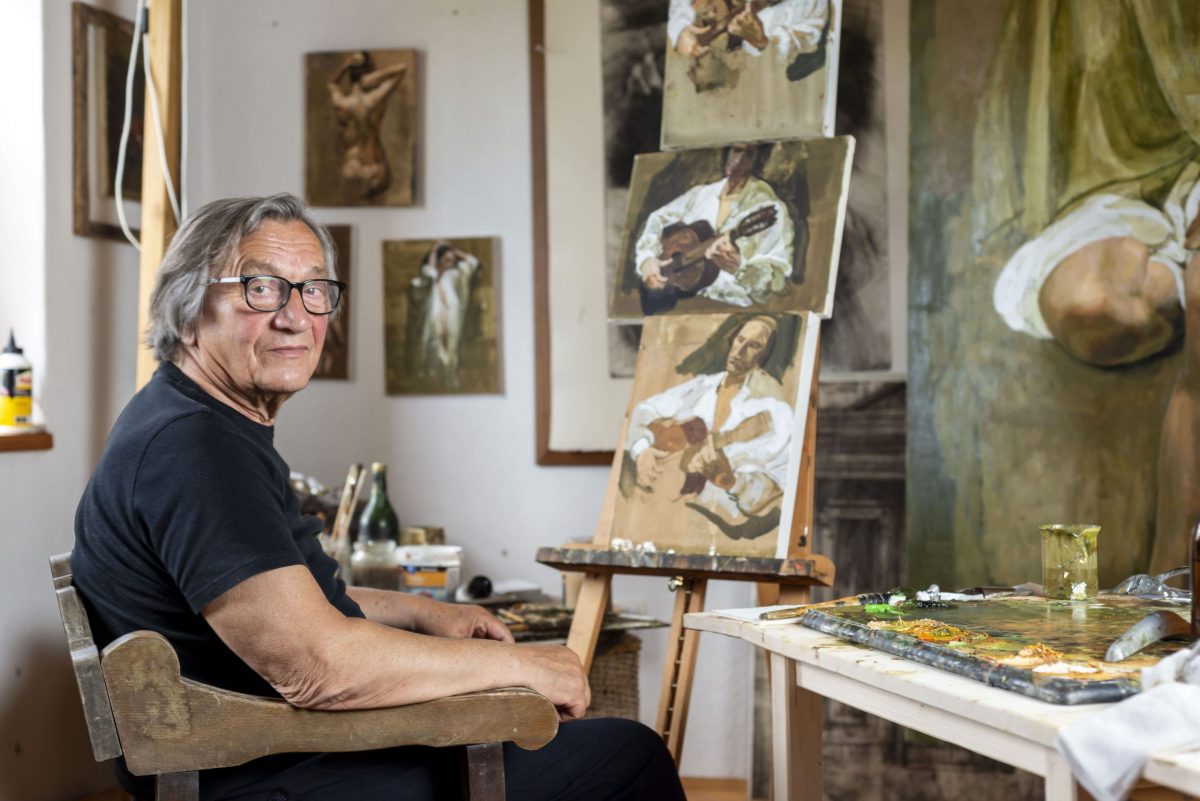 Počitelj Atelier
"I can work here for a couple of hours and then step into the garden, take a little walk, or lie
down on the grass. You come out of the atelier and you're already under a vine that you planted,
near the fig tree that you grafted."
Each era builds its own towns. Original forever, just like Počitelj. Each era has its own people.
Unique people who paint their town with all their colours and push the limits. That is what Safet
Zec is like. In their towns, such people tell fascinating stories through their works of art.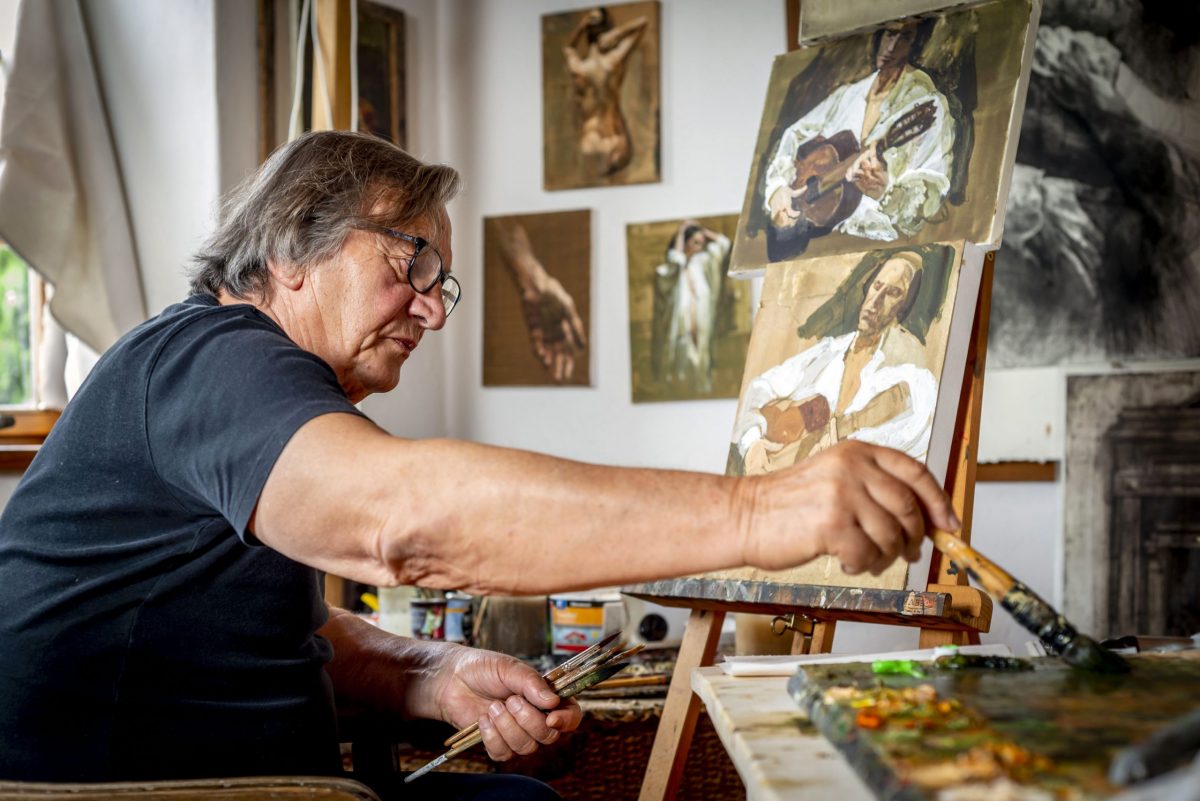 Passion or Madness
Safet Zec does not have just one home. In addition to Venice and Sarajevo, in the 1970s he
started to be inextricably tied to Počitelj, a town he and his wife Ivanka came to visit because of
an art colony which was held there at the time.
The feelings he developed back then were, and still are, based on aesthetic references, the love of
antiquities, and the respect for history.
"Certain types of people, let's call them artists, but other cultured people as well, get excited
about a place like this. Travel has become a massive part of our society, something that's simple
and easy to do, and everyone thinks that tourism is the most important branch of our economy.
People are more than happy to meet up in a place like this," says Safet, who felt awfully excited
when he told his parents that he had bought a house in Počitelj. But for his wife and him, who
were quite young at the time, construction work was complicated, and they could not even
fathom just how complicated it actually was because of the overwhelming love they had for each
other, which would muddle the view of all the things that come with buying a house.
"I felt rather content when I realised I was mature enough to buy a house. A house is a house. But
when my mother saw it, she said, "If this place becomes a house, I'll become a girl (laughs)."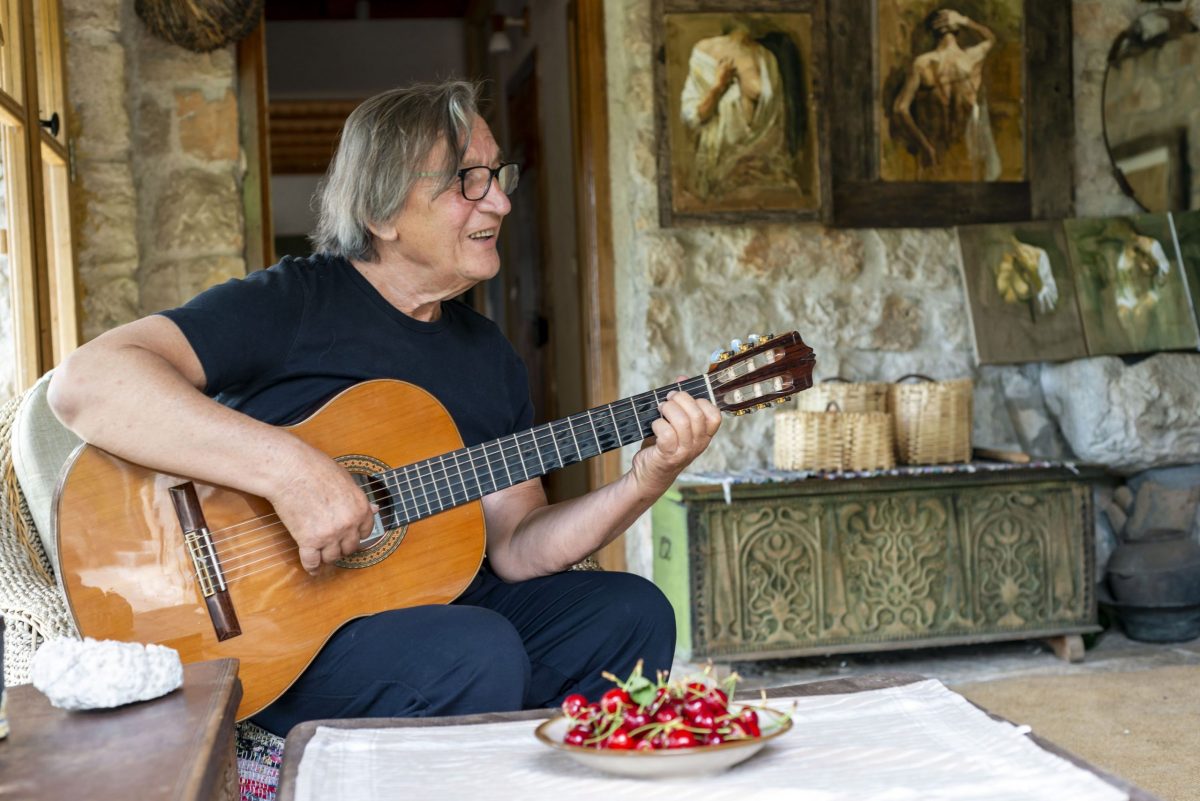 What was once an overgrown outdoor space full of fig trees, mint and scents spreading in the air
as Safet and Ivanka walked through it, has transformed into a beautiful, artistically designed and
maintained garden and house.
"Restoration work was painful in these conditions, but I couldn't just sit there and do nothing. So,
soon enough I set up a press on the ground floor room and created a graphic setting where I could
do my painting on my painting boards. I would watch the masters and paint. There was a lot of
enthusiasm. There were several crises as well, but, fortunately, I endured. Year after year, I kept
learning about what restoration was, getting to know people, collecting money, and creating a
more comfortable environment. Even today, I still make improvements or add things. The
passion or madness we've invested in this place has no bearing on our children. With us, with
me, it ends. I'm not imposing any obligation on them. If they like it, they're welcome to take care
of it."
Having lost his wife, and living on his own, Safet entered a sentimental phase. Everything still
reminds him of her, of their journey together. His wonderful children make up for the loss of his
beloved wife.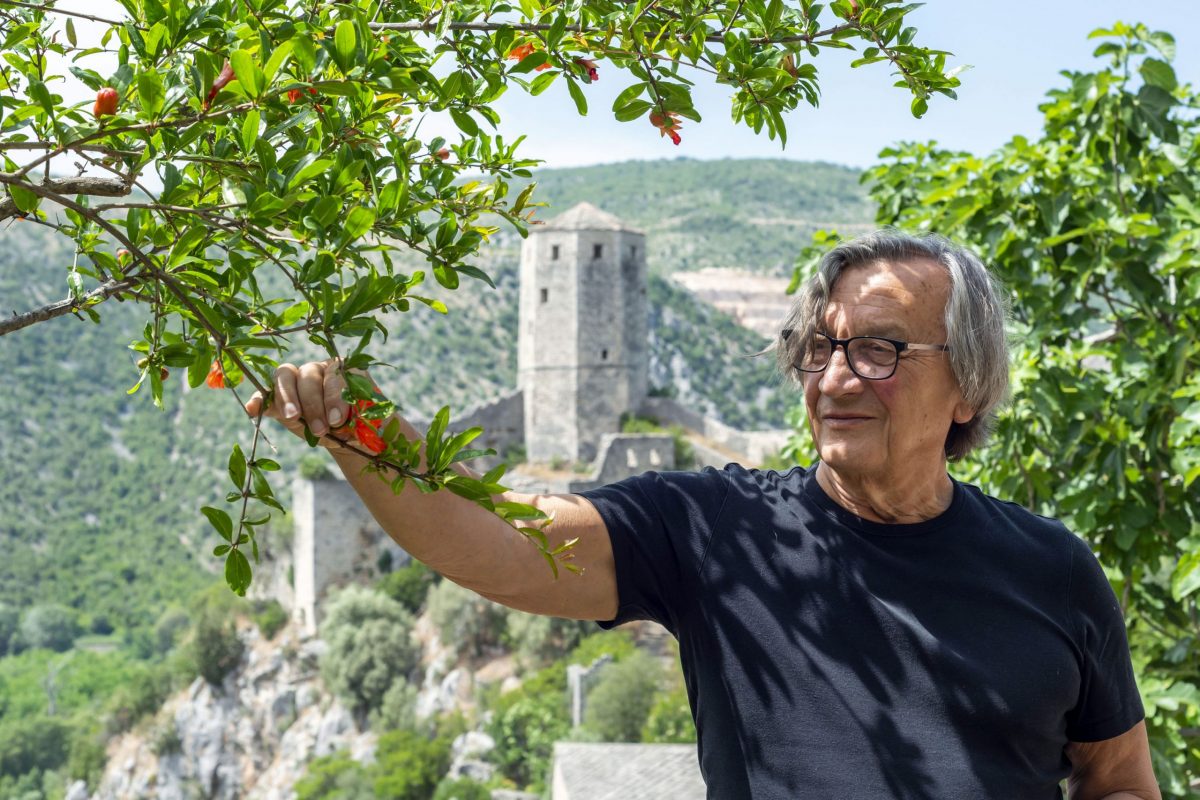 Artworks as a Source of Great Joy and Pleasure
Safet paints in different ateliers, but there is something about the one in Počitelj that the other
ateliers do not have. "I can work here for a couple of hours and then step outside into the garden,
take a walk or lie down on the grass. As soon as you step outside the atelier you're already under
a vine that you planted, near a fig tree that you grafted."
Safet produced some of his greatest works in Počitelj—his entire graphic oeuvre and dozens of
painting boards that were stolen during the war. To this day, he does not know where they are.
He re-created some of the paintings from his pre-war body of work.
Počitelj is an infinite source of inspiration for the master of a wide array of subjects and groups.
"Fortunately, I'm a kind of painting madman. Everything excites and provokes me in a way. I've
matured, and I'm very powerful in the practical, performing part. I've carried out large and
fascinating projects. By continuously nurturing love and passion, I kept getting better. I enjoy the
recognition, people see me as a little miracle, a creator."
Avdija, his mother's sister's husband, noticed his talent for painting at an early age. They would
often hang out in Bistrik. Avdija was a merchant who came into contact with books and people.
At the time, a single room that could seat 20-30 people would only be heated in winter. Safet
used to paint in the corner of that room in Sarajevo. He had no painting material, but his passion
for painting had already surfaced.
"Avdija would say: 'Let him be; he'll be great.' I belong to a nation, or an area, without an
organised structure which would support its most talented members. Over the years, I could've
avoided some of the things that have happened to me if I had an advisor who'd show me the way
to do things when he saw my work. I was already a genius, a great master after graduating from
the Sarajevo art school. I should've left. I've had my share of setbacks along the way," says
Safet, recalling the painful memory of returning from the Belgrade academy where he was
rejected.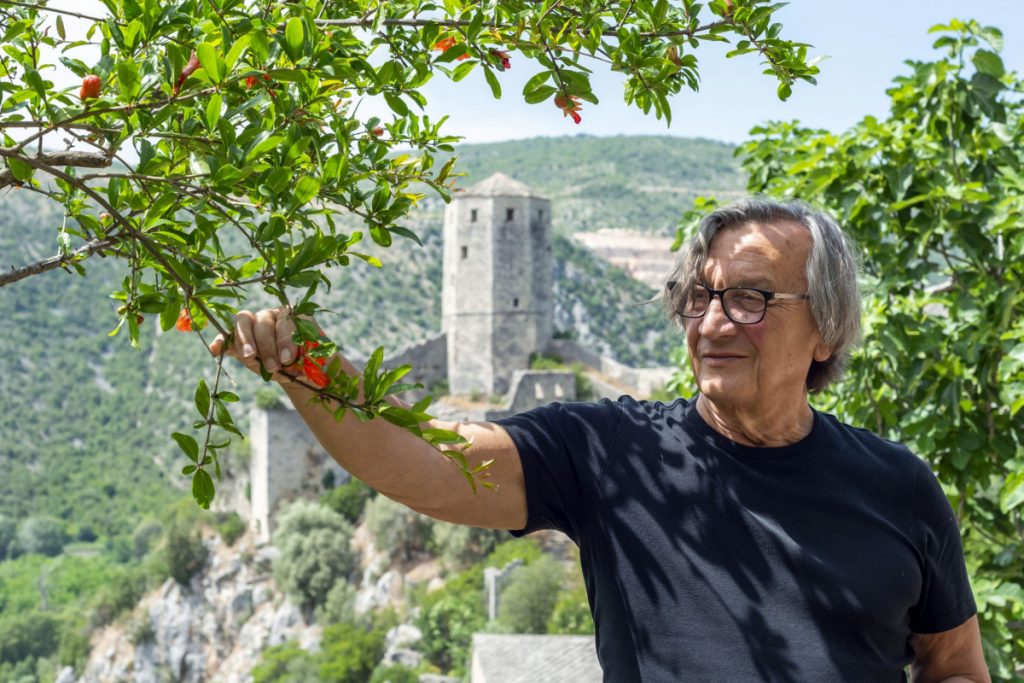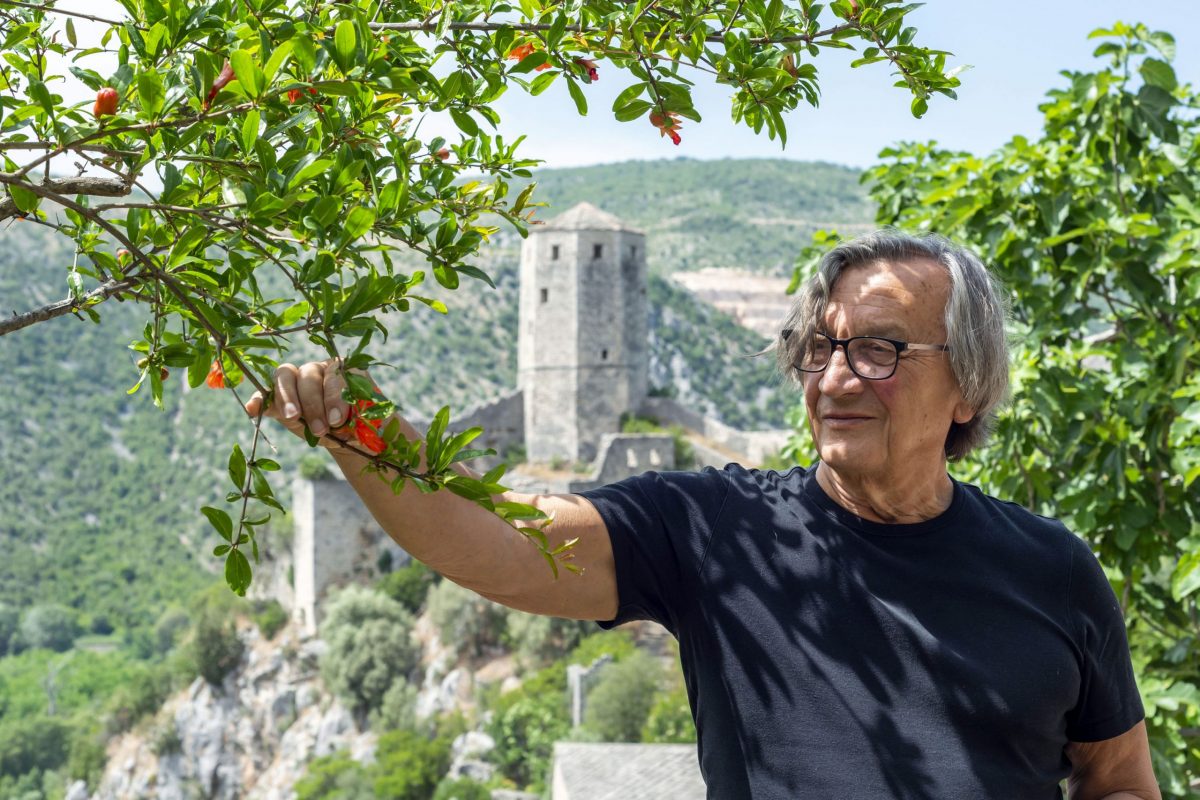 "They sent me back, probably because I was an artist who creates miracles. They liked people
with grammar school courses, people without any experience with substances used in painting. I
thought it was a flaw in the education system, a great defeat for me on my path and for what I
believed in. The worst economic situation was in the skilled craftsmen environment I grew up in.
My father was a shoemaker; all my relatives worked with leather. For economic reasons, as soon
as you were old enough to work, you'd work. We were muhajirs (migrants) who fled from
Rogatica, Foča, Goražde… we fled from the chaos. My father had allowed me to pursue art as a
career because he believed that his Safet was the best, so I really took the academy's rejection to
heart."
Later on, Safet will come to realise something else: all the works submitted to the academy are
not seen at all. Working at the academy, he would see thousands upon thousands of folders
stacked in a lecture hall and watch teaching assistants fleetingly examine a limited number of
those folders because they were in a rush to go to the seaside or the Sava River. It was all a
matter of luck.
This defeat affected him deeply. He became vulnerable, sensitive, but at the same time made him
who he is. Mica Todorović, a teacher in the art school in Sarajevo, who loved Safet very much,
offered her support knowing that all kinds of things happen and that students do not pass entrance
exams merely thanks to their talent and disregarding any other circumstance, fact, or influence.
"However, I was convinced that I'd stick with it and keep pushing onward."
Safet enrolled in the Academy of Fine Arts in Belgrade in 1964. He graduated in 1969, and in
1972 he completed his post-graduate studies in the class of Professor Ljubica Sokić.
"Whenever I'd look at my paintings, I'd always feel self-confident and happy. There was no
dilemma. You go to a museum, make a comparison, and you know where you stand. Creation
begins when you cross the line of apprenticeship, hardship, when you soar into the air. For me,
the artworks I created, what I've accomplished, is a source of incredible joy and I take great
pleasure in it."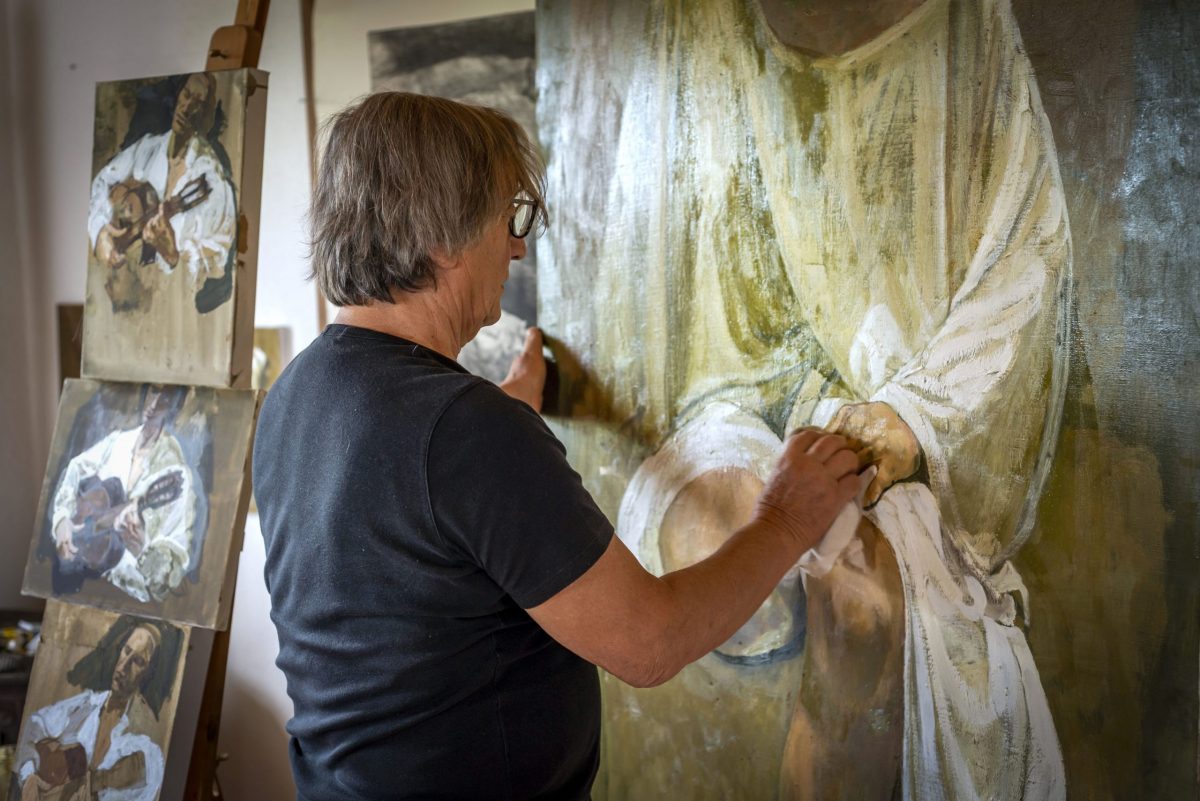 He has had an international career and received a multitude of awards and recognitions. His
works have been exhibited in art galleries and museums in Europe and throughout the world.
Luckily, he says, the creative urge is renewed every day, and the artist always finds new
challenges. Others will understand those challenges when they see them.
Solitude plays an important role in the creative process. His wife, who was a painter, would be
the first to see his newest works, and other connoisseurs or friends with their views would follow.
And how does one know when a work of art is finished, we asked him.
"I'd sometimes paint over my paintings that haven't worked. There was an issue with proportion,
something that mattered. My wife insisted that I shouldn't work on them any longer, and she
loved it if I didn't. I'd frequently overdo my paintings in an attempt to make them better, to
perfect them. It was actually about maintaining a sense of proportion. You can't always do that.
You often make mistakes. Fellows like me have got this whole picture in our minds of how
something is supposed to look, an entire exhibition. It all follows its own mechanism, so
execution itself is simple. When you're skilled, when you've mastered the craft, your paint brush
flows across the canvas like a fast river and you create a painting before you know it."
Bringing Počitelj to Life
Just like in the Chronicles of Narnia, where the heroes of the story discover a different world to
explore and new challenges to tackle through a magical passage in the wardrobe, the large
wooden gate in front of Safet's house takes you to another world with its own set of rules,
mystery and magic. It is utterly peaceful. Imagination is in the air. You can feel the purity of
consciousness, artistry, and creativity everywhere. Terraced gardens, overlooking the Neretva
River, are situated close to the spectacular landmarks of Počitelj.
As you look away from the foothills towards the peaks of Počitelj, you see the town walls. We
are trying to imagine what a religious music concert would sound like if we could hear the music
coming from the town's magnificent buildings, just the way Safet imagines it. We watch tourists
as they climb the stairs, but they do not linger here. Even though the possibilities are exciting to
contemplate, Počitelj remains forgotten. Some of the monuments are not even illuminated. And
so little is needed to bring Počitelj to life and open its doors to the tourism industry. Safet
describes his thoughts to us:
"I came here in 1975 and bought my first house in 1976. To this day, I've never seen the door of
the hammam (a Turkish bath) open, let alone entered it. Hammam is a divine structure from a
time past, the pride of people who can only tell stories about how we used to bathe in it. If there
was a girl sitting there, she would welcome the curious visitor into the hammam and show them
to the female and male sections. Everyone would drop some money into the box to pay for the
service, she'd earn a salary, and the hamman would be open. Perhaps 'm speaking harshly, but a
jobless person would earn some money. She wouldn't be sitting idly when there's a hammam for
her to work at," says Safet, and continues:
"I'd clean Počitelj, trim the trees, wash the fences, sweep the streets, clean up a little bit, and just
act as the little push needed to get things started. The courtyard of the town mosque is wonderful.
We could have a nice choir there which would sing religious songs and sevdalinka. The
Association of Fine Artists was entrusted with the management of the art colony. But,
management involves many different things. It's extremely impudent and uncivilised to trivialise
and keep a facility that can employ five people and generate income closed. It's a bey's house.
Before the war, when there were a lot of large companies in Bosnia, arts and culture were given
money in the budget, but nowadays it's different. The bey's house should be cleaned, people
should be employed, and when profit is made, artists should be invited to produce artwork for a
week. That's the only way to do it. It's got to and can work all year round. The madrasa is in a dire state; it's completely unacceptable. It's overgrown with weeds, the chimneys have collapsed,
the roof is leaking… All of it needs to be sorted out and managed by the relevant authority."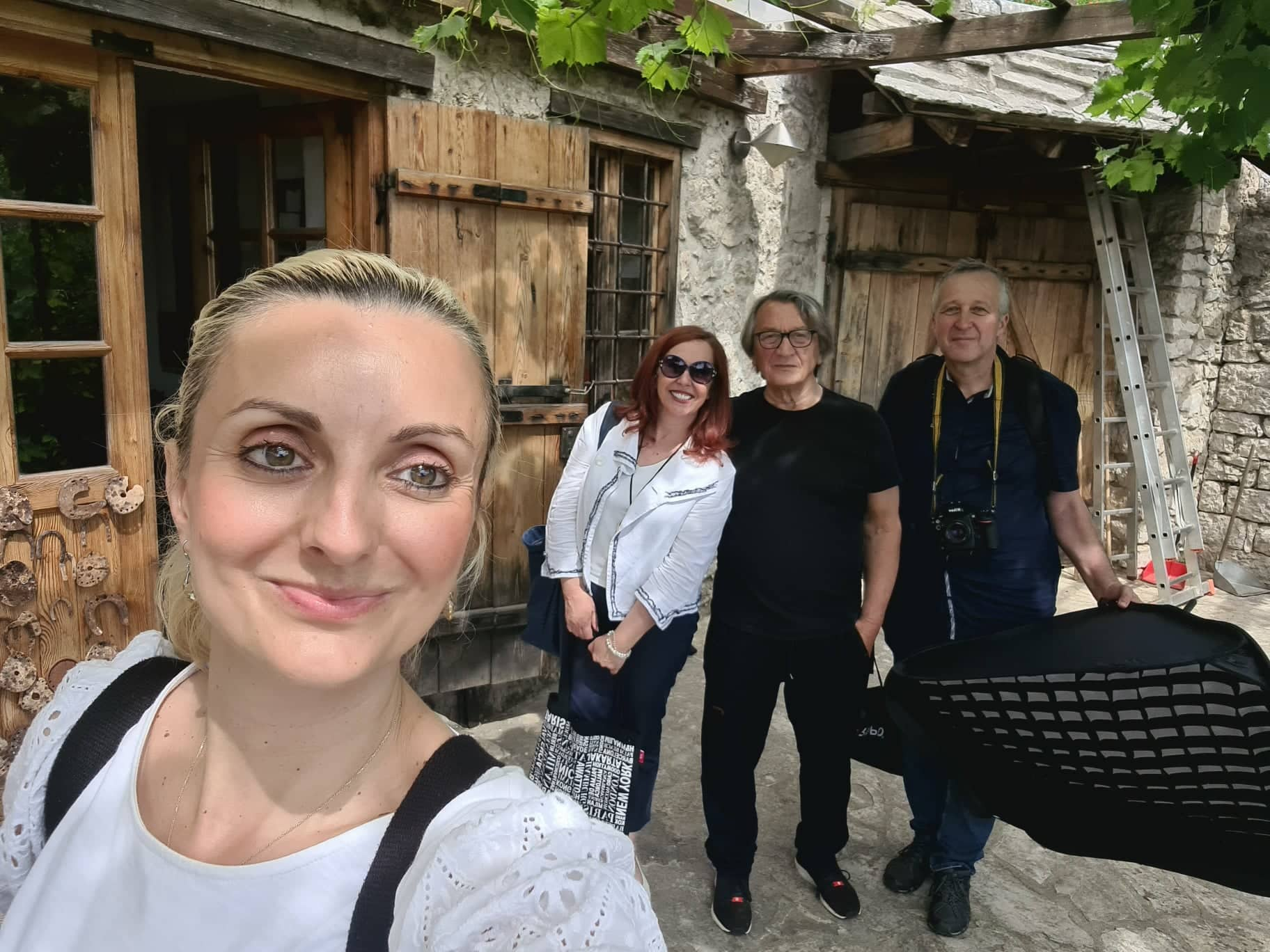 Safet plans to host gatherings where poets and musicians would meet very soon. He enjoys
playing music. The guitar has been his faithful companion since his art school days. Before he
saw us off, he played and sang a little. He symbolically picked a few mulberry branches. Holding
them in our hands, we went down the stone steps of Počitelj, aware that the greatness of Safet
Zec is not only told by his artwork. He is a very soulful person. He addresses you in a manner
that is awe-inspiring. He is ready to joke around and exchange a hearty handshake and a warm
hug with his guests. His story is compelling enough to earn him a place in a memoir.