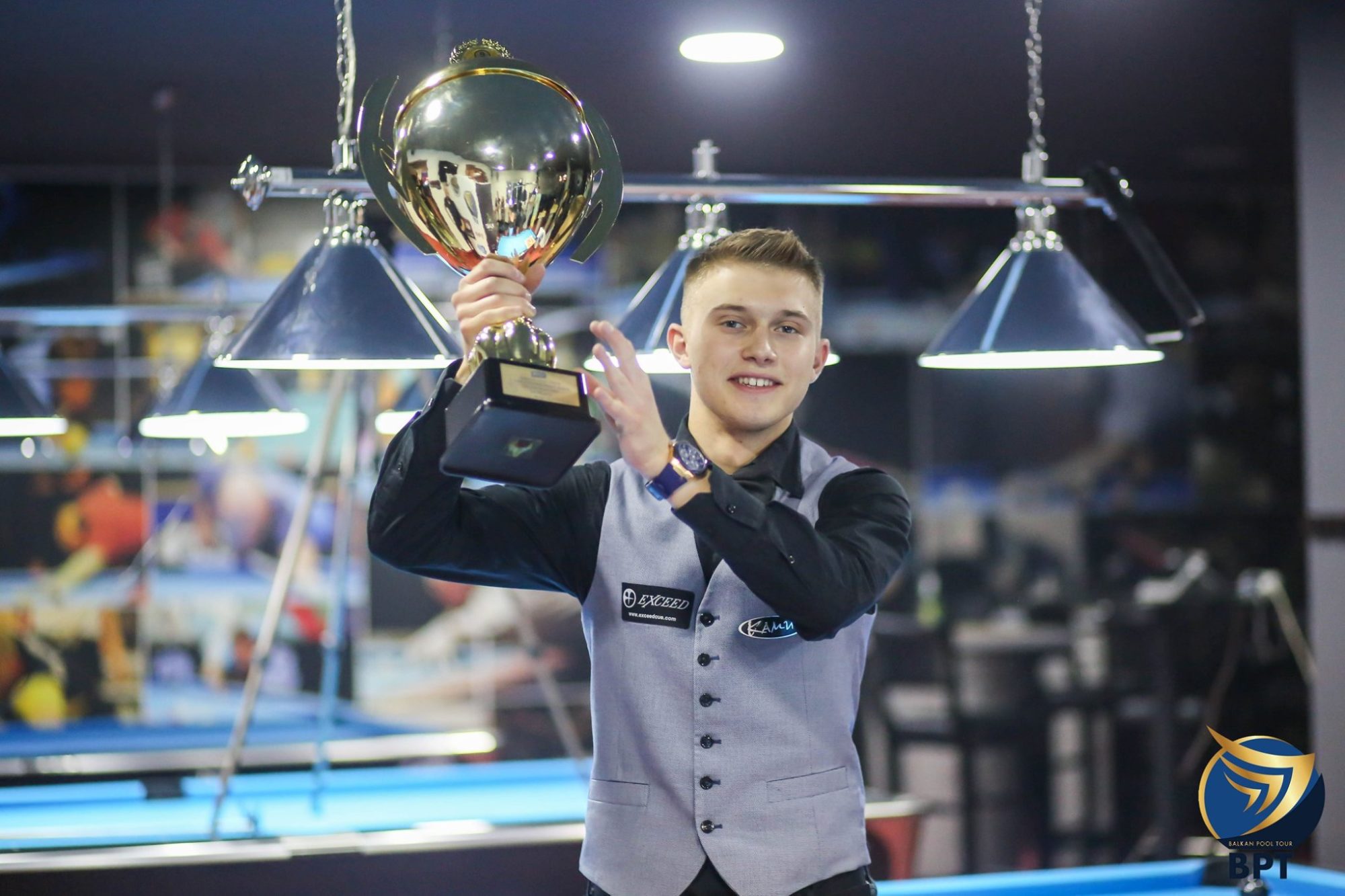 Sanjin Pehlivanović – B&H Miracle Child
The best billiards player in Bosnia and Herzegovina is unstoppable in breaking records and winning medals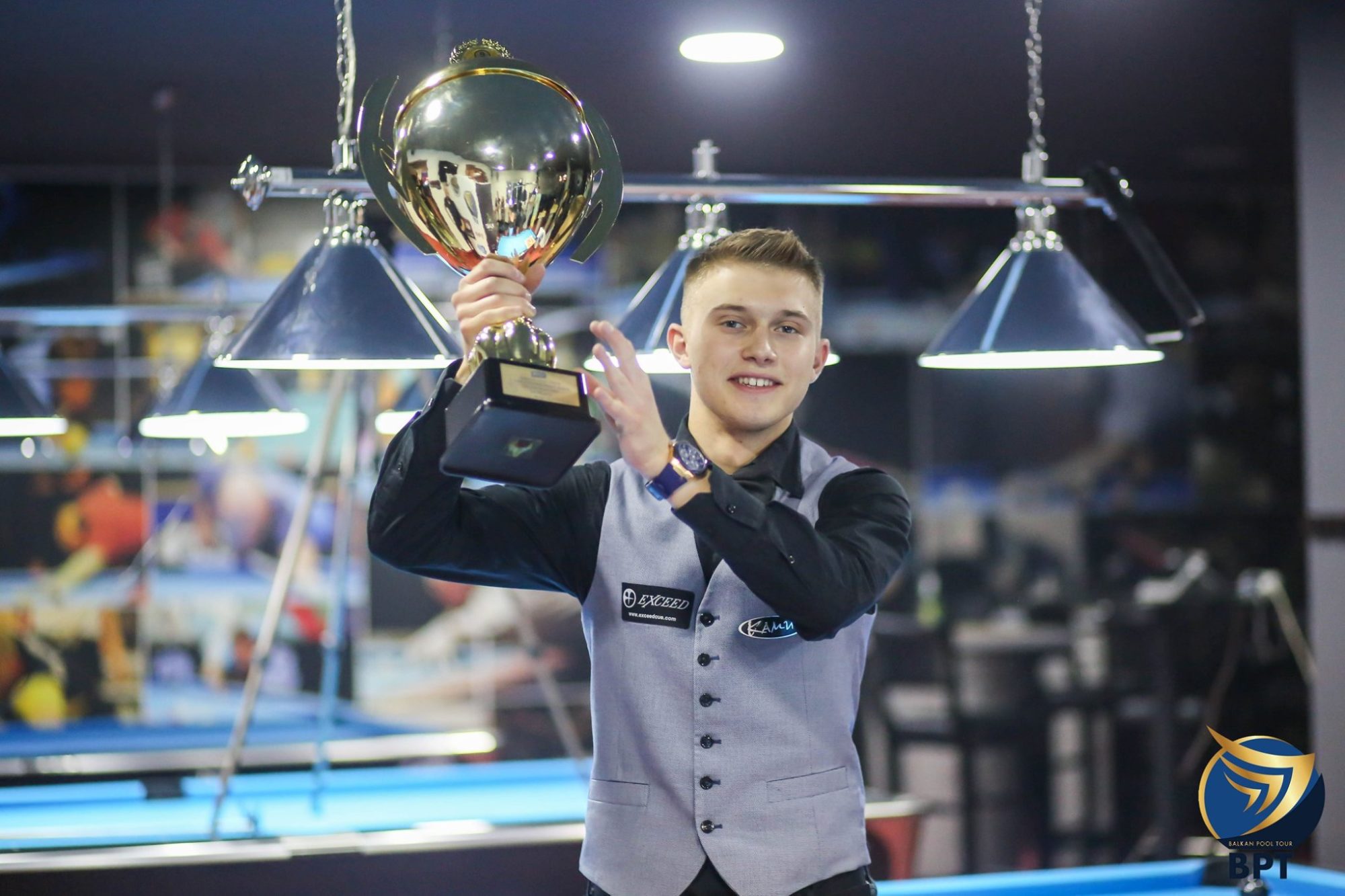 Sanjin Pehlivanović has been referred to as a miracle child for a while now. As a ten-year-old, he started playing billiards, and today he is winning at the world level. The records that he is unstoppable in beating best reflect his success. This eighteen-year-old Sarajevan was the runner-up of the state in the senior category of the 9-Ball Championship when he was 11, which is fascinating and simply amazing in sports. He is the youngest European champion in the history of billiards, has the greatest number of titles as a junior European champion, is a world champion, and at the age of 16, he was declared the best young player of Europe. Proof that he is not stopping with great results lies in the fact that just several days ago, he won his 8th title as junior champion of Europe.
– I'm very happy about winning the title. It's a pleasure to win any kind of tournament, especially one as big as this and as significant for my career as a player. I must admit that along with my first title, this one was the hardest to win, because the competition was really strong.
When did you start playing billiards and who recognized your talent?
– When, as a ten-year-old, I tried to play billiards for the first time, I was really attracted to the game. As was the case then, it is my life now and I don't know what else I would do in life if that privilege was taken away from me. My manager, Mr. Ramiz Turulja, recognized my talent, and he was really the main instigator and support without whom it would have been impossible to achieve all these results. Of course, there is also my father, who is an exceptional billiards coach. Many say that he is one of the best coaches in the Balkans, and I can say with certainty that he is the best.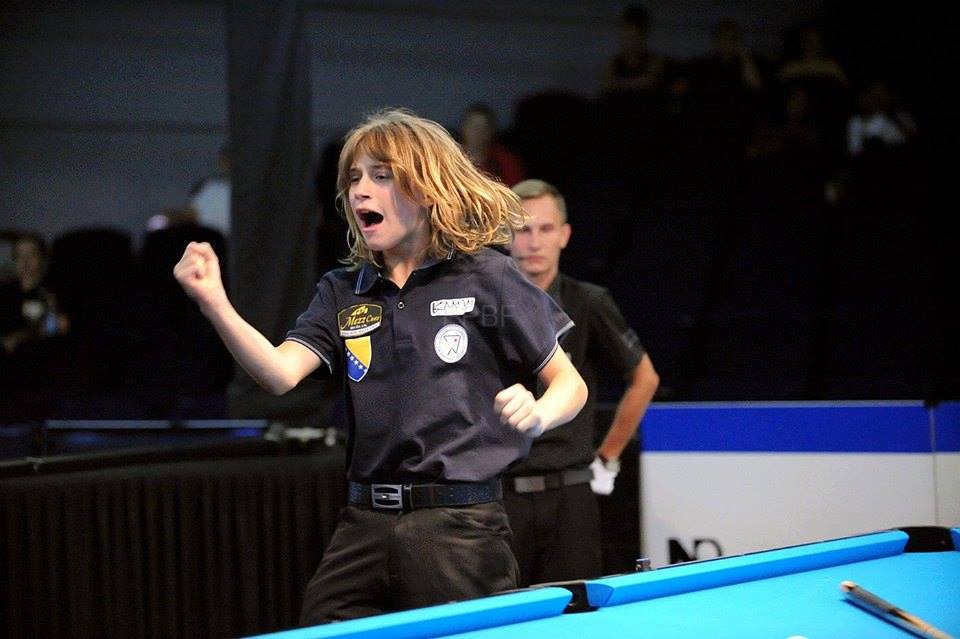 How much effort and work on yourself does it take to achieve the kind of results that you have had? 
– For those who don't play billiards, it might be a bit odd when I say that my trainings consist of trainings at the billiards table and daily training at the gym, where I try to stay fit, which is required for the game. I train every day, except when I'm traveling to a competition. I'm emphasizing these trips, as I really travel a lot and sometimes it gets hard.
You have already beaten legends of this sport, like the champion Ralf Souquet. Is there a particular person you'd like to have as your opponent? 
– Like every child, I had my idol in this sport. Mine was the greatest of all time, Ralf Souquet from Germany. At the age of 9, I was sitting in his lap admiring him, and at the age of 15, I beat him in Tirana at the Euro Tour. It was interesting what went on in the little head of a fifteen-year-old in the fight to beat his idol. It was a great experience for me, and things are different now. I play all over the world with the greatest world players, it doesn't matter who my opponent is. It's only important that I do my best.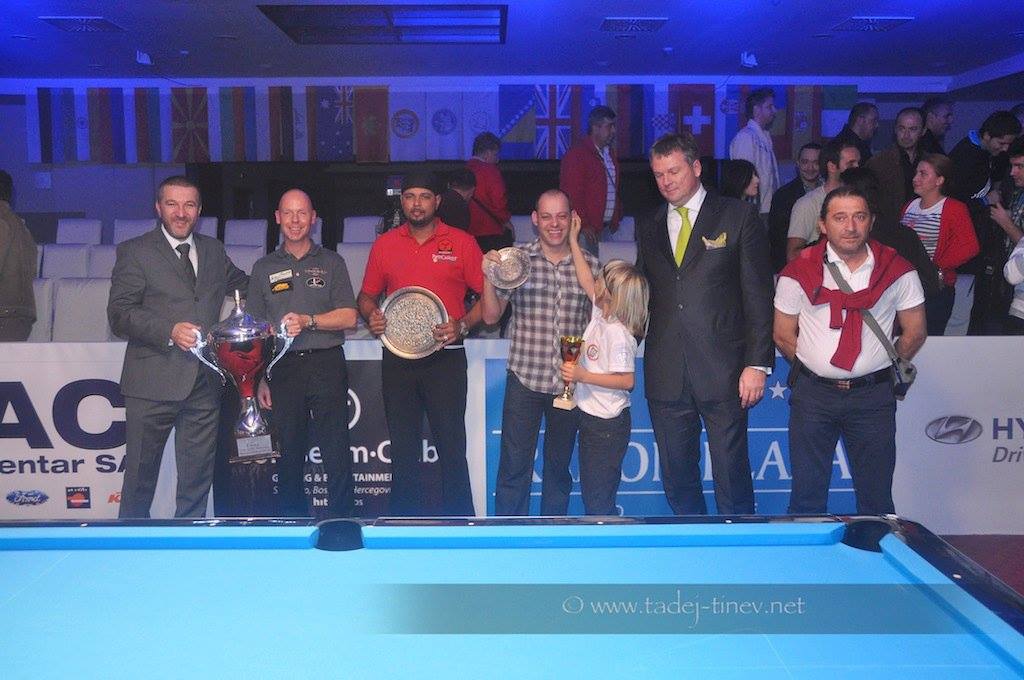 There must be a team behind such a successful child, that organizes everything. Who has been your greatest support for all these years?
– My father Senad, my manager Ramiz and I are a team, where my main role is no more important than these two side roles. In this individual sport, a player has no chance of becoming a champion if he doesn't have his team. My team is small and missing a few people, but I can say with certainty that it is the best. That's not at all immodest and boastful. I attribute all my success to them. What they had to go through with my boyish ways, and how we managed to turn a child's brain into a great fighter on the field, is something only they know.
You have signed a sponsorship agreement in China. How did this happen and how often do you go there?
– At one of the competitions, the Chinese recognized my talent and saw that I could be the representative of a game called Chinese eight-ball. That is one of the hardest disciplines in billiards, and I play that game in a very attractive manner, so sometimes I have the feeling that people go crazy when they see some of my antics. The organization of all events is led by a company called Joy, which is a leading company in the production of billiards tables, and they offered me a contract whereby I would need to be in China for at least a year, and they would provide the best trainers for that discipline and try to make me a superstar. After my first trips to China, my diet became a big problem. I lost 13 kilos in 9 days and my immune system was weakened.
I couldn't get used to Chinese cuisine, so my manager decided to reformulate my contract so that I must compete at least three times in one competitive season in China, and our partners were also happy with that. The food situation is changing, as I am slowly getting used to it. This thing with food might seem funny, but every move in billiards has its operations and nothing can be done without concentration, which requires a good diet. China is interesting and it is very flattering when people see you as a star.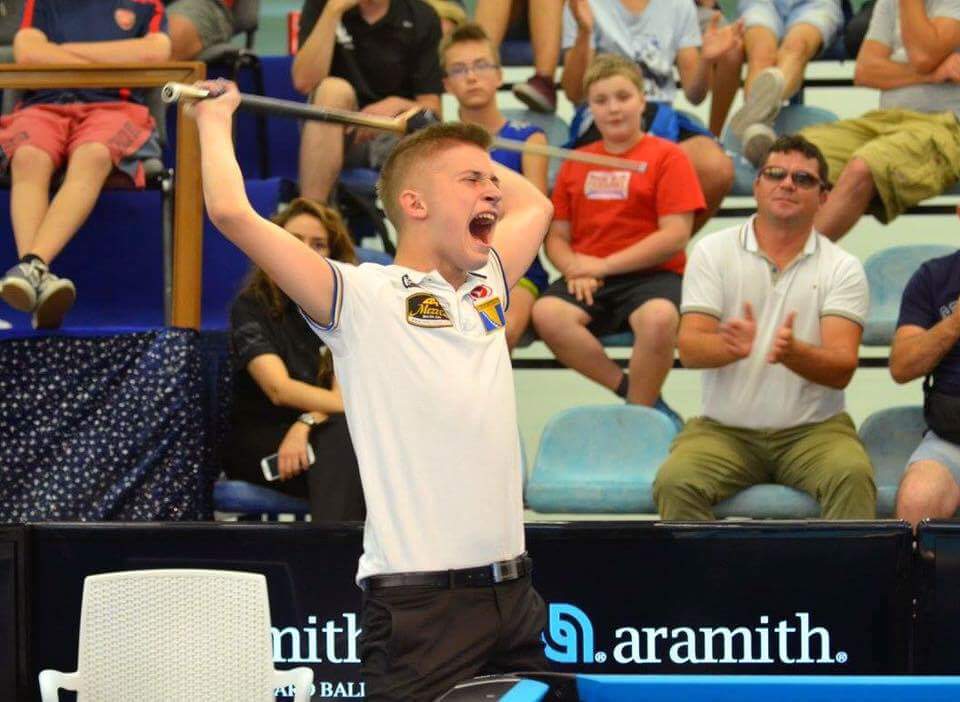 I don't doubt that you have met a lot of peers from different continents through billiards. Are there any friendships that still last today?
–  I have traveled throughout the world through billiards competitions, and met a lot of friends across the globe. That is what is most valuable with people, as I was taught that a person is wealthy in the sense of how many friends they have. In that context, I'm a zillionaire and that makes me very happy. I have met a lot of cultures across the world and that helped me understand what the term life really means. When you see everything, you realize that health and friendship are the most important, and that everything else is transient. 
How do you organize your time for fun and socializing, with all the competitions and trainings?
-Of course, as is the case with my peers, I'm interested in a lot of things and I try to be trendy, but as much as my time allows me. To be honest, I don't have a lot of time. I travel a lot, and when I come home for a short time, I want it all, primarily to see my family and friends, and at that time I have to do my trainings first. Sometimes I get really tired, but I'm very aware of the path I've chosen. My hobbies are watching movies and listening to music, that relaxes me.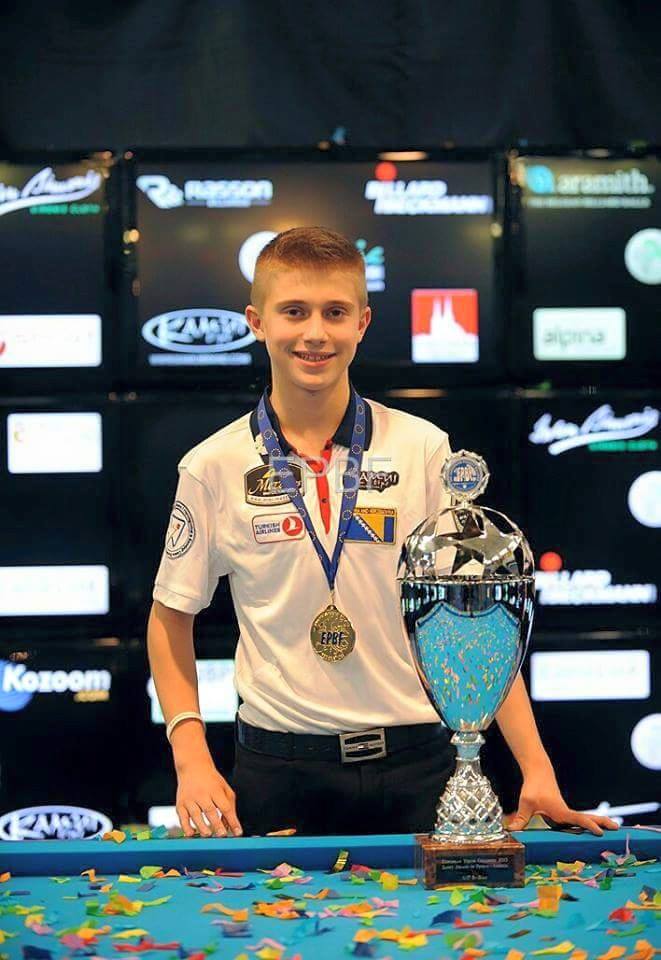 You are a year 11 student at Peta Gimnazija (Fifth Gymnasium) in Sarajevo via distance learning. What are your plans for the future?
– I try to do my exams on time, although I have to admit I'm barely making it. They have understanding at the school, and I'm very grateful for that. I hope that after high school I'll continue my education, but when it comes to any long-term plans, it's very hard to decide anything. The situation for young people is very unfortunate and I sincerely hope that it will get better.
I have been thinking about continuing my life somewhere else, as I have already experienced a lot of injustice at various awards ceremonies. I have had and I continue to have invitations from other countries to perform for their national teams, but I can't do that as I really love my country.