Kozara or Kupres, That is the Question!
For many of us, winter is the best season of the year. We look forward to it for months, waiting with great anticipation for the right moment to get our skis and sleds ready and head up to our magnificent skiing sites. This time, we decided to focus on places frequented by the residents of Banja Luka and share more details of the appealing charm of Kozara and Kupres, the latter of which also happens to be popular among the residents of the Dalmatian coast.

During winter season, residents of Banja Luka often head to Kozara for a day trip or a winter vacation. Kozara National Park is 24 km away from Prijedor and 56 km away from Banja Luka. Situated at the altitude of 804 m, Mrakovica is the highest peak of Mt. Kozara. To reach Mrakovica, you should take a 12 km long and winding paved road from the village of Kozarac, surrounded by miles of luscious deciduous and coniferous forest.
STROLL AROUND THE NATIONAL PARK
North-west slope of Mrakovica features 800 m long ski trail with ski lift. In addition to winter activities and skiing, visitors can enjoy a relaxing stroll as they explore "Kozara" National Park, or get a tour of the museum and a monument site which features a masterpiece by Dušan Džamonja, a renowned academic sculptor, to learn more about history and cultural heritage of Mt. Kozara and the area around it. This resort is ideal for families with children, as it features ski trails for both children and adults. Visitors may opt between daytime and night-time skiing and get a day or a half-day pass. Entrance to the National Park is charged at the rate of 2KM per person. "Monument" Hotel, "Bijele vode" Motel and bungalow resort are available to those interested in an overnight stay.
In addition to Kozara, Kupres is another skiing resort popular among the residents of Banja Luka, but also appealing to residents of the Dalmatian Coast. Kupres is 120 km away from Mostar, 140 km away from Split and 150 km away from Sarajevo. Kupres Recreational Centre is located only 2 km away from the main road connecting Sarajevo with Split via Travnik, Bugojno, and Tomislavgrad. The nearest airport is located in Split (140 km away from the site).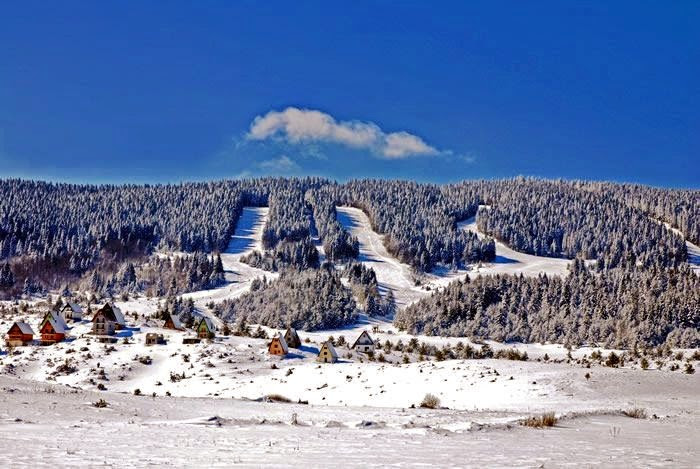 SKI RESORTS AND HOTELS
Kupres Resort is situated at the altitude of between 1,120 and 1,150 m. The resort features mountain – Alpine climate, with the annual average temperature of only 5.7° C. On average, there are 141 days with precipitation, with average 55 days of snowfall. Snowstorms are common here, due to strong mountain winds. Mountain climate, pristine nature and several skiing resorts ("Čajuša" Sport and Recreational Centre, "Stožer Vrana" Ski Centre and Ski "Ivan") appeal to winter lovers and winter sports aficionados. "Čajuša" Centre features four ski trails and five lifts, open throughout the day and as well as over night. It is located several km away from Kupres. In addition to its many skiing amenities, "Stožer Vrana" Ski Centre also features a magnificent view of Kupres and the entire plateau. Ski "Ivan" offers ski courses for children, but also for adult beginners eager to master the sport and enjoy the charming wintry wonders.
Several options for accommodation are available to those resolved to stay on Mt. Kupres for more than just one day. These include accommodation at a well-known "Adria Ski" complex or one of many private providers offering rooms, apartments and houses. "Ognjište" Restaurant, situated right where the ski trails end, offers delicious meals enabling the skiing enthusiasts to get a quick break without having to go back to their hotel and resume skiing in no time.
Written by: Daša Gajić