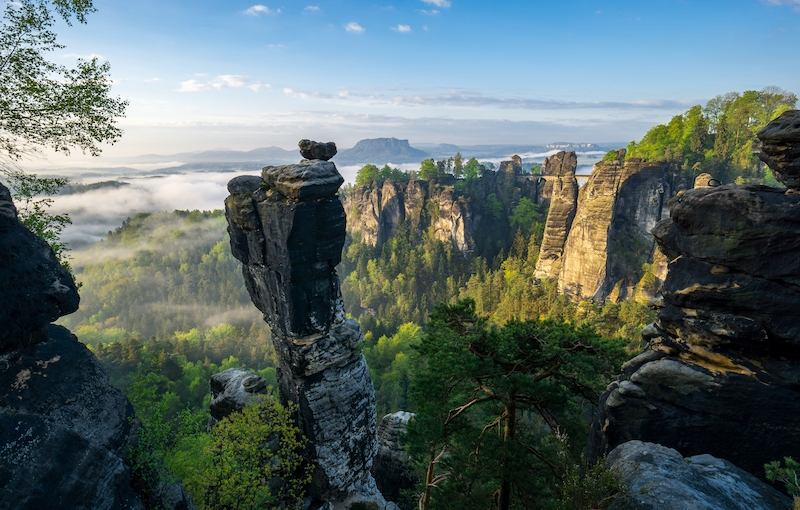 Foto: ©Tourismusverband Sächsische Schweiz e.V. (Philipp Zieger)
Spectactle of nature – Famous national parks of Germany
If you are breathing in the refreshing relaxation in well preserved nature, then you must be in one of the national parks of Germany
National park Sächsische Schweiz (Saxon Switzerland)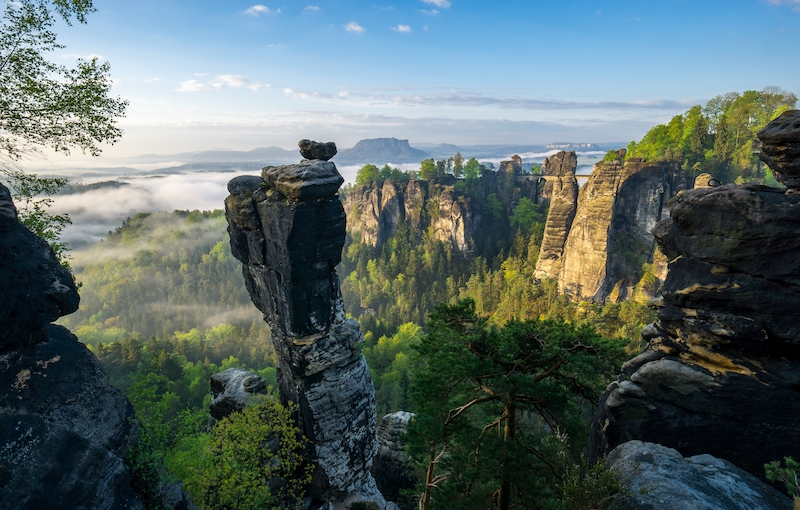 ©Tourismusverband Sächsische Schweiz e.V. (Philipp Zieger)
100 million years of natural monuments
Welcome to the birthplace of free climbing! The ambiance in which this discipline can be practiced can hardly be compared to any other in the world. The region of national park Sächsische Schweiz (Saxon Switzerland) is adorned by rocks, deeply engraved valley, plateaus and canyons, and is inhabited  by rare animal forms such as sockeye owl, otter and dormouse. If you prefer the view of the entire area, you can climb the hill over the steep rocks of the national park, but also enjoy the magnificent view in a somewhat easier and more comfortable tour. This fascinating scenery can be explored on water as well, in a rented boat with oars or in one of the many ships. Other attractions include a national park house, fortress Königstein, a stage on Rathen rocks, pirate castle Flößersteig, Canaletto's column in town Pirna and, of course, unique city of Dresden.
National park Jasmund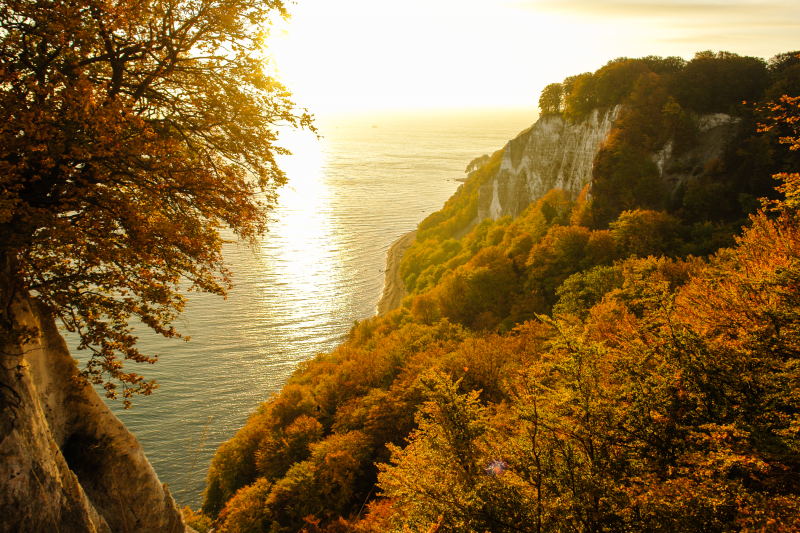 ©Nationalpark-Zentrum KÖNIGSSTUHL (Peter Lehmann)
Fascinating coastline lined with limestone rocks
At the furthest Northeast of Germany lies a national park Jasmund, whose most famous characteristics are the world famous limestone rocks around Königsstuhl. Red beech forests, which exist since 13th century, are also a part of the national park in which swallows and endangered white-tailed eagle have found shelter.
Generous offer of mountain and biking routes, field trips and seminars provide for sightseeing of this fairytale-like scenery, and biosphere preserve Souteastern Rügen. However, the area of Stubnitz offers much more than fairytale limestone panorama. Visitors can take regularly organised tours to discover more abound legendary characters such as Germanic goddess Herta or mysterious pirate Störtebecker, who, allegedly buried his treasure in this place.
A visit to hunting castle Granitz, which is located south of Blinz, or a ride on an island's steam mini-tram named Rasender Roland, will wet your appetite for additional cultural landmarks of the region.
National park Schleswig-Holsteinisches Wattenmeer
(Schleswig-Holstein Wadden Sea National Park)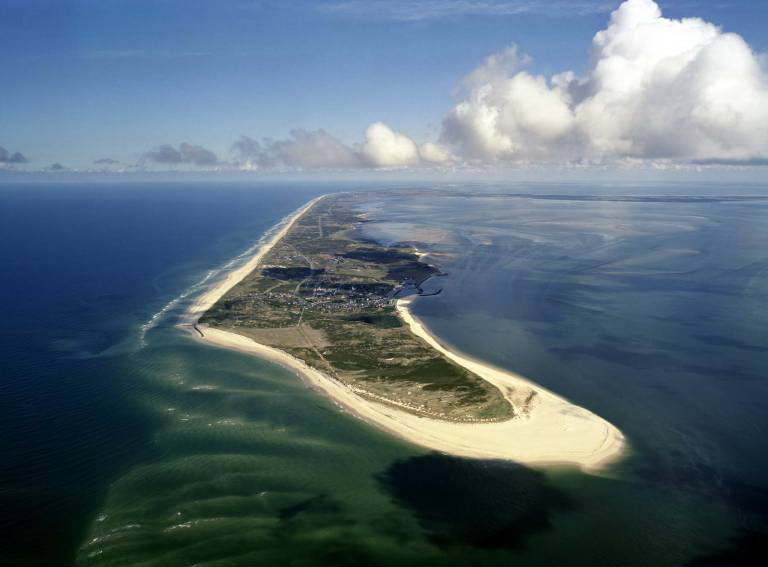 @imago/blickwinkel
The largest area of shallow sea in the world
The shallow sea in the furthest North federal province of Schleswig Holstein is an area susceptible to tidal changes. When the high tide comes, the sea floods it entirely, and with the arrival of low tide it remains completely dry. Thus, small Halligen isles, which are unprotected by embankments, get completely flushed over with water during high tides and storms.
This shallow sea is inhabited by up to 3200 animal forms. It is thus possible to come upon sea stars, crabs, snails, shells and sand worms by the water. This national park is a year long tourist attraction as a place for nesting and resting of a large number of migratory birds. In autumn, visitors can watch an absolutely unsurpassed natural spectacle – the unusal sight of arrival of various types of birds. Whether it is at the program of beach walks, sea bathing, strolling through the area of shallow sea, boat riding or bird observing at the salt fields, vacation in national park Schleswig-Holsteinisches Wattenmeer guarantees a rest for body and soul.
National park Vorpommersche Boddenlandschaft (Western Pomerania Lagoon Area National Park)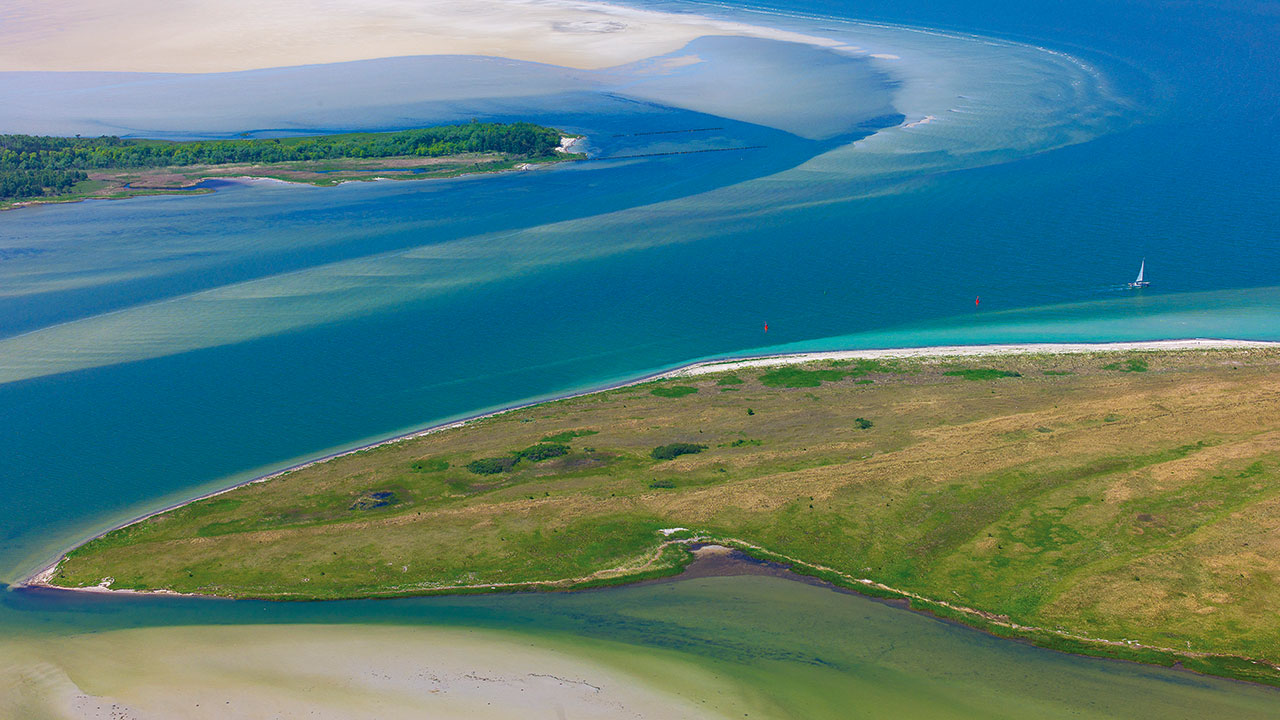 A place where forests merge with beaches
National park Vorpommersche Boddenlandschaft stands out as an unique district made of steep shores, dunes, isthmuses and shore lakes. Bodden owes its name to shallow inlets separated from Baltic Sea where sweet and salty water mix, and they can be explored by boats during round trips.
At guided or privately organised tours visitors can observe the shore and forests of the national park. Roads through Osterwald are abound with excellent panoramas, such as Pramort and Tall Dune, which also lead to historically important fields of salt, among other things. The diversity of flora and fauna will also astonish you. National park is the biggest European resting place of cranes and each fall some 30.000 of them come here, which is an unique experience.
Also specific to this region is the artistic colony in Ahrenshoop, lighthouse and museum Natureum an Darßer Ort, house of the national park on the isle of Hiddensee, and the museum of gold in Stralsundu.
 

National park Harz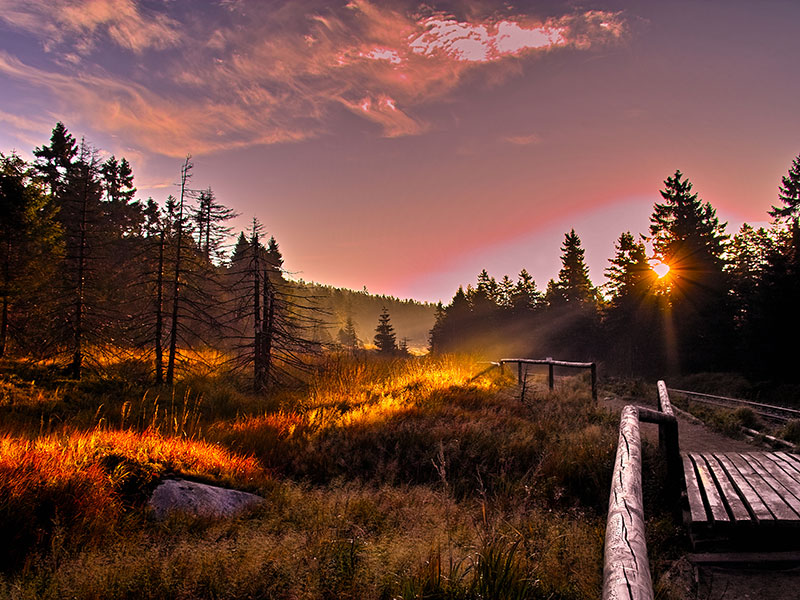 Harz National Park, Goethe Trail

©Tourismus Marketing Niedersachsen (Christian Wiesel)
Legendary highlands
Entering Harz national park marks the beginning of an adventurous exploration of nature. Goethe's way and Witch's ascend will take you through legendary forests, mysterious rain swamps and natural drinking water. The peak is at 1.142 m – which is the highest mountain in Northern Germany. The peak usually can only be spotted in contours, as it is forever and again lost in the fog. Due to this game of nature folk tales and legends of witches came about, which became a motive for Walpurgis Night which is celebrated every year. As an additional attraction you can visit a steam railway and 100- year old stone garden. You can participate in the walk with a ranger or in a railway ride on a 130 km long route – all the way to Brocken hill which boasts the highest railway station in Germany.
Apart from extraordinary encounters with animal world, many other interesting things await you, such as medieval towns with typical German houses only partially made of wood.