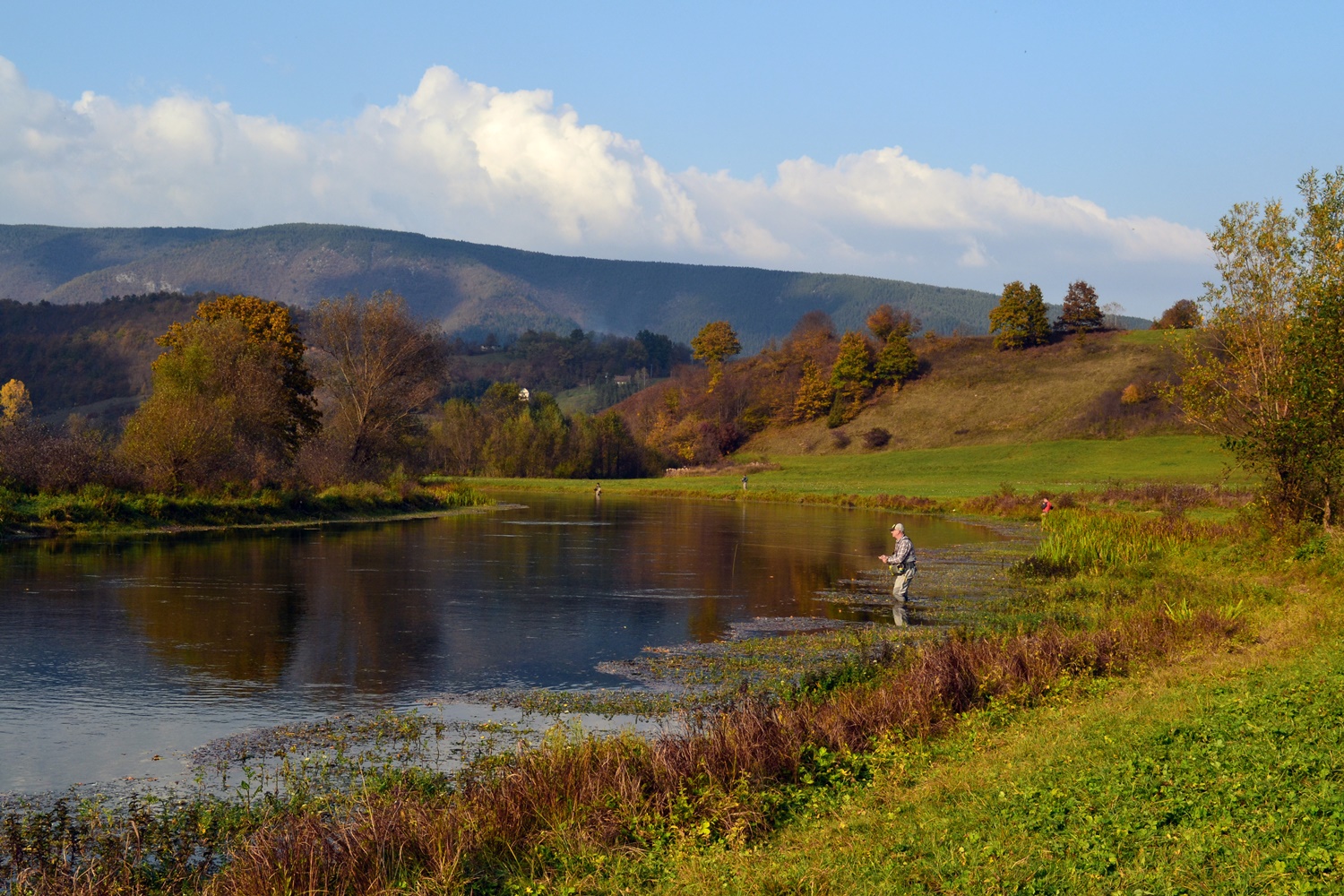 Photo: Rudolf Grgić
Recreational Fishing in Bosnia and Herzegovina
Our country, full of magical nature and clear waters, can boast of many places for fishing – special fishing areas, some of which are among the most attractive locations in Europe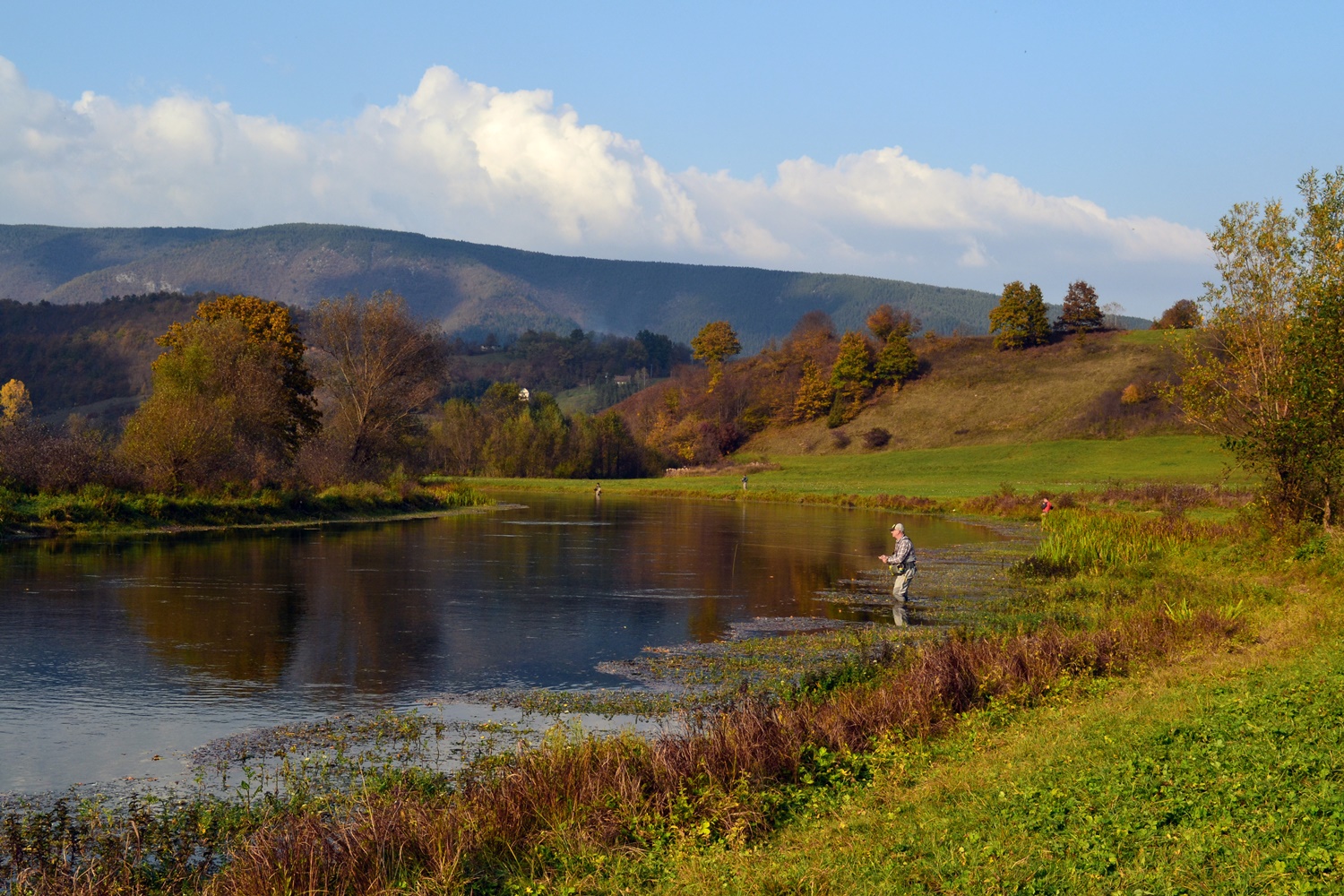 Recreational fishing started developing and gaining favor in Bosnia and Herzegovina towards the end of the 19th century, and today it is very developed and widespread across the country, as the conditions for it are good and there is a long tradition of it, especially when it comes to fly fishing. Apart from having a relaxing time by the water and nature, and outsmarting the fish, this sport is a special adventure, which entails adapting to various places and terrains, in various weather conditions, as well as getting to know new areas and people. 
As hard as we try to describe the pleasure derived from fishing, nothing can compare to this fantastic experience, so we suggest that you give in to the surface waters of Bosnia and Herzegovina and experience it for yourself. In the following paragraphs, we will introduce you to several fishing areas, which are pearls of Bosnian-Herzegovinian fishing and places where, apart from catching fish, you will relax your body and soul, and enjoy the magical nature.
Fishing area on Neretva River, Glavatičevo
The fishing area is located on one of the prettiest rivers in B&H, in a zone where fishing was strictly prohibited for a long time. The environment is incredible, as untouched nature rules here. It does not fall into the category of urban fishing areas, where you fish as you walk through courtyards, or you are constantly looking out for passers-by. The fishing area is exceptionally well marked, so it is very easy to find the beginning and end of the fishing area. Here, the regime  catch and release is in force, for all species of fish. Therefore, the fish is placed back into water after being caught, which prolongs its life span, and provides the fishermen with new opportunities to catch fish. At the same time, the number of fish is not decreasing, but it is increasing, which in the future will bring more excitement and pleasure to fishermen at these beautiful waters.
When it comes to fish species in this fishing area, this is a story in itself. There is probably no other river with such diversity of salmonid fish species in Bosnia and Herzegovina: grayling, brown trout, marble trout, kosor, Neretva brown trout, and as icing on the cake, there are their majesties – soft-muzzled trout and marble trout. The length of the fishing area is 3600 meters, which ensures uninterrupted fishing for more fishermen, who may not even run into each other. Do not miss this fishing area, as the experience of fishing in this spot is something you will not forget by the following weekend.

Fishing area on Krušnica River, Bosanska Krupa
An absolutely clear mountain river, with emerald-green drinking water and river source, which cannot be compared to any in the region. Great capacity, a flow with a depth of over 120 meters at the very source, make this beauty unique. The length of the river is 7.5 km, and the fishing area on the river is approximately 2000 m long, with the "trophy" part at the very source in the length of 200 m and marked with panels at the beginning and end.
Fishing area Krušnica, i.e. fishing on this river, is suitable when using a nymph, dry fly and streamer, only with a humane circle hook. The fish you can catch here are grayling, brown trout and huchen. The fishing system here is catch and release. It is permitted to take grayling that is over 55 cm for an additional charge, in the amount of a daily permit.
The main part of fishing area Krušnica in the length of around 200 m is abundant with large grayling and brown trout, and it is suitable for fly fishing beginners, who can have a superb fishing experience in the main part of the fishing area.
Starača Lake, Ilijaš
The Starača Lake is located in the Municipality of Ilijaš, near the settled part of Ljubinići. Despite having unpolluted and clear water, prior to its maintenance, it was mainly a landfill site. Because of fishermen from Sarajevo and Ilijaš, who in previous years initiated the maintenance and cleaning of this locality rich in natural beauty, today this lake serves as a place for fishing competitions, and also as an excursion site, where the citizens of the Municipality of Ilijaš can enjoy themselves, as well as citizens from any part of Sarajevo Canton.
Around 450 meters of the lake shore provide the opportunity for active fishing, and it is rich in various species of fish, so here you can catch carp, pike, bream, roach, chub, bass, Crucian carp, Prussian carp… Located not far from Sarajevo, this fishing area is the best option for fishing after work. Relaxation for the mind and body, truly!
Fishing area on Lašva, Busovača
Fishing area I.P. OKO got its name from the legend of recreational fishing in Busovača and the region, Ivo Petrović, and it is located along the main road from Vitez – Busovača, but it is hard to see from the main road. However, those who find their way to this fascinating place on the Lašva River, will see that a lot of work and effort has been put into this place, and they will be thrilled by the river itself, as well as the fishing lodge and excursion site. 
The species of fish you can find here are brown and golden trout, huchen, carp, chub, barbel, Mediterranean barbel… Upon leaving the fishing area, a fisherman is permitted to take one fish for an additional charge, i.e. one golden trout or huchen, while the brown trout and carp fall under the catch and release regime. It is truly worth experiencing the challenge of the fast Lašva River in the pleasant environment of the clear river and clean shores.
Fishing at Una National Park
Apart from magical whirlpools, waterfalls, and coves, Una hides different species of fish, along with other animal and plant life. Catfish, pike, carp, trout, grayling, common nase, pigo, barbel, and especially huchen which can reach sizes of over a meter, among others, are the most famous fish species of the Una River.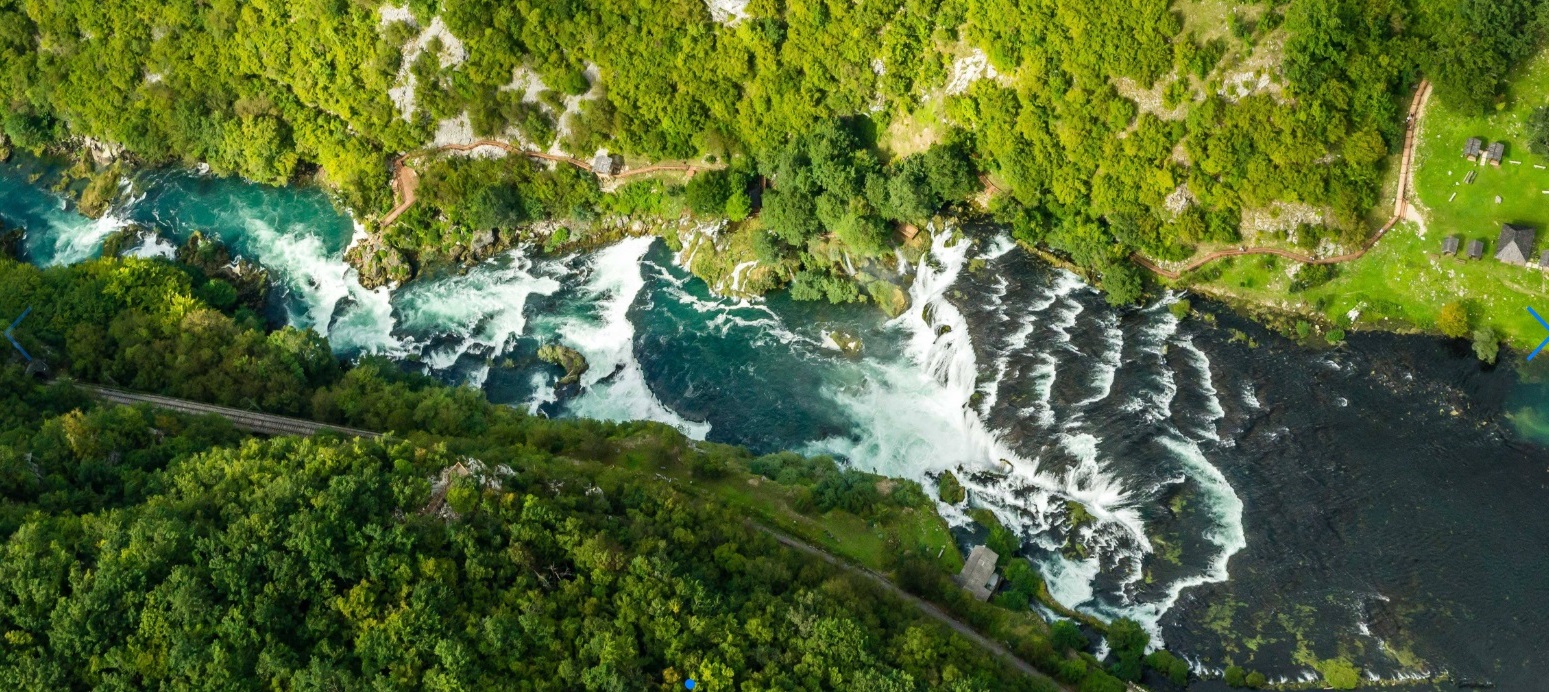 Tourists who visit the Una National Park can enjoy fly fishing, and other types of fishing that is permitted on the clear and cold waters of the Una and Unac rivers. There are three unique fishing areas in the region for fans of fly fishing; there is fishing area Martin Brod in the length of 7.5 kilometers, and as part of this fishing area, there is a special part of the fly fishing area of Unac in the length of 900 m. Then, there is also fishing area Kulen Vakuf in the length of 1.5 kilometer, and fishing area Bjelila – Loskun, in the length of 4 kilometers.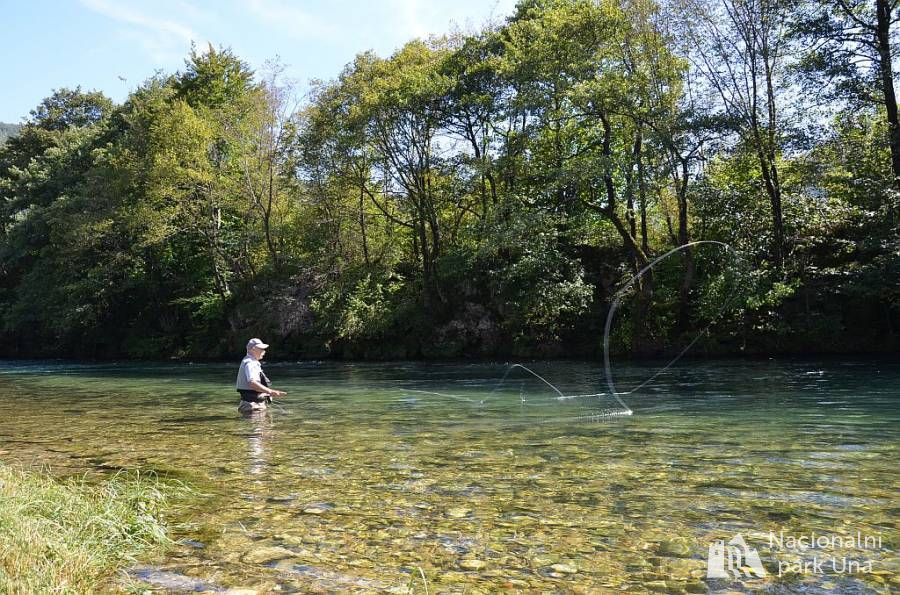 There are also four fishing areas for fans of spin fishing (with a "blinker and moth") and fishing with a bubble float, and they are fishing areas Ćelije – Klisa, in the length of 14.5 kilometers, Dvoslap, in the length of 5.5 kilometers, Gečet, in the length of 3 kilometers and fishing area Očigrije, in the length of 1.7 kilometer.
Fishing area on Pliva, Jajce
The source of the clean, green and clear Pliva River is at Pljeva near Šipovo. The river flows for 30 km and runs through Šipovo, Jezero and Jajce. At the exit from Jezero towards Jajce, Pliva makes Malo and Veliko Plivsko Lake, which are special attractions for numerous tourists who visit this region. In the very center of the town on the Pliva River, there is a fly fishing and spin fishing area, which is led by local fishing club Zlatovčica.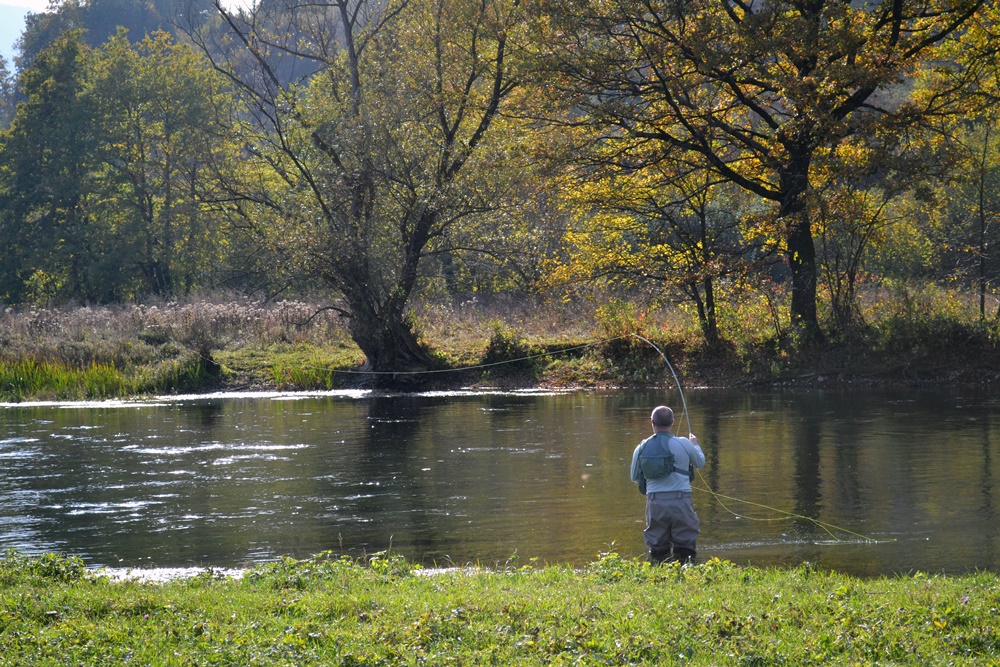 In various parts of the Pliva River, there are different fish species. Therefore, the flow of the river from its very source, all the way to the estuary into Veliko Plivsko Lake, is the habitat of autochthonous brown trout and grayling. The species you can find at Veliko Lake are brown trout, grayling, lake trout, lake char, golden trout, common rudd, tench and carp, while at Malo Lake there are grass carp, roach, pike, catfish and minnow, making it unusually diverse and challenging to fish here. Pliva represents a small heaven on Earth for recreational fishermen in the fly-fishing discipline. Here, this increasingly popular sport also functions under the catch and release system.
Author: Samila Ivković
Photographs: Bistro BiH