As cold weather arrives, all we dream about is spending quiet days and nights in a warm and comfortable atmosphere indulging in a cup of warm drink and looking out at the wondrous power of nature mesmerised by the falling leaves swirling in the wind one minute and snow whirling around until all is white the next minute… Regardless of whether you love winter activities or not, getting a break in a warm and idyllic place is something everyone hopes for. And everyone is in search of a cottage featuring delightful views from its windows, a fireplace and wonderful rustic or vintage decorative pieces. A number of such cottages, as if from the most beautiful winter holiday films made in Hollywood, can be found in Bosnia and Herzegovina.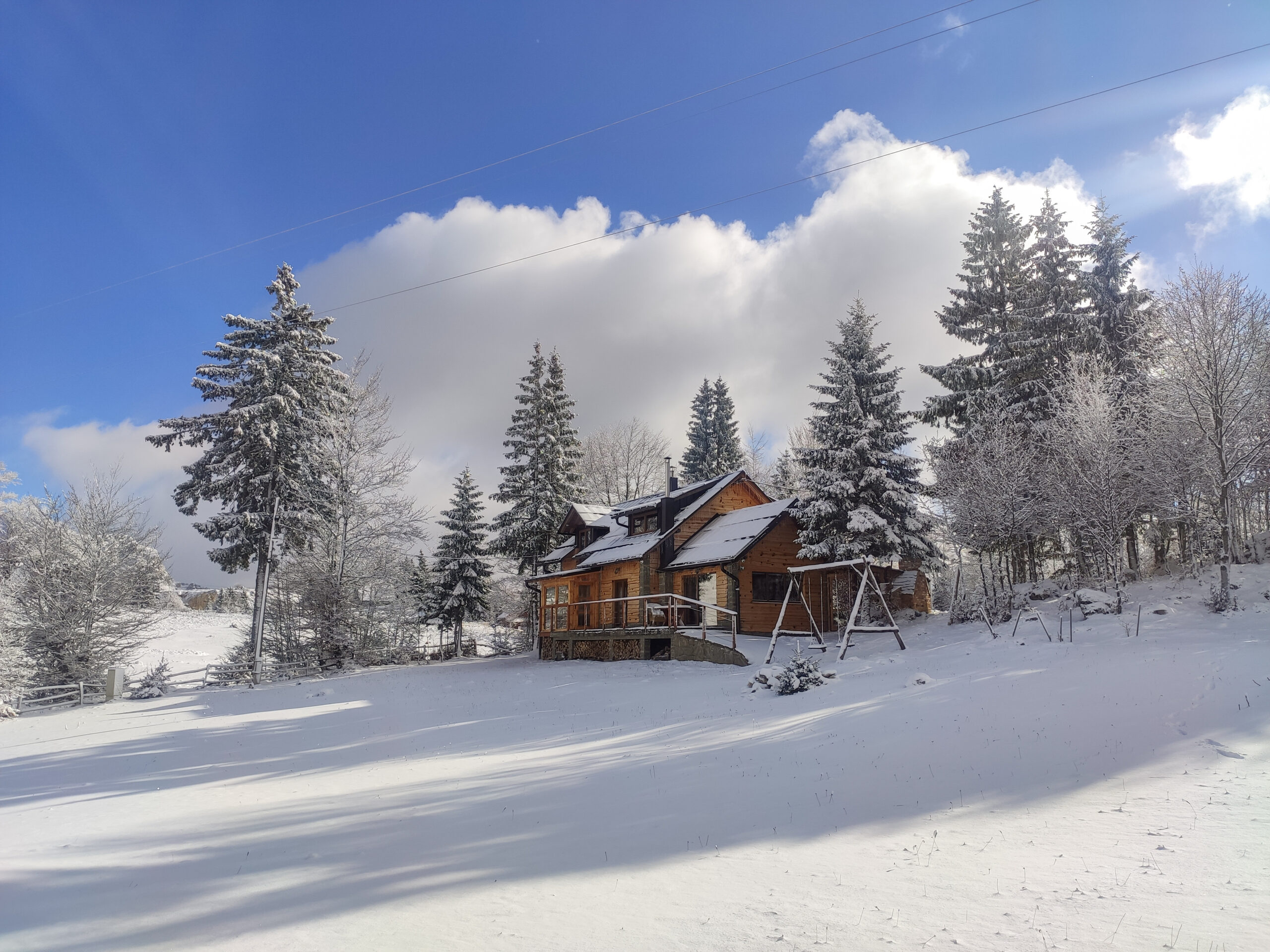 Author: Semra Hodžić
"Sedam Vlašića" Mountain Cottage
On the slopes of Mount Vlašić, a perfect holiday home is situated. Suffice it to say, it is a wooden cottage sitting at an altitude of 1,500 metres above sea level featuring a large deck offering surreal views of the Vlašić Valley. There is plenty of room for you and the whole gang—four rooms can accommodate up to nine people and there are two bathrooms. The cottage projects a sense of genuine village idyll—modern wooden and stone design elements, two fireplaces, one on the outside deck where you can cook delicious food and the other in the living room where you can just relax listening to the sound of crackling fire, sipping on a hot beverage and, for instance, reading a good book. The best place in the cottage is the glass terrace on its south side treating you to breath-taking views of the area, and when you open the glass walls you will feel as if you could fly. Many visitors are drawn to the cottage because it has a courtyard that is completely enclosed on all sides and includes a children's playground with swings. In addition, the cottage is pet-friendly.
"Anamaria" Mountain Guest House in Blidinje
Sitting in a gorgeous quiet street, this mountain guest house which blends in seamlessly with the natural environment that surrounds it is nestled in the serene pine forest of the Blidinje Nature Park. It is in close proximity to a ski run which is one of the most frequently visited destinations during winter and New Year holidays. Staying here you are sure to feel as if you are on a New Year's Eve film set. Large window panes in the dining room offering views of the forest are sure to make your family lunch rather special, while the warmth provided by stylishly furnished and modern living room featuring stone and wooden design elements is sure to make you feel at home. There are four bedrooms in the guest house to accommodate 10 people and a baby bed, and there is an extra room up in the attic to accommodate four more people. There is a kitchen, two bathrooms, free internet access, satellite TV, and an outdoor fireplace with a grill. You are sure to feel overjoyed to know that the house has a Finnish sauna for you to relax in, which will make your stay an unforgettable experience. Outside, there is an enclosed courtyard suitable for children, four on-site parking spaces, an area where you can dry and store your ski gear, and a home security system. Lake Blidinje, ski runs, renowned restaurant Hajdučke vrleti and a number of other restaurants are within a walking distance.
"Little Cottage Dream" in Ponijeri near Kakanj
Year after year, Ponijeri near Kakanj is becoming increasingly attractive to visitors thanks to the beautiful landscape. The most popular winter attraction is to be found along the banks of the Zgošća River. At Vrhovlje in Ponijeri sits a wonderful holiday home that is sure to instantly make you want to stay here for at least a few days. When you stop to look through the glass window panes on the deck, you will know that it will not be easy to get enough of the views you are treated to. The Little Cottage Dream consists of a living room, a kitchen, and bedroom and a bathroom. Everything is decorated in a rustic style, while the owners themselves made a few items. Right in the middle of the living room there is a swing—a dream come true with a lovely view. Everything inside the cottage suggests that you can expect your stay to be pleasant and peaceful: from colour harmony and fascinating views to the fact there is no internet or TV. A real heaven on earth!
"Rosa Brandis" Mountain Cottage in Mount Vlašić
Imagine resting in a Jacuzzi bath on a wooden deck overlooking a snow-covered mountain as a gentle current caresses your body while you are listening to the sound of crackling fire in the fireplace and sipping on a hot chocolate or tea! If you believe it can only happen in dreams, then you still have not stayed at Rosa Brandis Mountain Cottage in Mount Vlašić. This luxuriously decorated cottage with rustic style elements situated in the village of Galica at an altitude of 1,504 metres above sea level is the perfect place to spend a family winter holiday at. You will indeed love it the moment you step inside, because each piece of furniture has got a soul. Each is unique and custom-made based on the owner's design and made of top-quality walnut, sweet cherry and pine wood. The cottage comfortably accommodates the whole family because it features a living room, a master suite, a bathroom and a toiled, and a fully-equipped kitchen. The gallery inside the cottage seems to be the best place to make the best family memories since anything you might need to rest and relax is there. Be sure to bring along a good book to enjoy reading on the window sill since book lovers believe that is the ideal spot to curl up and read.
"Snowhite" in Jahorina
If you are searching for a fairy tale winter experience, you are sure to feel over the moon about the Snowhite mountain cottage situated in Mount Jahorina which hosted the Olympics back in the day. It is located at a three-kilometre distance from the favourite Poljice ski slope. Everyone who has visited it will say that it is a dream cottage. It offers stunning views of the mountain, and the best way for you to savour it is to sit on the window bench, the perfect spot for you to read as you relax after spending the day on the slopes. The living room comes with a flat screen TV and complimentary Wi-Fi, a bedroom, a bathroom and a fully equipped kitchen. The cottage has direct access to an outside deck and a garden with a grilling station, and a playground for the little ones to enjoy. Guests staying at the cottage also have a ski storage area at their disposal, while ski aficionados are sure to be thrilled to know that Poljice and Ogorjelica I ski lifts are just moments away from the cottage.
Jahorinko Mountain Cottage
Nature has blessed Mount Jahorina, sitting at an altitude of 1,350 metres above sea level, with gorgeous landscapes and scenic charm both in winter and summer months. That is why many people love to frequent the spectacular scenery of its coniferous forests which makes spending time revelling in outdoor activities and training for recreationists and athletes alike highly suitable. In the immediate vicinity of Dvorišta Nordic Centre in Mount Jahorina, in tranquil surroundings, there nestles a newly-built and fully furnished mountain cottage called Jahorinko. It accommodates up to 20 people: 14 people in the Boban Suite and up to 6 people in the Sara Suite, and guests can enjoy themselves in Tea Café Bar serving more than ten types of mountain tea infusion and locally produced fruit beverages. Both suites are fully furnished with cutlery and grilling utensils, and complimentary Wi-Fi, private car park, and central heating make them ideal for group visits, birthday celebrations, team building activities, private parties, and relaxing family holidays, since apart from an outdoor fireplace and camp fire perfect for hanging out right outside the cottage, they also feature a private sledding slope and a playground for the little ones.