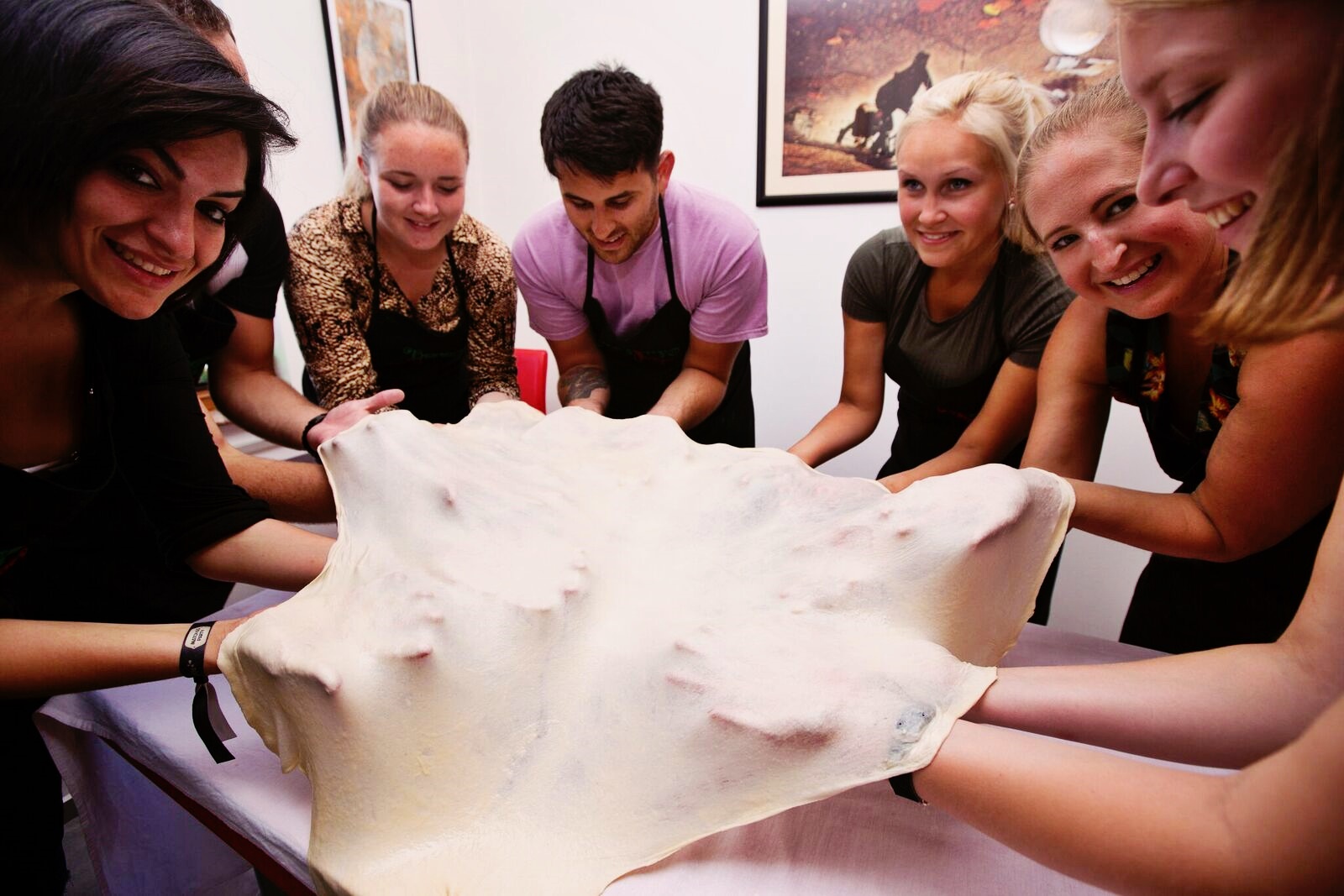 Unusual Tourist Offer of the Panjeta family from Sarajevo – Bosnian Cooking Lessons
The home of Mersiha and Mustafa Panjeta has been an unmissable stop for tourists from all over the world for the last year. Their house offers one of the prettiest views of Sarajevo, and the Panjeta spouses offer cooking lessons in the warmth of their home.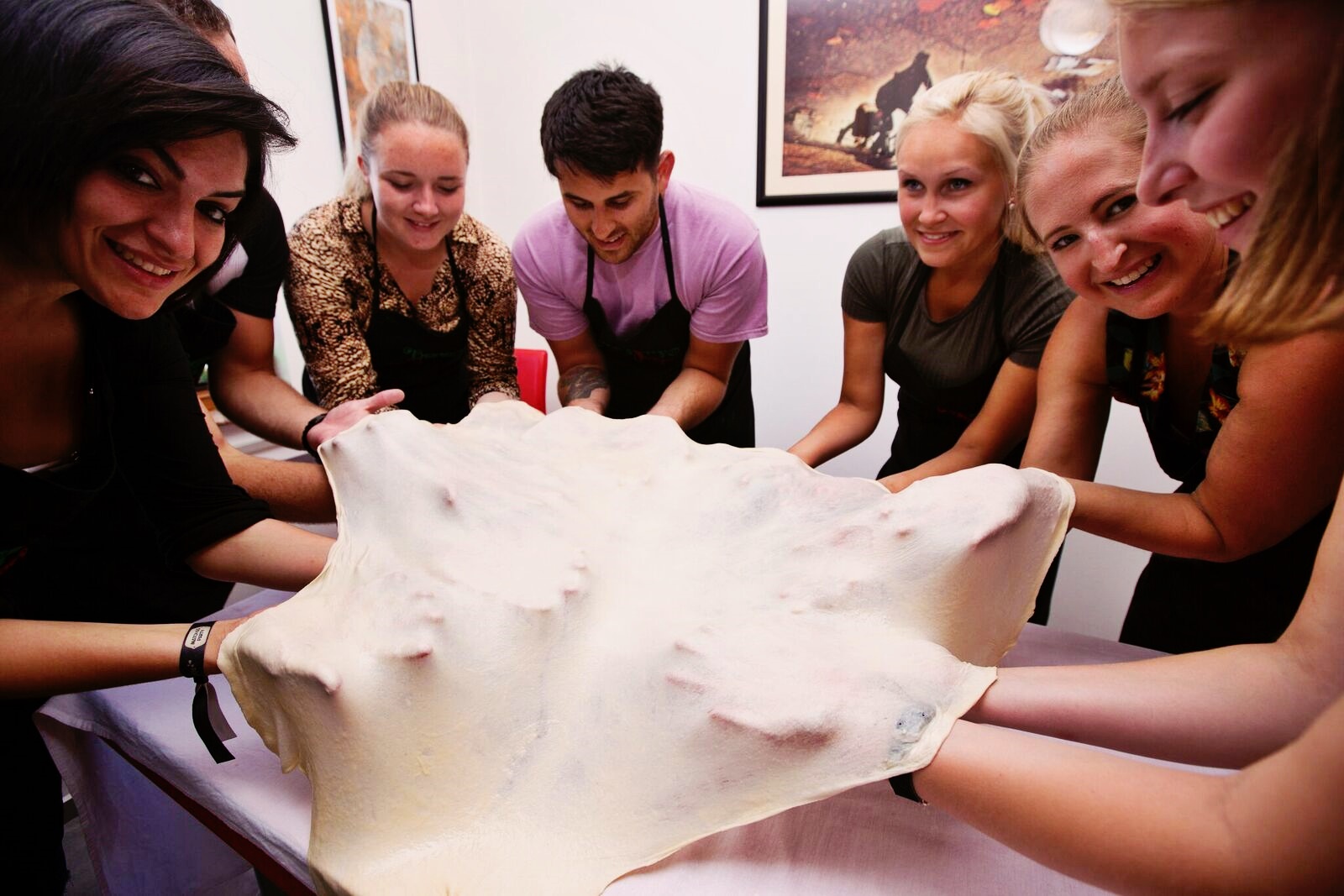 Author: Samila Ivković
They believe that the only way for tourists to experience the local way of life is by seeing a Sarajevan neighborhood (mahala), and by visiting their living space and garden where they grow vegetables, and by preparing food that the locals consume almost every day!
The only condition that the Panjetas have is that you must bring positive energy and a strong will to eat everything that you have prepared.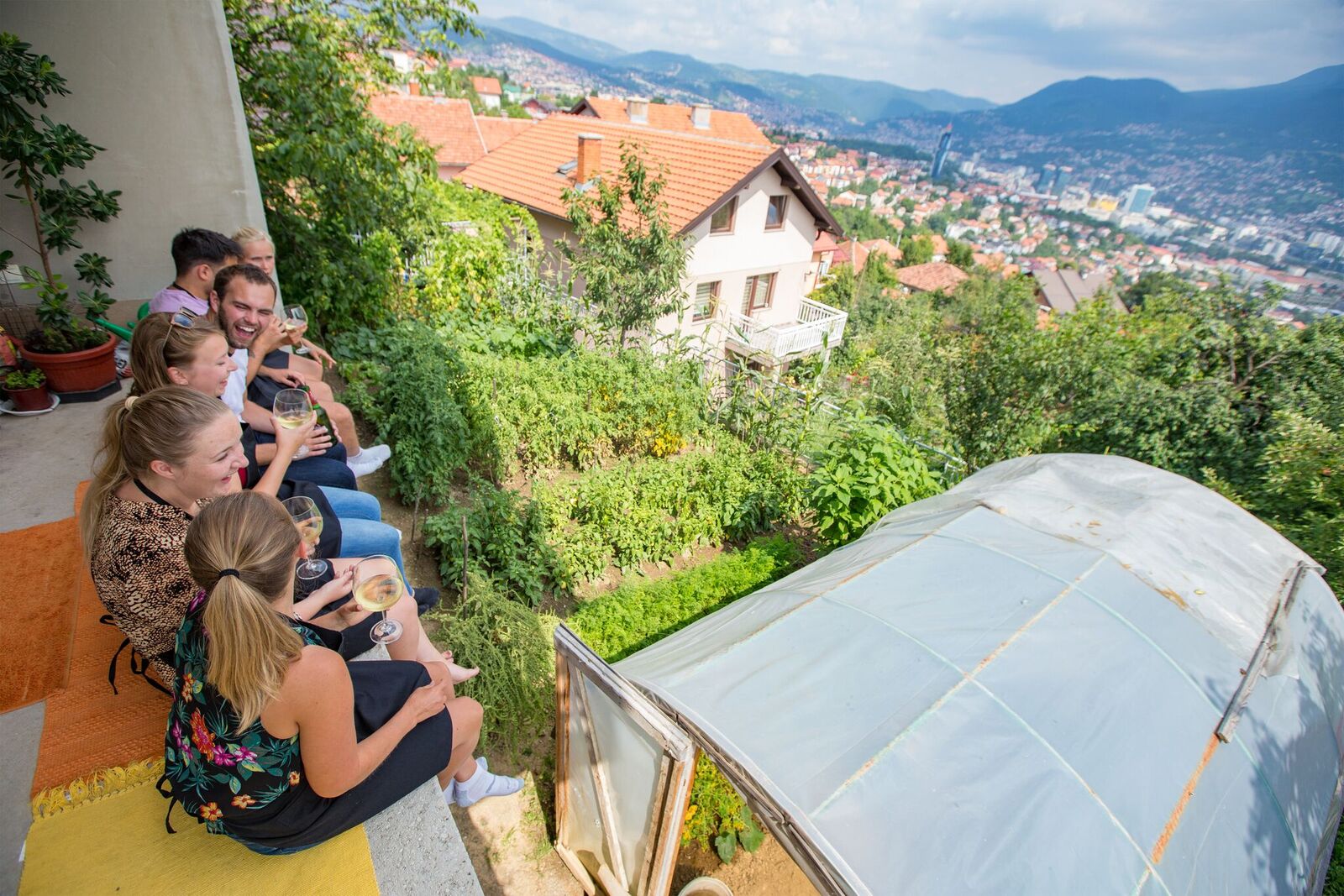 PROMOTION OF BOSNIAN CUISINE
The idea to start the story called Bosnian Cooking Lessons came about because they wanted to convey their love of cooking to tourists, and bring them closer to our customs and culture through the preparation and tasting of traditional Bosnian dishes.
– The idea of promoting Bosnian cuisine had been around for a while, but we had a lot of commitments, so it was left on the side for some other time, which came in 2018. That is when we decided to start the story of promoting our cuisine and to try to make the idea happen. Considering that my husband works as a tour guide, we frequently come into contact with tourists who come to Bosnia and Herzegovina.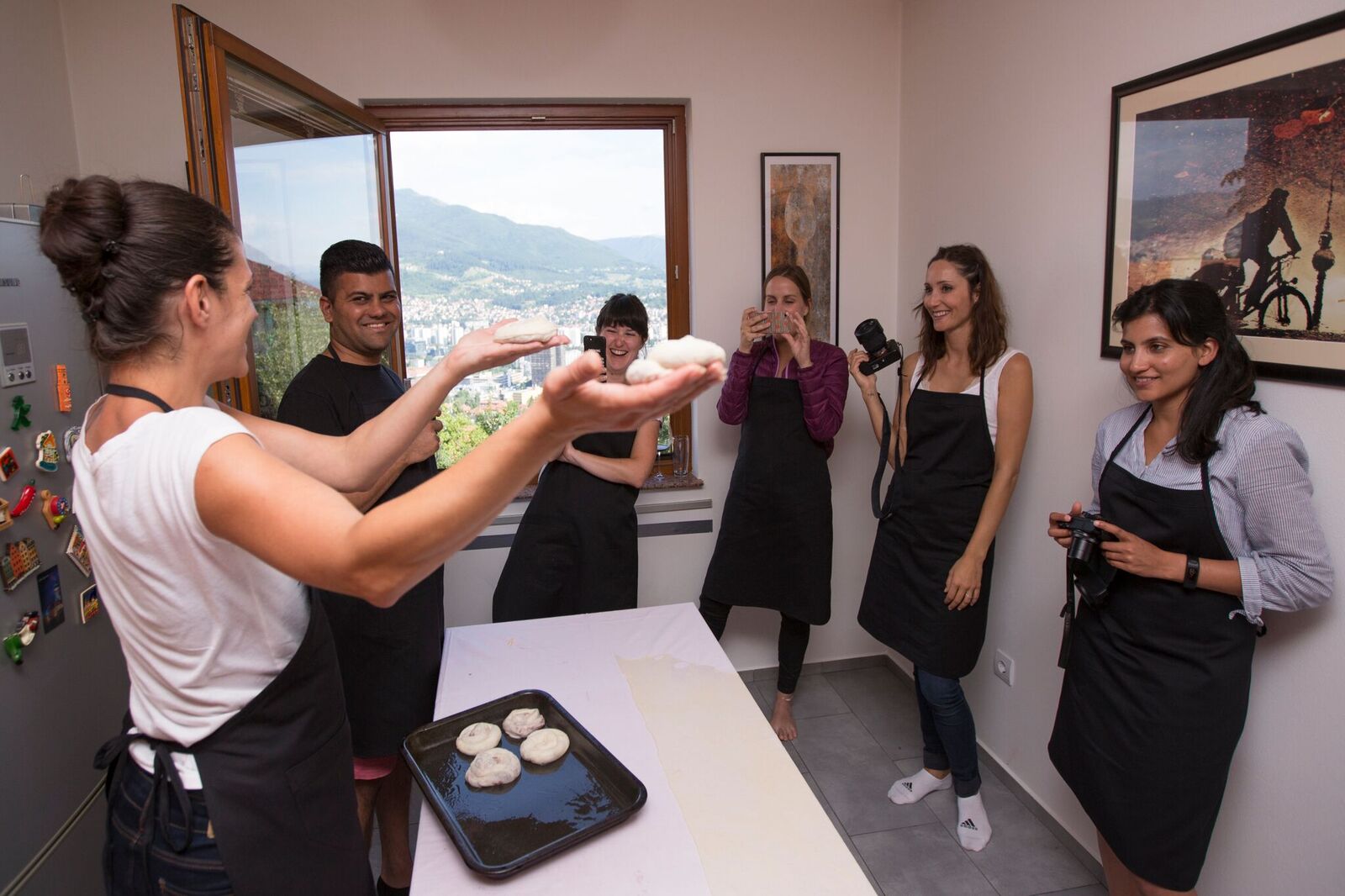 Mersiha tells us that apart from being interested in historical and cultural heritage, tourists are very interested in traditional Bosnian cuisine. We have a wide selection of food in B&H that is very affordable, and delicious to visitors from the region and beyond, but there was still one thing missing.
– A lot of times, while looking in amazement at pies, japrak (vine leaf rolls), sogan dolma (stuffed onions), tourists would ask us how they were made. That is how my husband and I got the idea to try to link several segments into a unique offer, so that they could experience and see how something is made, and then taste it as well. Considering that visitors don't just want to watch something being made and be passive, but they want to participate, we decided to offer something which already exists in most tourist places, but we couldn't find it in Sarajevo, and that is cooking lessons.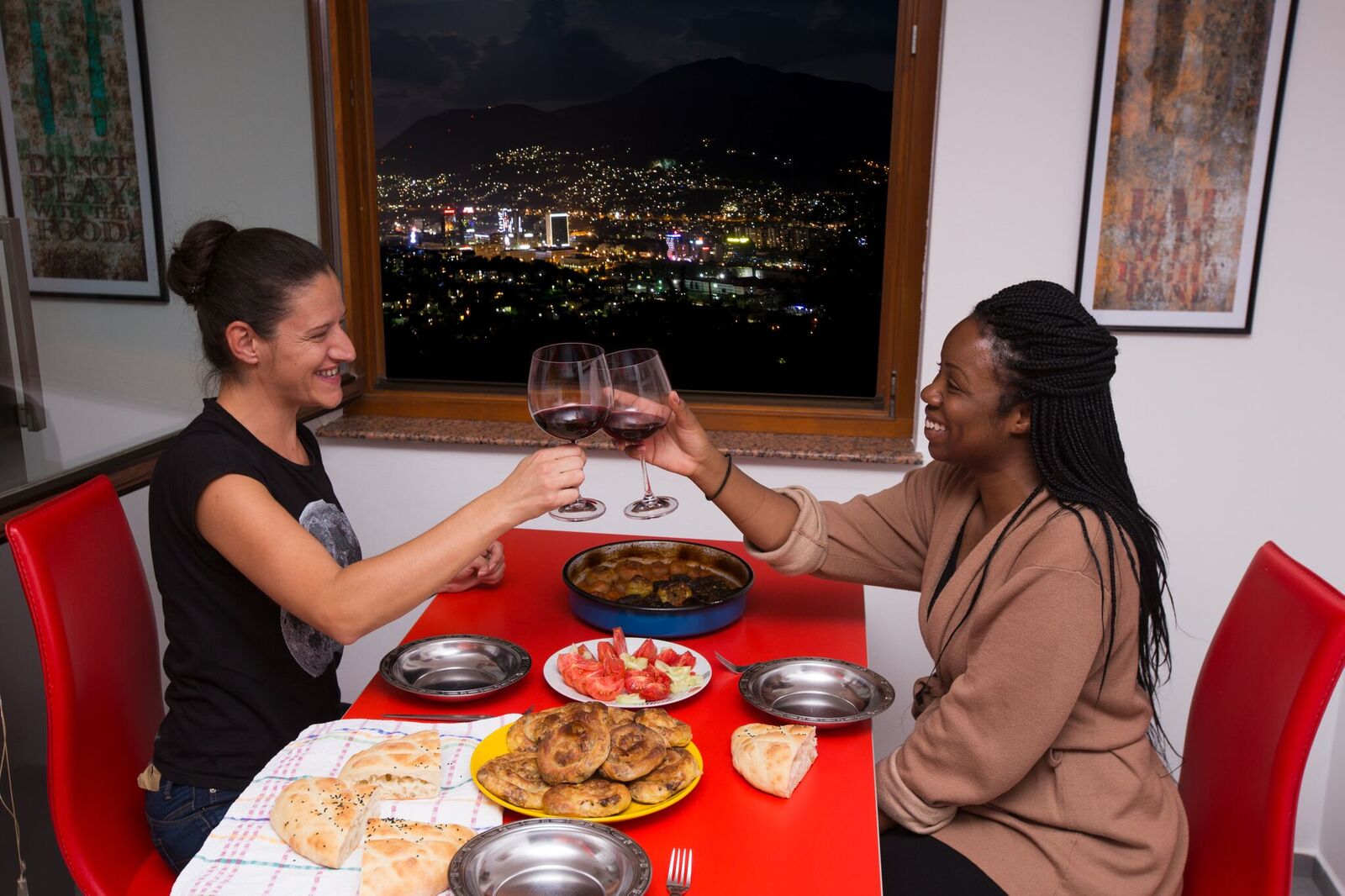 Mersiha is a sociologist by trade who loves to cook and enjoys food. From early childhood she learned to cook, and in certain circumstances she had to cook. Later on she grew to love cooking and she would find ways to make something better, tastier and different.
VIEW OF SARAJEVO
The socializing at Mersiha and Mustafa's home always starts with taking photos, as there is a beautiful panoramic view of Sarajevo and the garden where they grow vegetables from their house. After that, there are the local juices, coffee, and a pre-prepared platter presenting cheeses and other local delicacies. After that, the cooking begins in two parts.
In the first part, japrak, sogan dolma, stuffed peppers are prepared, while in the second part pies made out of meat, potatoes or cheese are prepared, depending on the season. Once everything is prepared, the participants get to know each other.
– We don't have special times, or days when we socialize. When we get an inquiry, we try to fulfill all the requests. When it comes to the number of people, we organize cooking lessons for 1-20 people. Foreigners are fascinated by sogan dolma (stuffed onions) and burek (meat pie). They have never tried sogan dolma anywhere else, and the way it is prepared is very interesting, how the layers of the onion are separated, and of course the taste. When it comes to burek (meat pie), they are fascinated by the way that the dough is stretched and spread out, and by the taste and texture of the thin pastry, which is not like any other dish that they have had the chance to taste.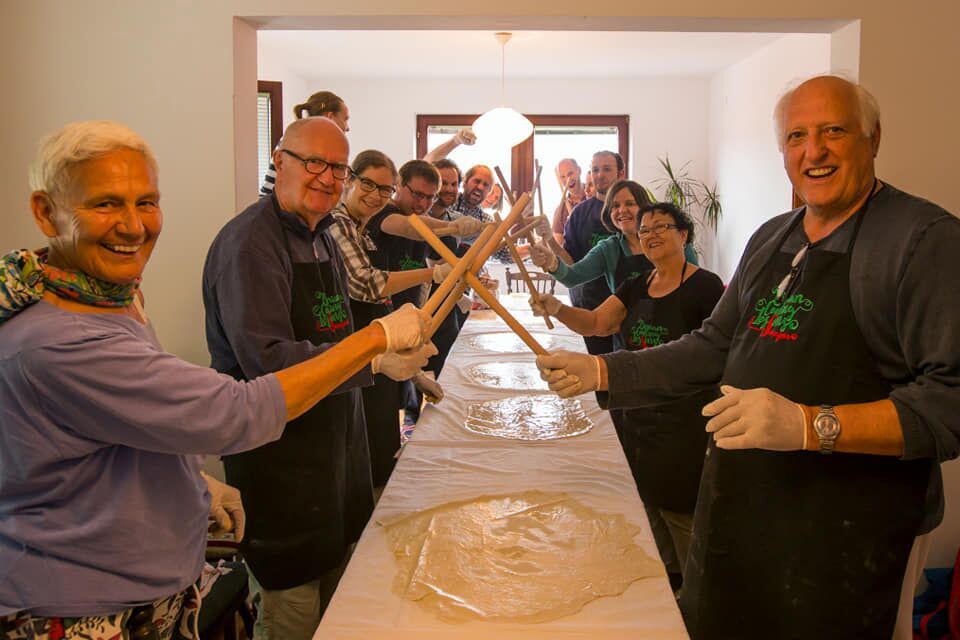 Cooking is easier with friends is the motto of Bosnian Cooking Lessons, because a lot of friendships were formed through these cooking lessons.
– Guests who return and invite us to visit them speak a lot about the relationships and friendships that will last, regardless of when we will see each other and how many kilometers apart we are. It is very interesting that when they come, they are somewhat reserved and formal, but when they are leaving the goodbyes are long, as everyone is sad to leave our home and we part as friends in the hope that we will see each other again.