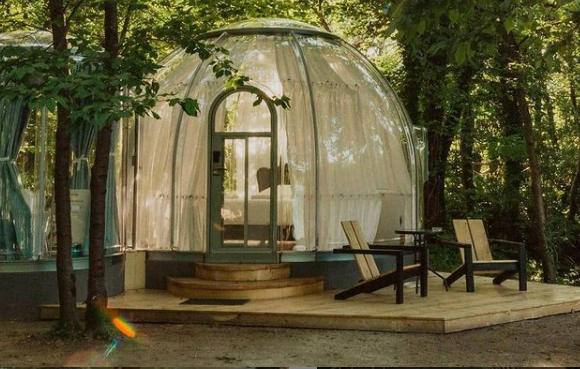 Japodski otoci: Spending the Night Beneath a Million Little Stars
In recent years, Japodski otoci (Japodi's Islets) have been the most popular place to visit in B&H. The islets are situated in the Račić neighbourhood at a 16-kilometre distance from Bihać and in the very heart of nature surrounded by greenery and Una, one of the most gorgeous rivers in B&H. Five wooden little bridges link five river islets, and aerial views of the area reveal a unique wonder—"a heart in nature".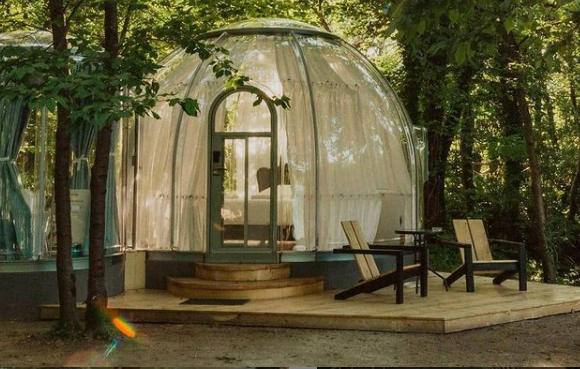 Spending the Night in a Glass Dome
If you have grown tired of hotel rooms and suites and you would like to try something completely different, then you will like the idea of staying in a glass dome. From this summer onwards visitors to Japodski otoci can also spend the night in an oasis perfect for a couple's getaway. What makes this glass dome quite unique is that it causes the least environmental impact and blends in effortlessly with the surrounding infrastructure and landscape on the islets. The glass dome provides guests with absolute privacy as it is hidden away on one of the islets. Inside the dome there is a double-bed, a TC set and a bathroom, while outside the dome there is a wooden deck with two benches for convenient seating. There is a sandy beach too. Regardless of whether you are looking up at the night sky or at the colours of the sky early in the morning, you are sure to revel in the scenery while you are relaxing and recharging your batteries for the days to follow. 
Summer in Japodski otoci
Summers are rather special around here. Imagine watching films under the night sky by the Una River? Open-air cinema nights are organised on Japodski otoci quite often. If you have a thing for blockbuster hits, cozy up on your blanket and enjoy the screening of your favourite film with a bag of pop-corn and a drink. You will also love sipping your coffee on the River Bar terrace featuring wonderful views of the lovely Una River and the scenery around it. You will discover that there is a large number of farm animals on the islets and that they will secretly look at you with a lot of curiosity. Spend a relaxing weekend free from worrying about anything while your children enjoy building sandcastles. Play a game of mini football, table tennis, darts or badminton. If you plan to have a wedding, you will be thrilled to know that you can say YES on a river raft on the Una River.
---
You can spend the night on Japodski otoci under the open sky, in tents, suites or holiday homes, or in a unique little tree house.
---
Book your stay via Viber at +387 (0)63 141 414!