Reumal, Famous Health Spa
In Fojnica, not far from Sarajevo, a popular spa called Reumal has cherished its well-deserved reputation of an ideal health spa and holiday resort for decades
 Reumal comprises the New Hospital, Aquareumal and the Nature Hotel and is a modern and specialized facility for rehabilitation, recreation, active holidays and scheduled sport activities.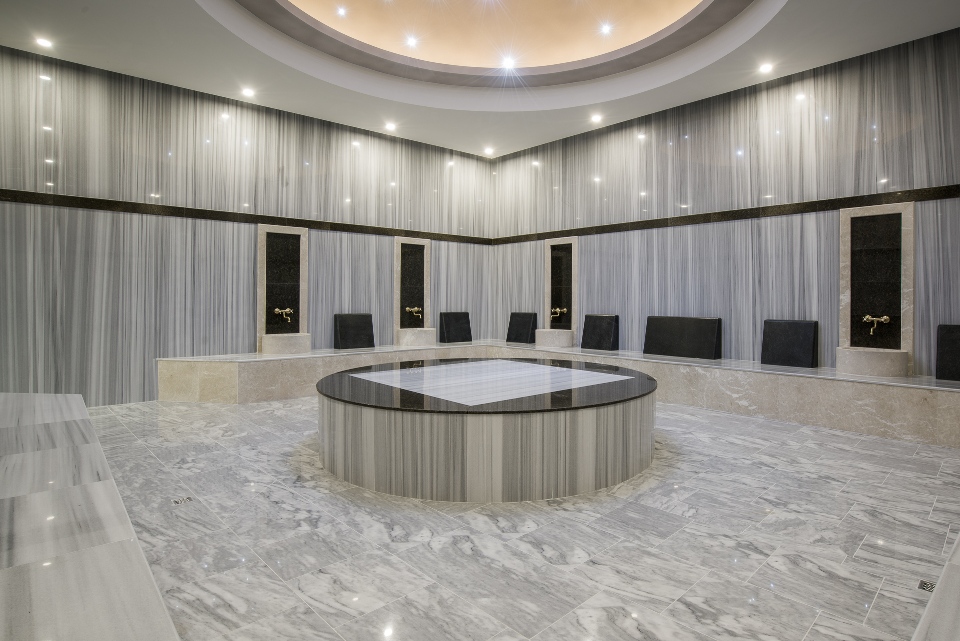 Radioactive Thermal Water
This spa in Fojnica secured its prestigious status by offering wondrously efficient radioactive thermal water, sophisticated medical equipment, trained personnel and many years of experience which is why remarkable results have been achieved here for decades.
Reumal is particularly successful in the rehabilitation of the osteomuscular apparatus, cardiac rehabilitation, the habilitation of children or development of new abilities, the rehabilitation of children, the rehabilitation of injured athletes and the rehabilitation of sport wounds.
To offer additional tourism services in Reumal and Fojnica, a new, modern wellness center was built achieving excellent results in the field of esthetics, cosmetics and wellness. The Center features Finnish sauna and steam sauna, Turkish bath, Jacuzzi, underwater massage therapy, salons with various types of massage therapy, kneipp and warm benches, fitness room with treadmills and bicycles, a cosmetics salon with cutting-edge equipment, relaxation room and vitamin bar for refreshment. A range of weekend programs offered by Reumal allows people living a dynamic lifestyle to reenergize and reinvigorate themselves in a pleasant environment.
Beauty & Sport
Cavitation and radiofrequency treatments and modern non-invasive and painless fat-reduction procedures – an alternative to liposuction, stand out among other treatments offered by Reumal's wellness center. The effects of these treatments are multiple: boost the metabolism, reduce body fat, soften wrinkles, strengthen skin elasticity and shape the body. Sport activities certainly make up an important segment of any wellness center, so Reumal allows its clients to take part in additional activities involving body shaping and body weight reduction.
Massage is a cure for various ailments, it relaxes you and allows you to wake up and fall asleep, and regain strength that you have lost; it allows you to get to know your body, identify muscle knots that that you have never realized were affecting your physical well-being.
Positive effects of massage therapy are diverse: it improves local blood flow, helps decrease blood pressure and slow down heart rate, relaxes muscles, improves the healing of wounds and scars, speeds up cell metabolism in body tissues, decreases stress, helps in mental relaxation, maintains skin and connective tissue elasticity, and has a positive effect on the vegetative nervous system on the whole. Reumal singles out the following services it offers: classical massage therapy, aroma therapy, sports massage, four hand body massage, reflexive foot massage, and face massage therapy.
Health Spa for Everyone
Reumal Health Spa provides medical rehabilitation services to people of all ages with reduced functional abilities resulting from diseases, injuries or congenital disorders. Rehabilitation is aimed at preventing, reducing and treating the resulting damage, improving patients' remaining abilities, and making sure that they can do everyday tasks and be as socially active as possible.
ANTRE
Holiday at Wellness Center
The package comprises:
– 5 all inclusive holidays,
– wellness center voucher worth BAM 50,00,
– 20% discount on other wellness services,
– unlimited use of the pools, and
– unlimited use of the saunas.
Price per person: BAM 365,00.
ANTRE
Katharine Schroth's Scoliosis Exercise
This health program offered by Reumal is intended for school children up to 10 years of age. The program is tailor-made for each child and lasts at least ten days, but can last longer, and it can be repeated occasionally. After the treatment is completed, Reumal keeps in touch with children; treatments are repeated according to plan and support is provided so that children keep exercising at home too. Before they leave, children are also instructed on how to perform kinesitherapy exercises and given video footage demonstrating the exercises. Check-ups are performed every 3 to 6 months.