10 Reasons to Visit Travnik
With each step you make, you feel the presence of an old Bosnian soul in Travnik's quarters where old tales of the town's glorious past can be heard even now. There are many reasons to visit it…
Town of Bosnia's Viziers 
Travnik is famed as the town of Bosnia's viziers—77 of them reigned from here. For 150 years, Travnik served as the seat of the Bosnian governorate and the seat of two consulates. The earliest reference to Travnik dates from 1464. Sultan Mehmed II the Conqueror stayed in Travnik before proceeding to conquer Jajce.
Medieval Fortress
One of Travnik's most distinctive symbols are the ramparts of a medieval fortress with splendid views of čaršija, the town centre, below. You can access the fortress by walking up past several town quarters dotted with old Bosnian houses and all the while you feel as if you have travelled back in time. On the hilltop, there is a little stone bridge which leads you to the Old Town's wooden gates. Paying a symbolic entrance fee allows you to explore the gorgeous fortress and an exhibition area where you can see how people used to live here back in the day. The fortress is a great photo shoot location so do no miss out on a chance to snap a few wonderful photos!
Sundial
Travnik also boasts a sundial (solar 'clock'). We do not know when or who made it or whether or not it was located somewhere else, but at the time when there were no digital clocks, it served as the town's principal timepiece. It was also used to set the time on mechanical clocks installed on the town's two tower clocks and on pocket watches, a prized possession of the wealthy gentlemen in Travnik and a true rarity at the time. Tuzla is the only other place in B&H to have a sundial.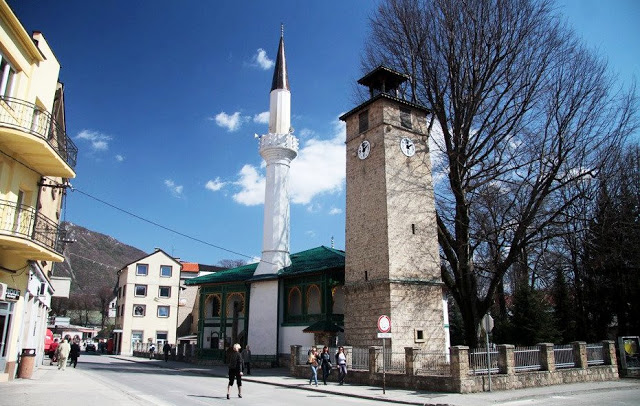 Only B&H Town with Two Clock Towers
Now, it may seem to you that time is quite important in Travnik, but here it goes by just like anywhere else, and in the blink of an eye, your day seems to have passed quickly while you were taking in all the wonderful sights and rich cultural and historic heritage sites. Priceless structures built in the town of Bosnia's viziers include two 20-meter, 18th-century stone clock towers erected by the viziers to track time on all four sides of the Upper and Lower čaršija and to facilitate orientation. There are several clock towers scattered throughout B&H, even in the vicinity of Travnik, but there is no other town in B&H with two clock towers.
Nobel Prize Laureate's Town
"No one in Travnik had ever supposed that the town was made for an ordinary life and for the workaday grind," wrote Ivo Andrić, the only Bosnian-Herzegovinian Nobel Prize Laureate in Literature. Travnik, the laureate's birthplace, is situated in the valley of the Lašva River. Andrić was born at house number 9 in Zenjak, a Travnik quarter. His birth house, typical of Bosnian architecture, still stands there and was turned into a museum. The museum features a birth room dedicated to the novel "Travnik Chronicles", photographs from the Nobel Prize Award Ceremony, a library with an art collection and an audio guide.
"Ćiro" Tourist Train
One of the most interesting attractions in Travnik is a tourist train named after the popular Ćiro train, which makes it easier to explore the town and its landmarks. Equipped with a modern sound system, it allows passengers to discover interesting details about various buildings and locations along the way in several world languages. The train leaves from Plave vode taking passengers on a tour of the Old Town and Bašbunar, Šarena džamija and čaršija, and then taking them back to the departure station.
Cultural and Historic Heritage
Travnik is rich in history. You can learn so much about it in just one day. Apart from town symbols we already mentioned, one of the more intriguing Travnik attractions is the recently restored Šarena (Many-coloured or Ornamented) or Sulejmanija džamija (Sulejmanija Mosque) nestled in the heart of the old čaršija, drawing visitors for its unusual colourful decorations on the façade, but also on the inside walls. Other attractions include Hajji Ali Bey Mosque, Elchi Ibrahim Pasha Mosque, Heritage Museum in Travnik and Church of the Assumption of the Blessed Virgin Mary in Travnik, some of which were proclaimed as national monuments of Bosnia and Herzegovina.
Close to Vlašić Mountain
What is great about Travnik is that it is just a 30-minute drive from Travnik to a tame mountain with wondrous landscapes, the most popular mountain in this part of B&H—Vlašić Mountain. Vlašić Mountain offers a lot of great fun throughout the year, a number of events, world-class ski slopes, great hiking and mountain cycling trails, and Ilomska Waterfalls which make for a pleasant walk. In the mountain, you can come across the tornjak, a breed of shepherd dogs native to Bosnia, guarding sheep and assisting shepherds in herding and tending to flocks of sheep, but you can also buy widely popular Vlašić Cheese.
Plava voda
Plava voda (Blue water) is a must stop for anyone visiting Travnik. The water gushes from under a rock and burbles all the way down to the Lašva Valley creating a beautiful and relaxing setting. The best photos can be captured right here. You also can buy souvenirs, feed fish, and indeed, you cannot leave Plave vode without having a cup of coffee—at Lutvo's Café in particular, where coffee is served with a cigarette and matches. 
Travnik Cheese and Ćevapi
Almost every traveller stops and buys renowned Vlašić and Travnik Cheese while travelling through Travnik. However, stopping by to eat a somewhat legendary meal in Travnik—travnički ćevapi (a small rolled patty of ground meat, usually beef, seasoned with paprika, and served in a flatbread often with chopped onions or sour cream—depending on the town they are prepared in), always competing with sarajevski and banjalučki ćevapi for the title of the best ćevapi, is also a must.