Third International Diving Competition from the waterfalls in Jajce shall take place on Saturday, 6 August 2016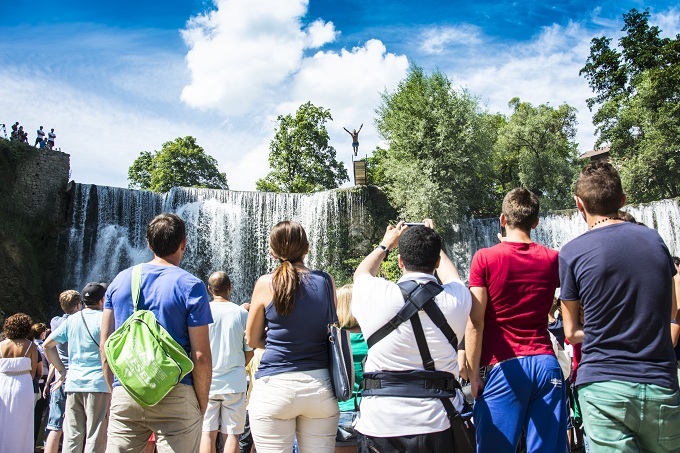 The town of Jajce emerged right where the Pliva and its tributaries meet the Vrbas as they move on together, further to the North. The town witnessed some of the most momentous developments in the history of Bosnia and Herzegovina and the former Yugoslavia. It is in this town that the residence of the Duke Hrvoje Vukčić Hrvatinić used to be, and later on also the residence of Bosnian royalty.
Pliva Waterfall
The city centre, right where the Pliva meets the Vrbas, is the location of a wonderful natural phenomenon, a waterfall, claimed by many to be the only waterfall in the world to be located in the town centre. It is 20 m high and sixth in the world in terms of the flow rate.
It is believed that the Pliva Waterfall emerged about 50,000 years ago. The boldest and the most adventurous among Jajce residents always enjoyed somewhat unorthodox type of entertainment – diving from Pliva, over the waterfall into the cold water of the river Vrbas below. Recently, a new attraction was introduced in Jajce – an International Diving Competition attracting daredevils from all over the world to proudly showcase their skill and acrobatic ability.
Divers from all over the world
The public company, with incredibly long name of "The Agency for Cultural, Historical and Natural Heritage and Development of Tourism Potential of the Town of Jajce", organised the first diving competition in 2014. It attracted many enthusiasts and competitors from Bosnia and Herzegovina, Serbia, Montenegro and Slovenia. The first competition laid foundation for what is to become a traditional annual event capturing the attention of competitors and spectators alike.
The preparation for the third competition is well underway. The event shall take place on 6 August 2016. The last year's event attracted 6,000 spectators and the Agency Director, Huso Hadžić, announced with great certainty and optimism that this year's event will attract even more people to Jajce. He also stated that over 30 divers from Bosnia and Herzegovina, Serbia, Slovenia, Germany, Kosovo and other countries were expected to take part in the competition. The jury, as Mr. Hadžic announced, would consist of the most eminent diving experts from Bosnia and Herzegovina and the neighbouring countries. "I would like to invite all interested citizens to visit Jajce on the day of the competition and enjoy this world famous and widely recognised event", Mr. Hadžić said in conclusion.