Here you can find it all, from buildings that have features of great cultural and historical value, to fruit-growing areas and medicinal thermal springs.
In the northeastern part of B&H, between the slopes of Mount Majevica and Mount Trebava, emerged Gradačac, which was first mentioned as a župa (county) in 1302, and as a settlement called Gradac in 1465.
The Gradaščević family
This small town developed quickly after it became the headquarters of a military captaincy in 1710. Mid-19th century, it had a significant number of buildings that were for hospitality, religious and educational purposes, as well as numerous stores and craft shops. Credit goes to captains from the Gradaščević family: Osman Captain, Murat Captain, and especially Husein Captain, who remains known as the "Dragon of Bosnia". He was a general who fought for Bosnian autonomy during the time of the Ottoman Empire and is considered to be one of the most popular historical figures of the country. A tower that bears his name was built in 1821, and today it is a recognizable symbol of the town, where it dominates. The Commission to Preserve National Monuments declared it a national monument in November 2014, and representatives of the FB&H Government and the Municipality of Gradačac recently signed an agreement in Gradačac about its restoration and protection. The agreement is valued at a million KM.
The Husejnija Mosque also dates back to this period; erected by Husein Captain in 1826, it is also a national monument of B&H. Surrounded by a small wall, it is decorated by an octagonal dome, three smaller ones above the veranda, a 25-meter minaret, Islamic decorations on the doors, wall, as well as the interior. In the northern corner of the mosque's courtyard, there is an old library, which was built in 1839/40 as the first public library in Gradačac. The founder and endower of the library was poet Fadil Pasha Šerifović. Its cultural and historical value has not diminished to this day.
Sometime before Husejnija, i.e. in 1824, Husein Captain built a 21.5- meter high clock tower. The subsidence of the terrain made it tilted by a few degrees, which is why it is particularly interesting to tourists. It is located in the old town center.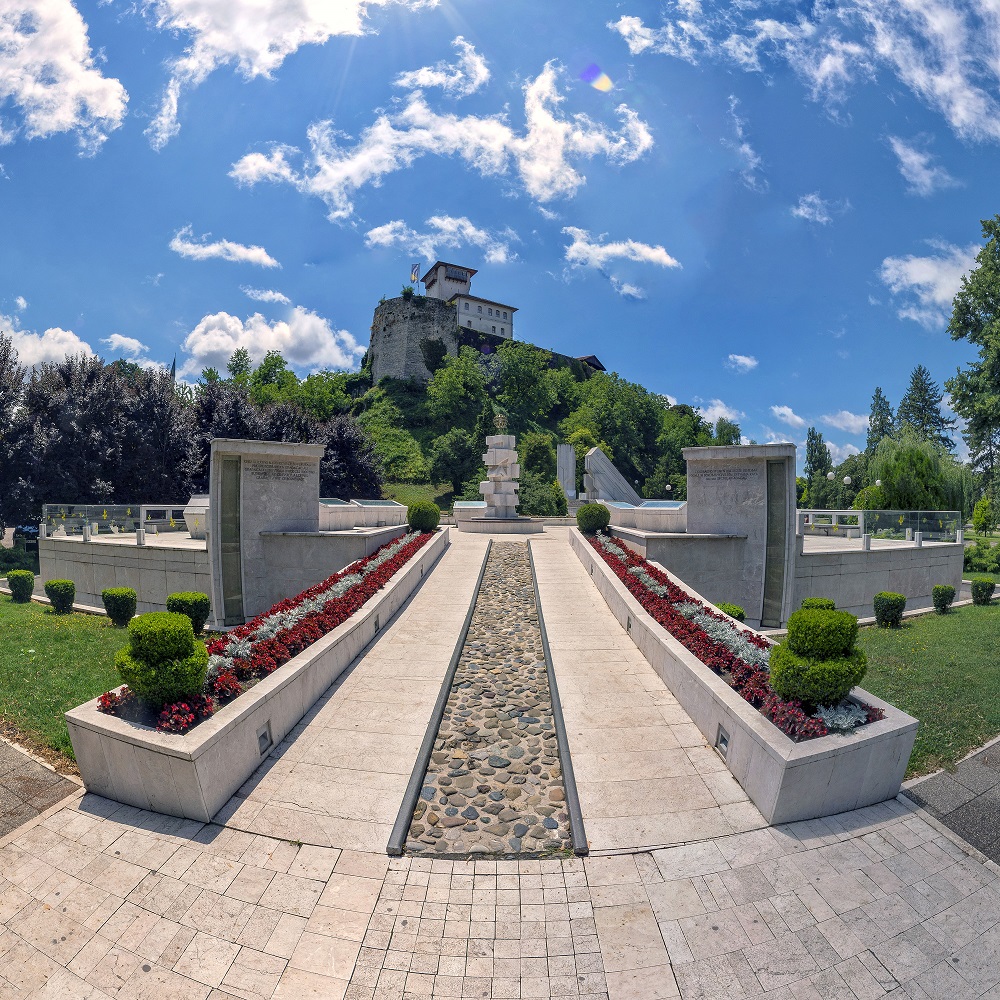 A spa between lakes
While touring Gradačac, you will find the oldest preserved building – the Sviračka Mosque – in a neighborhood after which it was named – Svirac. The period of its construction it thought to be during 1799. What makes it specific is the fact that its minaret is on the left side and it is made of tuff, a special type of stone.
Gradačac is also known as a fruit-growing region. A tourist and business event called Sajam šljive (Plum Fair) has been held here for decades, presenting exhibitors from the country and region. The 45th annual fair was held on September 1 this year.
It seems that there is a bit of everything in Gradačac. The area is rich in thermal springs, which enabled the construction of medicinal spa Ilidža on a hill in the northern part of town back in the 19th century. The water is slightly radioactive, and its constant temperature is 28.5ºC. An interesting fact is that the spa is located between two lakes called Hazna and Vidara. At their well-maintained beaches and fitness trails patients and visitors can actively rest and relax in wonderful surroundings.