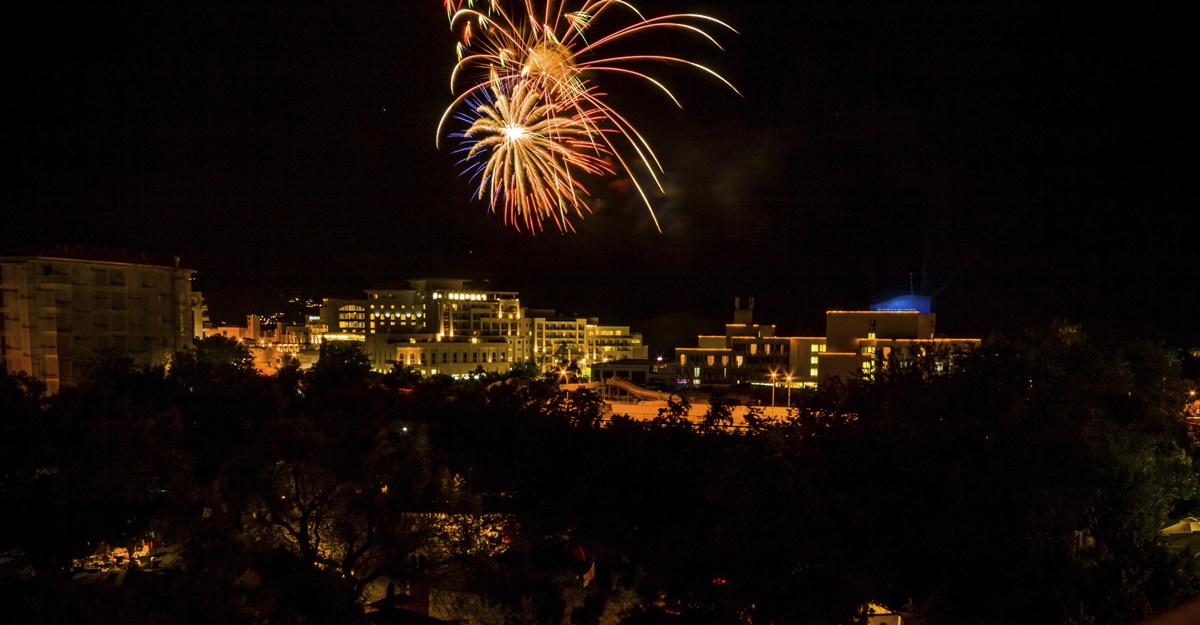 Fireworks in Becici. Montenegro
NEW YEAR'S EVE CELEBRATION ON MONTENEGRIN COAST
The Montenegrin coast will be one of the top regional destinations for New Year's Eve celebration this year too.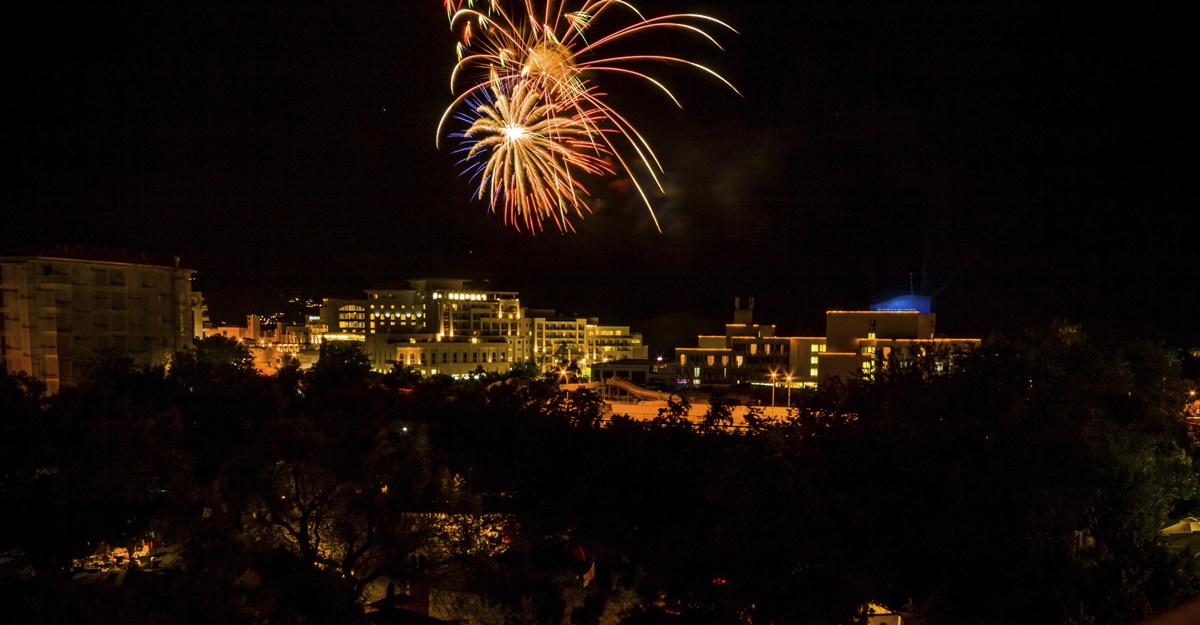 Most coastal towns have been preparing New Year's Eve outdoor celebration at main squares, and in some of them New Year's program will take place over a few days. It is up to you to choose the type of music you want to listen to while starting off 2019, and organizers have made sure that you will get into the festive spirit in each Montenegrin town.
MULTI-DAY MUSIC PROGRAM IN HERCEG NOVI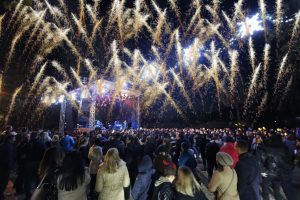 Herceg Novi Tourism Board and Herceg Novi Municipality have organized a multi-day music program with a lot of events for visitors. All visitors who gather at the square in front of Hotel Igalo will celebrate 2019 listening to the hits of Riblja čorba, a rock group from Belgrade, and its lead singer Bora Đorđević. Pop singer from Split Jelena Rozga will perform on the same stage the night before, on December 30th, at 10 PM and create a good atmosphere, and Ljuba Stanković will give a concert before her. January 1st is reserved for a performance by Toć band and Sergej Ćetković.
SPECTACULAR NEW YEAR'S EVE CELEBRATION IN TIVAT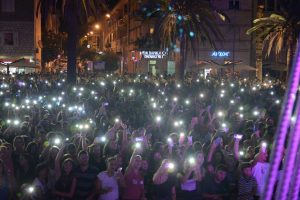 Tivat Tourism Board has prepared a spectacular New Year's Eve celebration at Pina promenade in Tivat. From December 15th, catering establishments in Tivat will set up set up their culinary delights in little wooden huts or stands, and the New Year's music program will begin on December 26th with a performance by Amadeus band. Ana Rucner will give a concert the following night. Leontina and her guests will entertain children at the Children's Afternoon event on December 28th, and Boris Novković will give a concert in the evening. Women's tamburitza orchestra La Banda will perform on December 29th. The Gents will perform at the Classical Afternoon event on December 30th, while Disco inferno will give a concert in the evening. On the last day of December, as a way to say goodbye to the old and say hello to the New Year, Abba band will give a concert as the opening act to the featured performer, Željko Joksimović. On January 1st, Bonjan Delić will entertain the visitors before Lepa Brena's concert. Ana Kokić and Toć band will give concerts the following night. The entertainment and music program will continue until January 10th 2019.
20th ANNIVERSARY OF BUDVA'S FIRST PUBLIC NEW YEAR'S EVE CELEBRATION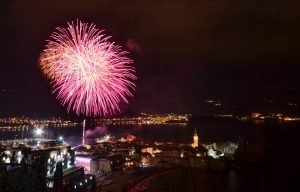 The local tourism organization Budva organizes a festive New Year's Eve celebration on the square in front of the Old Town Stari grad. It is also a jubilee—a celebration of the 20th anniversary of the first public New Year's Eve celebration. Festivities begin on December 28th with performances by Most Wanted, Who See and BG Sindikat. The following night, on December 29th, Ethno Group Zora, Halid Bešlić and Marija Šerifović will each give a concert. On December 30th, the party will start with a DJ performance and continue with Burak Yeter and Darren Emerson's concert. The atmosphere on the New Year's Eve will start to warm up with Jack Lupino and Leftovers and Aerodrom, and visitors will celebrate the arrival of 2019 with Dino Merlin. On January 1st, the party starts at 2 PM with a classical music concert (Revijski orkestar + Sara Vujošević, Emilija Minić, Marijana Šovran, Lana Asija Dabović) and continues in the evening with performances by Akademia, Partibrejkersi, and then comes the icing on the cake—Van Gogh's concert.
NEW YEAR'S EVE HAPPENING IN BAR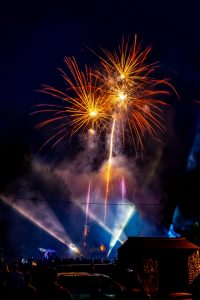 Bar Tourism Board and Bar Municipality for the third time in a row have organized the New Year's Eve Happening—Bar at Vladimir and Kosara Square. The program includes different music genres and performers: ethno, folk music, pop and rock music. The New Year's Eve program begins on December 30th with a theatrical play for children called "Enchanted Santa Claus" at noon, followed by performances by Dino Beharović and D'Bend at 9 PM, and Aco Pejović. On the last day of 2018, festivities will begin at noon with a concert given by the ANTIVARI MUSICA choir under conductor Miro Kruščić and with Aleksandra Vojvodić-Jovović, soprano voice singer, as the guest. The night program starts at 9 PM with performances by Akademia and then Sergej Ćetković. On January 1st, the party begins with Perper at 9 PM, and continues from 11 PM with a performance by Plavi orkestar. Apart from attending music performances, at the wonderfully decorated and illuminated Vladimir and Kosara Square visitors will have a chance to taste and purchase local food at a holiday market on the New Year's Eve.
NEW YEAR'S EVE IN KOTOR IN ROCK STYLE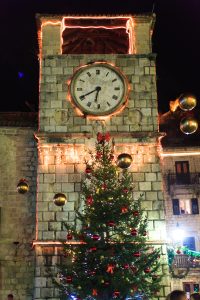 Kotor is the first town in Montenegro to have an outdoor New Year's Eve celebration in 1997. For the second year in a row, the celebration is organized as an event called Rock New Year. Organized by the Kotor Tourism Board, the part starts on December 30th—following the Children's New Year's party, performers from Kotor and their guests will give concerts. The festive rock spectacle at Arms Square opens with the performance by Bombaj štampa followed by Darko Rundek. Damir Urban will entertain visitors at the early hours of 2019, and M.O.R.T. will give a concert. January 1st is reserved for the performances of Four Blues Driver, Galija, Psihomodo pop and Autogeni trening.
PODGORICA'S FESTIVE ATMOSPHERE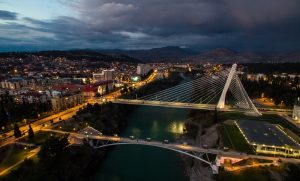 If you decide to celebrate the New Year's Eve in the capital of Montenegro, Independence Square will welcome you with the first edition of Podgorica's Festive Market. It will last 23 days, from Liberation Day – December 19th to January 10th. The eventful program includes Children's New Year's Eve Concert which will be held on December 30th from noon to 2 PM. Dejan Cukić will give a concert at 9:30 PM, and visitors will celebrate the arrival of 2019 with Perper band. January 1st is reserved for Jazz Youth Quartet from 6 PM, followed by the old-town quartet called Boro i prijatelji, and Trio Gušt will perform at the wee hours of the night. Festivities will continue on January 2nd with performances by Andrea Demirović and Akademia band, and then Atomsko sklonište. A combination of tradition and urban elements of the New Year's Eve program will make Podgorica the center of cultural, artistic and entertaining events.