Pannonian Lakes are artificial lakes situated in the heart of Tuzla. Tuzla is the only European city that can brag about having a salt oasis and a unique place for swimming and relaxation in the sweltering summer heat. The complex features beaches as well as designated areas for the children and fitness space. In winter, people spend time at the Pannonika Ice Rink. The complex also has an Archaeological Park—a Neolithic Stilt House Settlement and a Geological Museum.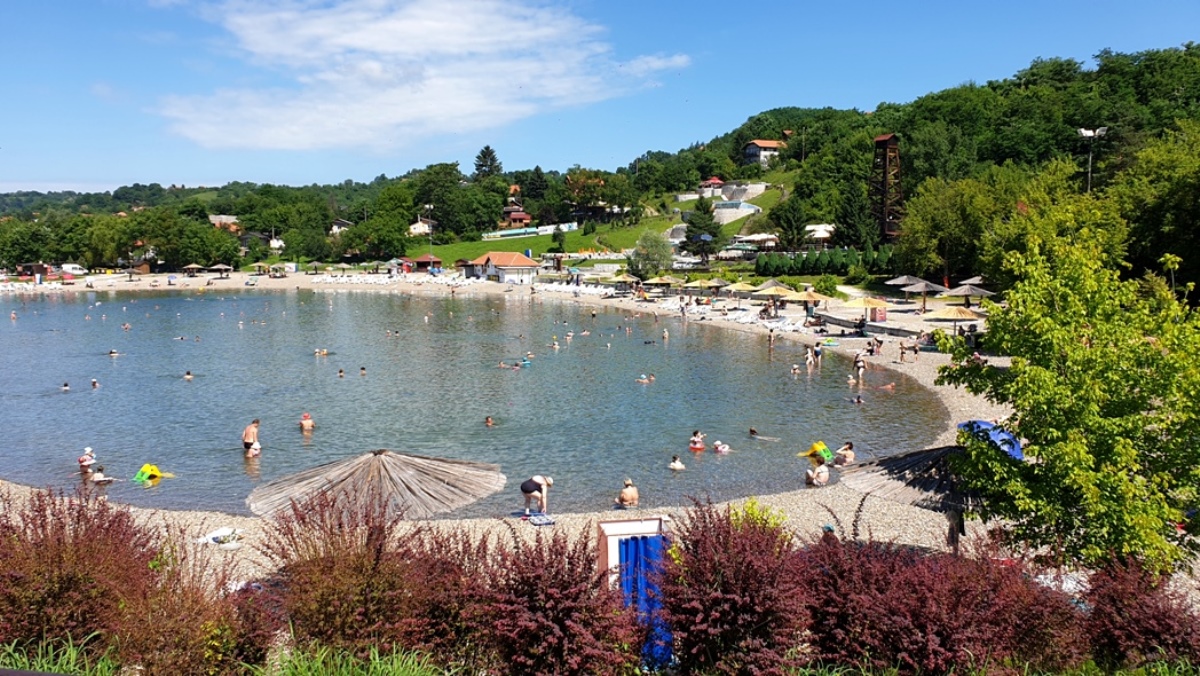 Photo: Pannonian Lakes
A blend of natural resources, human hands and ideas, created the artificial Pannonian Lakes. It is a unique first-class ecological project in Southeast Europe extending over an area of 75,000 square metres. The first lake, made in 2003, covers a total surface area of 10,140 square metres; the second one, made in 2008, spans 5,300 square metres, while the third one, made in 2012, spans 3,850 square metres. Gravel beaches extend over an area of 24,000 square meters, and the daily capacity of the entire complex is 17,000 visitors. The third lake is designed in the form of two smaller lakes mutually connected by an overflow ledge, and its water slides, two hydromassage jets and a water fountain offer adrenaline-fuelled adventures for thrill-seekers. A special attraction at the complex are the saltwater waterfalls with water cascades and swimming pools.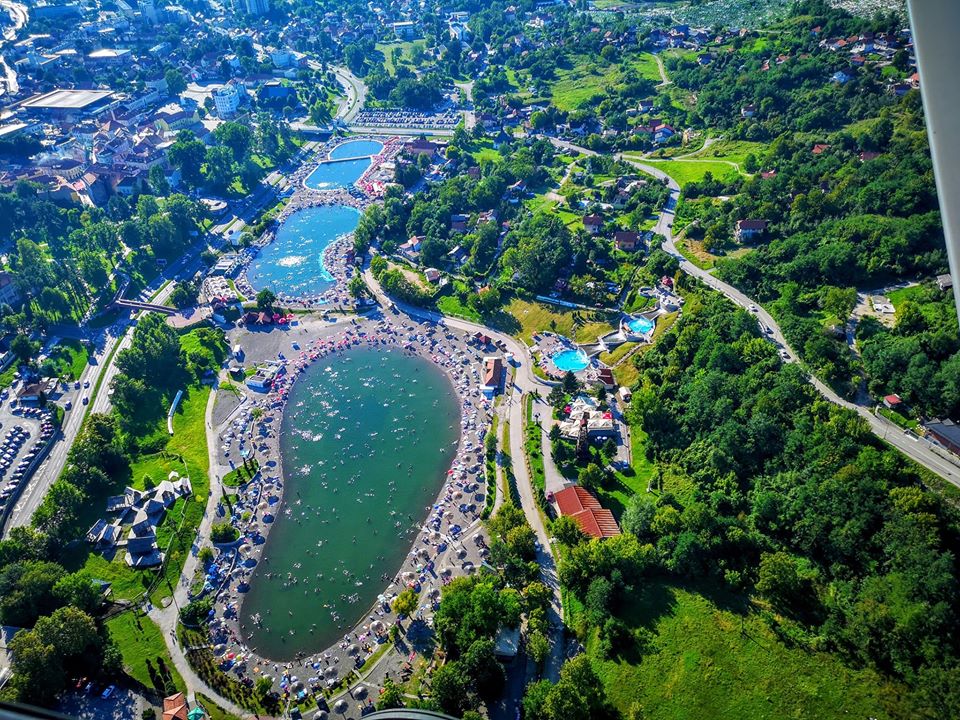 Photo: Fahrudin Kreštalica
Adrenaline Park and Healing Properties
Saltwater waterfalls, as a special attraction of the park, rush down the hill over five cascades, making a short break on their way down, as they spill over from two small swimming pools. Inhaling saltwater aerosols is known to help overcome stress, aid recovery from respiratory diseases, alleviate headaches and improve general health and well-being. 
Photo: Pannonian Lakes
The water used to fill up the lakes is a combination of technological fresh water and high concentration saltwater (300 mg/l), and it always has seawater salinity (35 g/l). In addition to salt, waters of the Pannonian Lakes contain minerals such as calcium, sodium, sulphur, iodine and bromine, creating a unique blend of healing and relaxing mixture of minerals, like no other in B&H or beyond.
---
Award-winning Complex
The tourist offer of the Pannonian Lakes complex (the attractiveness of its tourist offer, pure waters and immaculate surroundings, first-rate service at a reasonable price, a great location and a lot of visitors), the only salt lakes in Europe, has played a decisive role in the Tuzla Municipality winning the Golden Rose Award for the best tourist city in B&H in three seasons as well as the Golden Crown of Hospitality for taking special care of B&H traditional cultural and historic heritage. The salt lakes complex also won the 2012 UNWTO ULYSSES AWARD, the greatest accolade of the United Nations World Tourism Organisation for Innovation in Public Policies and Management for the "valorisation of the Natural Heritage – Pannonian Salt Lakes in Tuzla", which is awarded for innovations in tourism. In 2013, the City of Tuzla and Pannonian Lakes received the GOLDEN INTERSTAS award, which is a prestigious international tourist prize presented for the extraordinary contribution to the tourism development in the City of Tuzla and for the significant contribution to the tourism development in the whole country of B&H.
---
Distance:
Sarajevo-Tuzla 126.7 km
---
---
NLB BANKA – #AssistanceFramework
Micro and small enterprises form a major pillar of our economy. They have been massively impacted by the Coronavirus pandemic-induced economic downturn and will require major support to restart their operations. With this project, NLB Banka would like to help spread inspiring entrepreneurial stories throughout the community. It partnered up with Mastercard, MaxMedia, Oslobođenje, Klix and OBN TV and launched the #AssistanceFramework campaign which provides advertising opportunities for small entrepreneurs, farmers and micro and small enterprises aimed at assisting them in overcoming the crisis.
---
---