Don't be shy, dancing will speed up your blood flow and warm your frozen feet, and you may even discover some hidden talents you didn't know you had.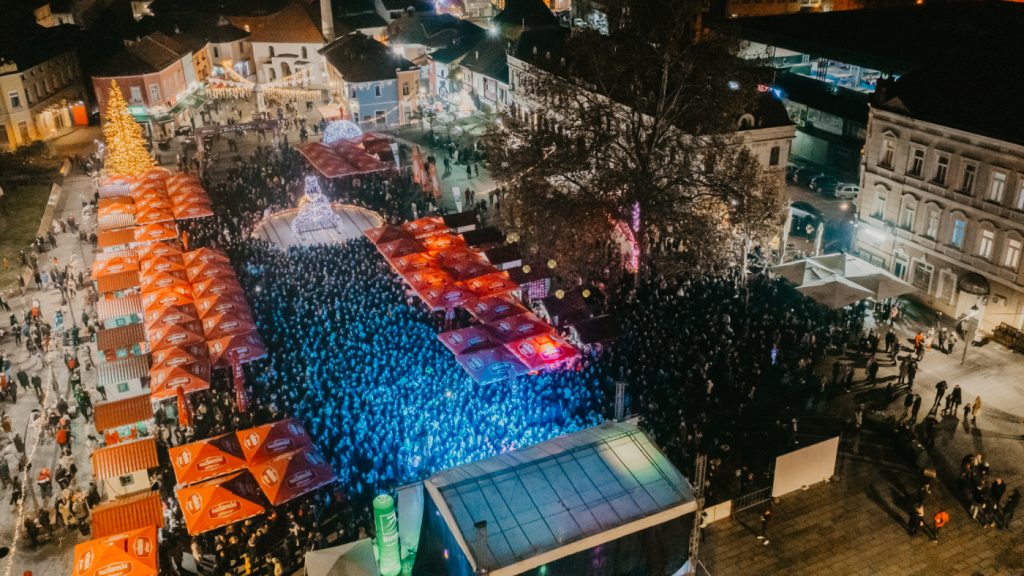 Foto: TZ grada Tuzle – Vedran Živković
Eternal fashion show at the old Freedom square
And the heart flutters for a moment
A dancing coat
No, it's not hers
Đorđe Balašević would sing at a winter concert if he were with us today.
The Freedom square in his song is not the one in Tuzla, but in Novi Sad, but who knows, maybe he was thinking about the one in Tuzla when he sang this great song in 2017 at the stadium Tušanj.
Enjoyment for All Ages
Trg slobode (Freedom Square) in Tuzla will be the stage for wonderful events for 31 days (from 9 December 2022 to 8 January 2023) with as many as 17 nights of live music as part of the "Zima u Tuzli" (Winter in Tuzla) event. Who knows, maybe our hearts will flutter, maybe some new loves will be born, and old ones will be revived, in the festive atmosphere of the City of Salt.
The Tuzla Tourist Board, the City of Tuzla and the Tuzla Craftsmen's Association provided craftsmen and entrepreneurs from Tuzla area with the use of 20 mobile homes and a program that everyone – from the age of 7 to 77 – will enjoy during the eventAt the opening of the event on 9 December the wonderful Ilma Karahmet will spread the fairy dust of her wonderful voice over the city, and the very next day the residents of Tuzla will have their pulses pounding with Marry Jane's Little Drum band. The first, second and third Sunday of the event are reserved for children's joy, games, masking, prize contests and great music suitable for the youngest. Even the elderly are recommended to bring their inner child out, relax and dance.
Don't be shy, dancing will speed up your blood flow and warm your frozen feet, and you may even discover some hidden talents you didn't know you had.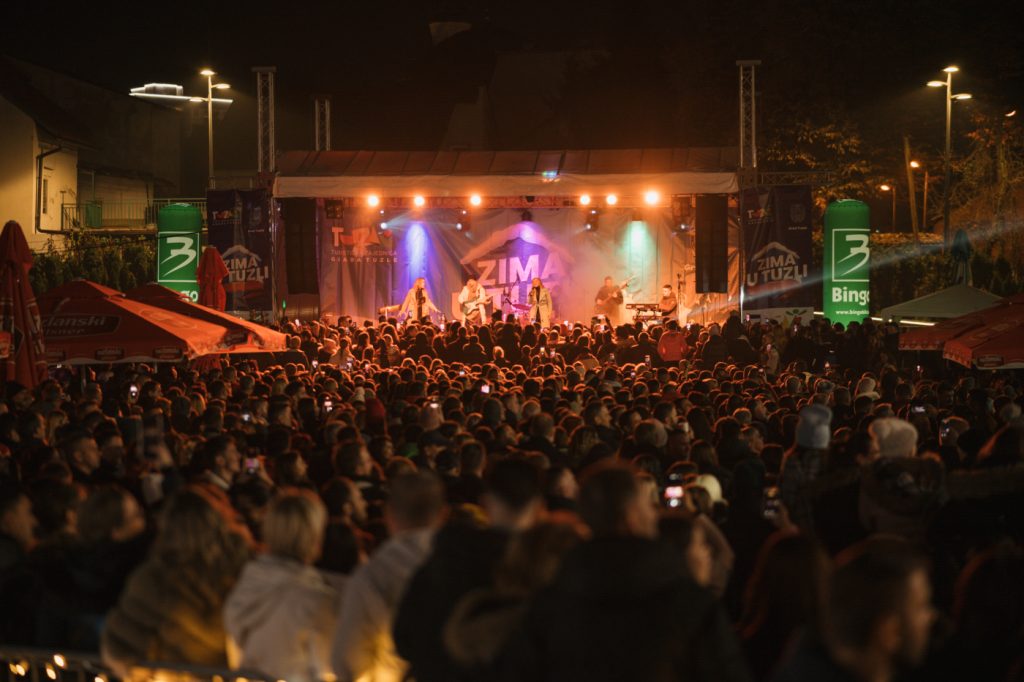 Fotografije: TZ grada Tuzle – Vedran Živković
New Year's Eve Celebration for Children and Adults
During the "Zima u Tuzli" event, there will be no shortage of what young people love – DJ Soole, DJ Maj Babović, DJ Dizzy, bands S-ALT, Retro, TNT, Filiman, Generacija bez kompasa, are just part of the offer during the month of December.
Catholic Christmas will be celebrated by the performance of the Cultural and Artistic Society Bosna, presentations, sale and distribution of cakes and handicrafts. On 31 December, the New Year's Eve celebration for children begins at noon. Music, dancing, distribution of New Year's gifts, hanging out with Santa Claus and a hundred more miracles await the youngest Tuzla residents.
Spectacular fireworks will mark the end of one and the beginning of another, new and, hopefully, happier year.
Orthodox Christmas will be celebrated on 7 January. Youth Association "Obnova" in cooperation with the Serbian Orthodox Church will make sure that the square smells of cakes that will be handed out to the local residents and visitors. Cultural and artistic society Bosna will perform a mix of dances in honor of this great Christian holiday.
The performance of the tambura ensemble "Komšije" will close the event.
With Zabranjeno pušenje Group into the 2023
Public celebration of the New Year 2023 will also be held at the Trg slobode (Freedom Square). As part of the program, attendees will be entertained by the Big Brothers and Adi Šoše with Amil Lojo's bands, while the star of the evening will be the popular band Zabranjeno pušenje. Exactly at midnight, those present will be able to enjoy the spectacular New Year's Eve fireworks. The entertainment at the Trg slobode (Freedom square) will continue in the evening of 1 January. Amel Ćurić will perform, as well as bands Divan, Pochko & New Primitives.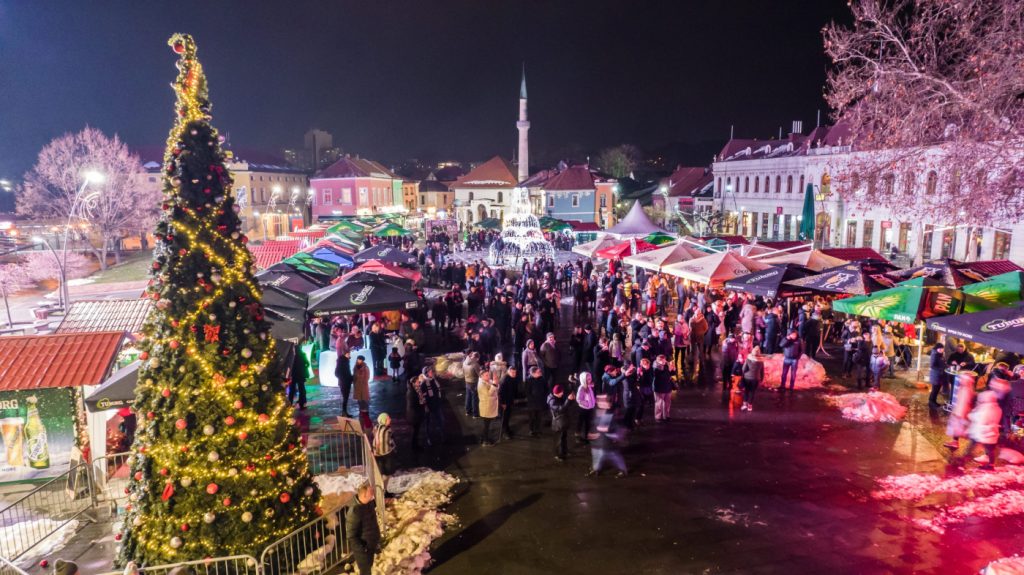 Foto: TZ grada Tuzle
Ice Rink Panonika Tuzla
Everything is Ready for Pirouettes, Lutz and Axel Jumps
Skating improves balance and endurance, strengthens joints, tightens muscles, improves the function of the cardio-vascular system, helps with weight loss and improves mental fitness. The people of Tuzla have the conditions to become physically perfectly balanced and durable, with strong joints and trained muscles, a healthy heart, without obesity problems and perfectly calm.
Tuzla got its first ice rink in 2006. After changing its location several times, as of November 2018  was installed at the Pannonian salt lakes complex, where it has remained until today.
The 600-square-meter Pannonica ice rink is an outdoor ice rink, with a capacity of one hundred skaters. In addition to the big one, as of 2019 there is also a small ice rink, intended for children and beginners. Since 2006, a skating school for the youngest has been organized.Depending on weather conditions, the season lasts about two months. The rink is covered and protected from precipitation. You can refresh yourself and rest at the catering facility next to the ice rink.
To feel the effects of skating, it is enough to skate two to three times a week for half an hour.
 And How Much Does it All Cost?
A session (60 minutes) from Monday to Friday with your own skates costs BAM 3, and if you rent skates – it costs BAM 4. On weekend days, a session with your own skates costs BAM 4, and if you rent skates – it costs BAM 6.
Multiple tickets (for ten skating sessions), valid for all days, with your own skates cost BAM 30, or BAM 45 with rented skates.
The skating aid (only with skates) costs BAM 2.
This year, the ice rink is also featuring an ice slide. The minimum number of slides down the ice slide costs BAM 3, for which you will pay BAM 1,5. Five rides down the ice slide cost BAM 2.