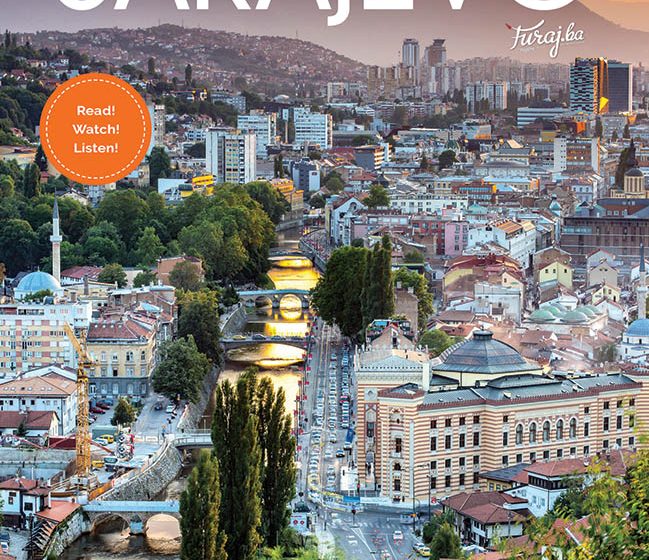 Sarajevo Tourist Guide 
Sarajevo Tourist Guide READ! WATCH! LISTEN!
Sarajevo Tourist Guide is a travel guide for Sarajevo and excursions from Sarajevo in the English language.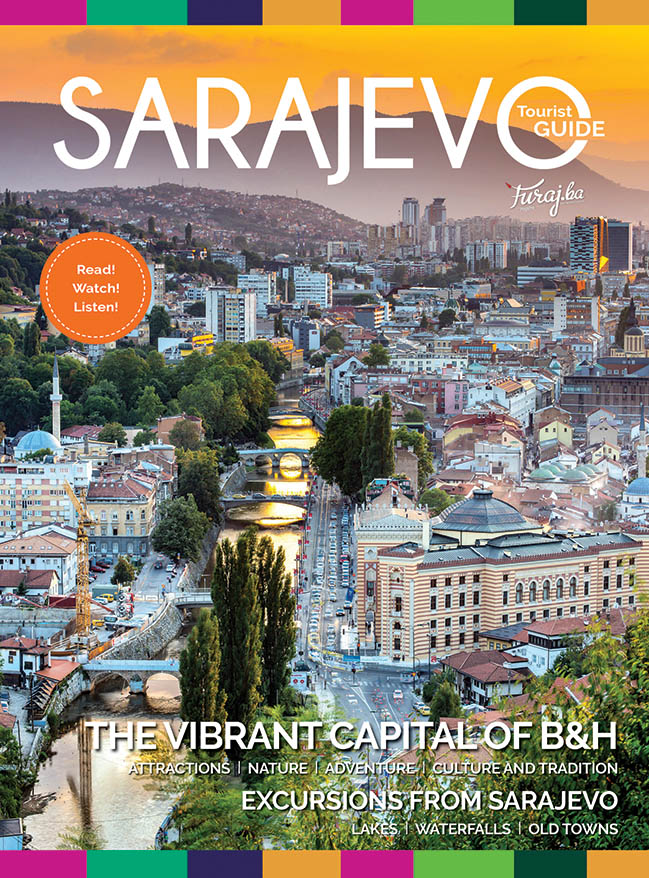 You can read, watch and listen to the travel guide by scanning QR codes with your smartphone to open links to songs and videos. Travel destinations featured on the 172 pages of the guide will allow you to feel the spirit of Sarajevo and see some of the most gorgeous places in Bosnia and Herzegovina.
Editorial staff of the travel magazine and portal Furaj.ba, which has been promoting Bosnia and Herzegovina, its famous and yet undiscovered natural landscapes for the past ten years, is behind the travel guide.
Samir Zahirović captured the photos in the guide. He is one of the most successful Bosnian and Herzegovinian photographers who received more than 250 different awards for his artistic work, 45 gold, 16 silver, and 18 bronze medals as well as 160 honorary mentions in FIAP exhibitions. He also placed first 10 times in national FOTO BiH exhibitions and is the first Google Trusted Photographer in Bosnia and Herzegovina.
You can enjoy breath-taking drone videos of all the destinations described in the travel guide using QR codes. They were produced by the video production company Dron.ba.
As you are learning about Sarajevo and travelling through Bosnia and Herzegovina, and turning the pages of the guide, you can also listen to the most beautiful voices of Bosnia and Herzegovina's music scene using QR codes: Din Merlin, Amira Medunjanin, Hanka Paldum, Dina Merlin, Damir Imamović, and Armin Muzaferija, who will surely brighten up your trip and make you "fall into sevdah".
Sarajevo Tourist Guide is a perfect corporate gift for clients and associates you think should discover more about Sarajevo and its wonderful sights and our history, culture and tradition.
Available in bookstores throughout Bosnia and Herzegovina
ORDER ONLINE / Price includes postage 
BOSNIA AND HERZEGOVINA – 28,00 BAM
PAYMENT FROM B&H 
BENEFICIARY: ARTERIJA D.O.O.
PURPOSE OF PAYMENT: SUBSCRIPTION FOR Sarajevo Tourist Guide
TRANSACTION ACCOUNT NUMBER:
RAIFFEISEN BANK D.D. SARAJEVO,
1610000165060158
PAYMENT FROM EUROPA – 20,04 EUR        AMERIKA $ 22,46
PAYMENT FROM ABROAD 
BENEFICIARY: ARTERIJA D.O.O.
PURPOSE OF PAYMENT: SUBSCRIPTION FOR Sarajevo Tourist Guide
RAIFFEISEN BANK D.D. BOSNIA AND HERZEGOVINA
SWIFT CODE: RZBABA2S, IBAN CODE: BA391610000165060158