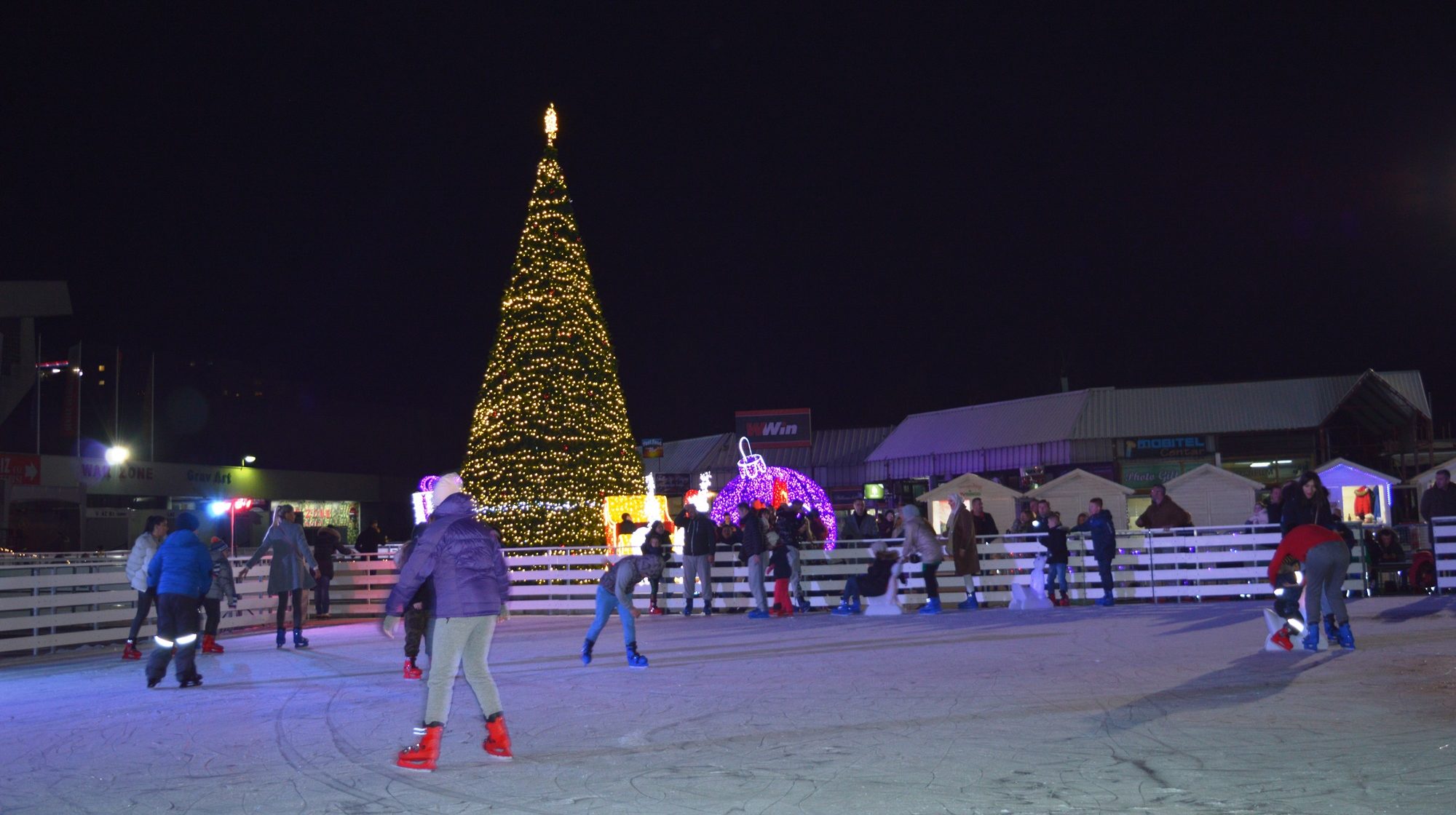 Guide to New Year's Eve 2020 in Sarajevo
Holiday magic is coming to town! In anticipation of New Year's decorations, which will make Sarajevo magical and contribute to the complete winter idyll, we bring you recommendations on how to spend the New Year's holidays in the capital of Bosnia and Herzegovina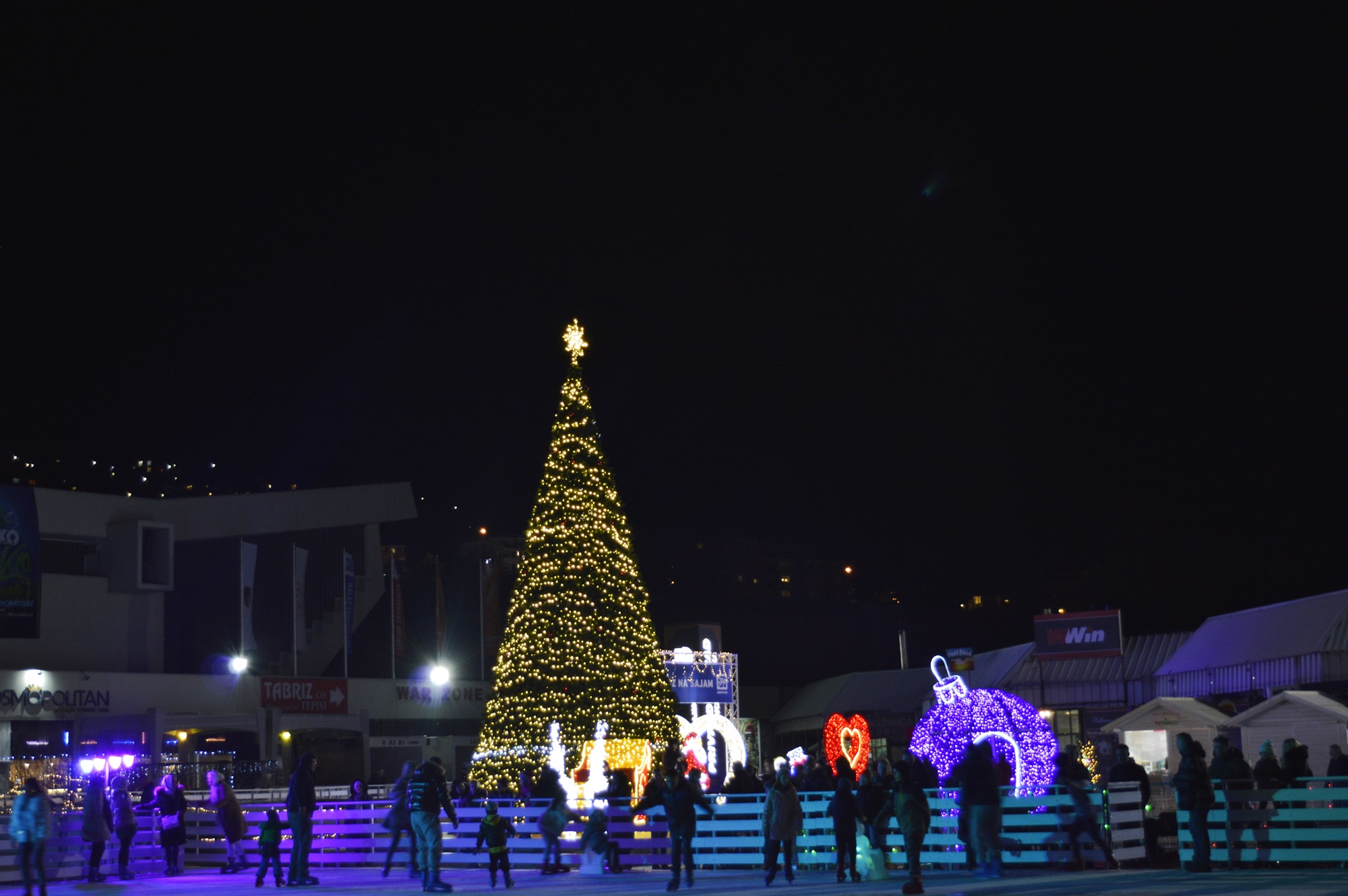 In the last three years, New Year's Eve has placed Sarajevo among the most desirable European destinations, and that will be also be the case this year. This is because of the beauty and tourist attractions of the city, and the excellent organization of the New Year's program. A top high-quality musical and entertainment show, with performances by great regional stars, will truly make Sarajevo the New Year's center of the region for the fourth year in a row, during three days and nights, from December 30 to January 1. 
– The city continues the great tradition of Sarajevo's New Year's magic. That has become our recognizable brand, an inseparable part of Sarajevo. Citizens expect that from us, people from the region plan their holidays in accordance with that. We will not disappoint them – says mayor Abdulah Skaka.
TOUR OF SARAJEVO
Upon arrival, we suggest that you get to know the city, feel its spirit and the warm welcome, which will thrill you from your first day in Sarajevo. For a start, go on a light stroll through the streets of Sarajevo…
You will best experience Sarajevo's holiday atmosphere if you visit the magical Coca-Cola Sarajevo Holiday Market, which offers a number of activities for all ages, and you will be equally thrilled by the Magic of Ice on the plateau of Skenderija, and the Jana Ice Garden Park located on the Trg Oslobođenja Alija Izetbegović.
If you head through Tito's Street towards Ferhadija Street, you must pause and get warm in front of the Eternal Flame, and do not forget to take some photos at this city symbol. If you keep going towards Baščaršija, you will notice the numerous places of worship, and various buildings, some of which proudly stand since the Austro-Hungarian period.
When you get to the heart of Sarajevo – Baščaršija, do not miss playing with the pigeons, and take photos next to the Sebilj. While you are there, you must also check out the "handicraft streets", where you can purchase souvenirs, which will serve to remind you of the spirit of Sarajevo and the nice moments that you experienced here. 
Further along, you will be able to smell the fragrances of Bosnian cuisine… Ćevapi, pies, sogan dolma, and other traditional dishes will tempt you to drop by Sarajevo's restaurants and enjoy the fantastic flavors.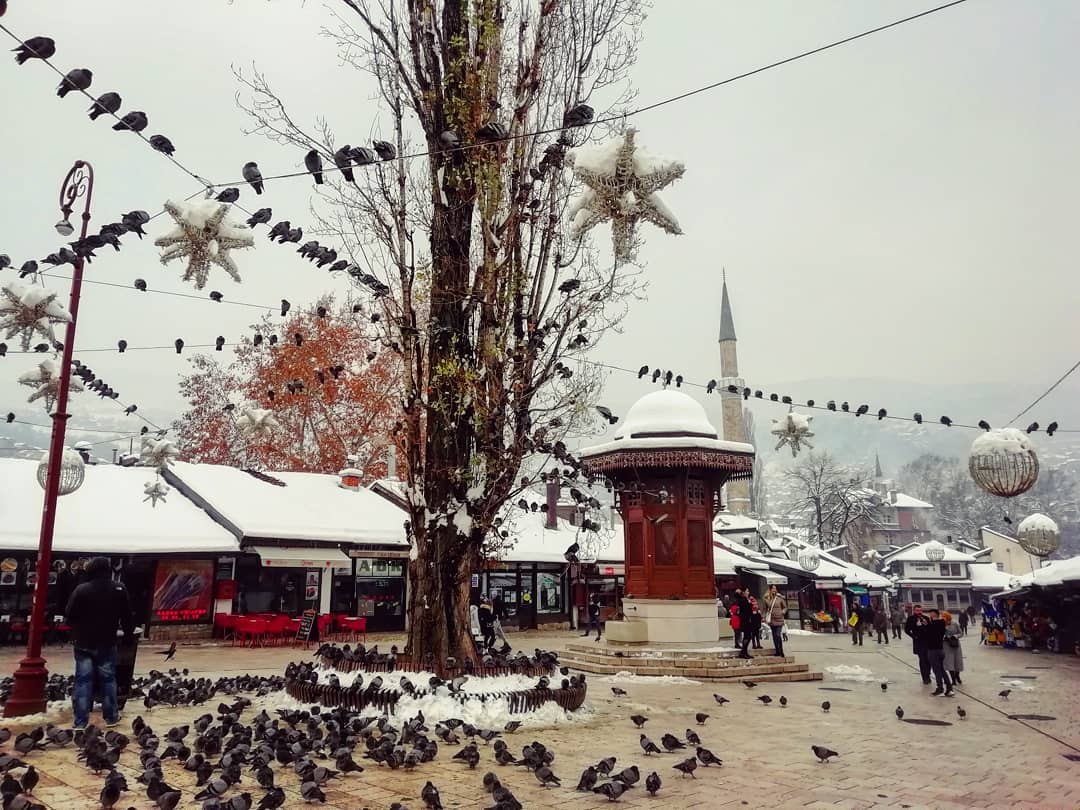 A good idea for lunch is also the restaurants on the outskirts of the city, from which there is a magical view of wintery Sarajevo. After lunch, based on Bosnian tradition, it is time to awaken your senses with a sweet, coffee or tea. The best-tasting coffee is at Ministry of Ćejf, while at Teahouse Džirlo you can try fantastic and unusual teas. You must also see cafe bar Zlatna Ribica (Goldfish), which exudes a unique atmosphere with its interior and is an excellent place for a pleasant daytime or evening outing. Time spent in Sarajevo will be sweeter with the numerous patisseries with traditional delicacies, such as hurmašica, tufahija and baklava, and if you are in the mood for American pancakes, you should head to Talks & Giggles, a place that brings out smiles and gathers true sweet lovers.  
If you are spending several days in Sarajevo and you are a fan of snow and skiing, we recommend visiting the Olympic mountains near Sarajevo; Bjelašnica, Igman and Jahorina. Mount Trebević also has a lot to offer and apart from by car, you can reach it in just several minutes by the Sarajevo cable car.
Upon exiting the gondola, you should go on a tour of the bobsled that was built during the Olympic Games. After that, with a light stroll, you will get to Pino Nature Hotel, and there are also Brus, Level Up, as well as Sunnyland nearby, where you will have the special pleasure of riding an alpine coaster with a fantastic view of the city.
Sarajevo is full of attractions that you can visit before you head to New Year's Eve celebrations, and several of them are located at the wonderful Ilidža. We suggest that you dress warmly and go for a walk along the Velika Aleja (Great Alley) to the Vrelo Bosne (Spring of Bosna). It will be the prefect break for your soul and the ideal way of recharging your batteries for the concerts that follow!
CONCERTS TO REMEMBER
The night before New Year's Eve, on December 30, there will be a classical music concert in front of the Eternal Flame, which will be an excellent introduction to the New Year's celebrations. 
The New Year of 2020 will be welcomed by Sarajevans and tourists with a spectacular outdoor concert with music star Željko Joksimović. The public New Year's Eve in Sarajevo will take place at Trg BiH (B&H Square), where prior to Željko, Dino Merlin and Zdravko Čolić had their performances in previous years.
For those less brave for an outdoor celebration, and those wanting entertainment with a great atmosphere in one of Sarajevo's hotels or restaurants, the offer is certainly diverse. 
At Hills Hotel, Halid Bešlić and Slađana Mandić will entertain those present on New Year's Eve, and at Holiday Hotel, the New Year's Eve party will be organized with Nihad Alibegović and many surprise guests. For the craziest night of the year, there will be a performance by Igor Vukojević, with surprise guests, at Europe Hotel, while Pivnica HS Sarajevo will be organizing New Year's Eve with the hits of Nešad Selman and Neno Murić.
The party continues on the first day of 2020, when Sarajevan rock band Zabranjeno Pušenje will entertain all visitors in front of the Eternal Flame. The lead singer of the band, Sejo Sexon, has announced a party to remember with well-known hits. 
Sarajevo is ready, with arms wide open, to host hundreds of thousands tourists from all over the world. The city of Sarajevo is happily awaiting you and guarantees unforgettable moments and the best Sarajevan New Year's show with a fantastic atmosphere. May New Year's Eve 2020 in Sarajevo bring you happiness and make it the best year so far!
Author: Samila Ivković